Trattoria Mario's is a home away from home for almost all the students that come to the study abroad programs in Florence. This tiny family trattoria began as a fiaschetteria 4 generations ago. These small family trattorias, passed from one generation to another, are national treasures.In 2013, they celebrated 60 years of their opening. I lived around the corner from the trattoria for 20 years, so this was my go to place for lunch. It is ALWAYS crowded. Just excuse your self and push to the front to leave your name with Fabio at the door.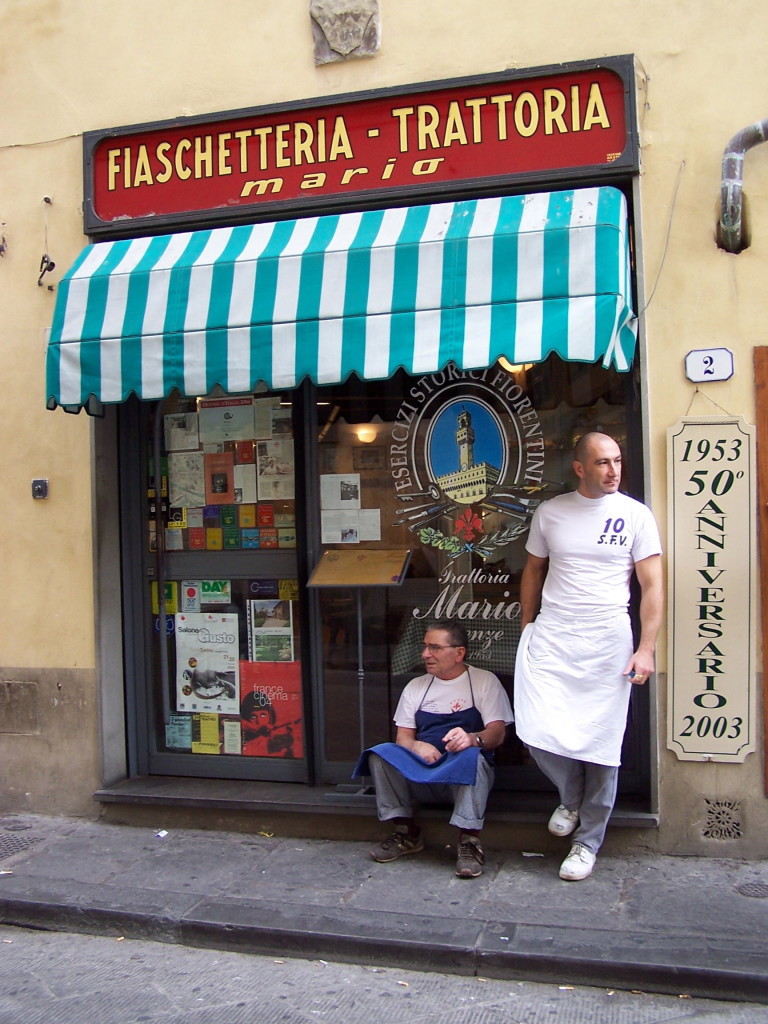 When I first ate at Mario's, Romeo's mother, Elena Colzi, was in the kitchen. She was a true Tuscan mamma cooking for all of us. When she retired, Romeo stepped right in and kept up the same fabulous food standards, cooked with passion and love for food!
Many of the famous old Florentine trattorias have changed hands and are now Chinese restaurants or fast food joints. In honor of those who have held on to tradition and did not sell out, I wish to honor the Colzi family. Romeo and his brother Fabio run the trattoria with Romeo's wife Patrizia and their children  Carolina and Francesco. They preserve a way of life and quality that we all search for. Mario's is a real slice of Florentine life. For more history, visit their web site.
Mario's feeds the locals, tourists, and students from abroad, all elbow to elbow. Here, food and friendship go hand in hand. Stop by and join the family! Everyday has specials, so you'll want to eat here all week just to try them all! It also has a fabulous wine cantina, so if you want to have a special wine here, ask! we usually order a Castello di Ama wine.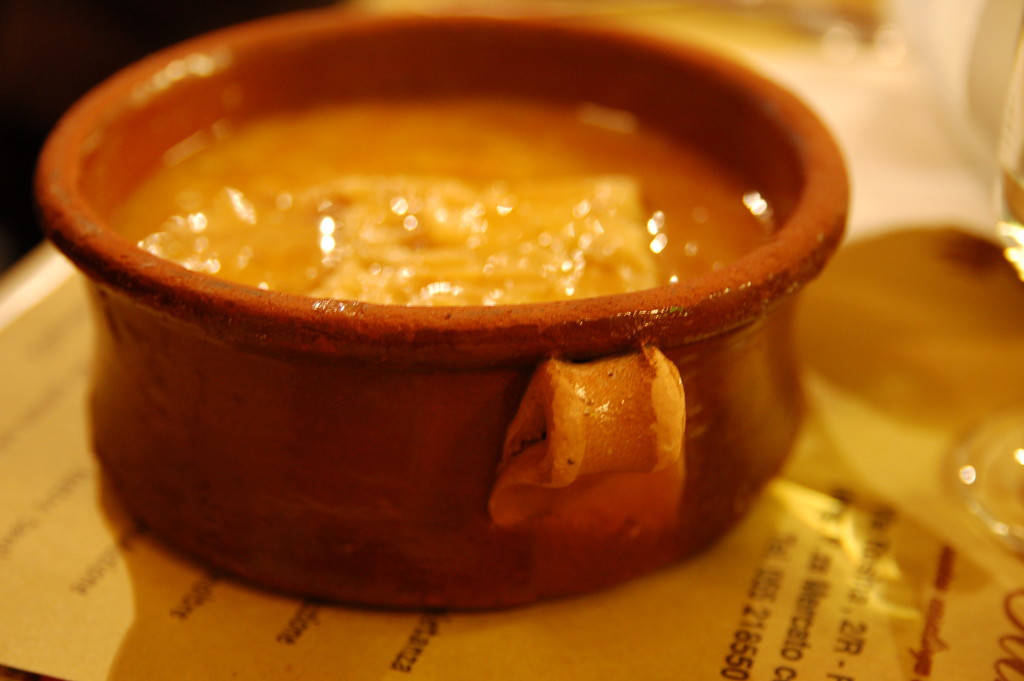 Trattoria Mario's Ribollita
Ingredients
Step 1
Zuppa di Verdura
2 red onions, finely chopped
1 pound cooked white beans and the cooking water
1 cabbage (in season), sliced and chopped
4 celery stalks, sliced
1/2 cup parsley leaves, chopped
4 carrots, sliced
1 small bunch of basil, leaves torn
2 tablespoons tomato paste
Oregano
Pepper or chili pepper
Coarse ground sea salt
Olive oil
Instructions
Sauté onion in olive oil for 20 minutes until cooked.
Add a ladle of the cooking water from the beans and let stew.
Add the cabbage, celery, parsley, carrot, and basil to this mixture.
Cook for 20 minutes, covered.
Add the beans, half pureed, the rest whole and the liquid.
Stir.
Add tomato paste, oregano, and season to taste with salt and pepper or chili pepper.
Add water and cook for 90 minutes.
This is not meant to be thick soup, as later it will be thickened with the bread.
https://divinacucina.com/2015/01/trattoria-marios-ribollita/
Step Two
The secret to all of the Tuscan bread soups, is recycling the unsalted stale bread. It is hard to find outside of Tuscany and hard to recreate the texture. The stale bread, when soaked in liquid, crumbles into grains like couscous. In America, I find that unseasoned croutons are the closest thing we have to a real stale bread. When I first learned how to make ribollita, they also gave the recipe to make the Tuscan bread to let it go stale. Think about it! Perhaps just toasting some country-style bread would also change the texture.
Let the soup rest at least a day. Layer the soup with thin slices of day old bread.
Heat while stirring until the bread breaks apart and becomes a cream.
Add more water or bean broth if you have it. When the soup is done, turn off the heat and stir in some olive oil.
Taste for salt.
Serve with an extra drizzle of olive oil on top.
Trattoria Mario
Via Rosina,2/r
Just behind the Mercato Centrale
(san lorenzo market) in piazza del mercato
open for lunch- monday to saturday