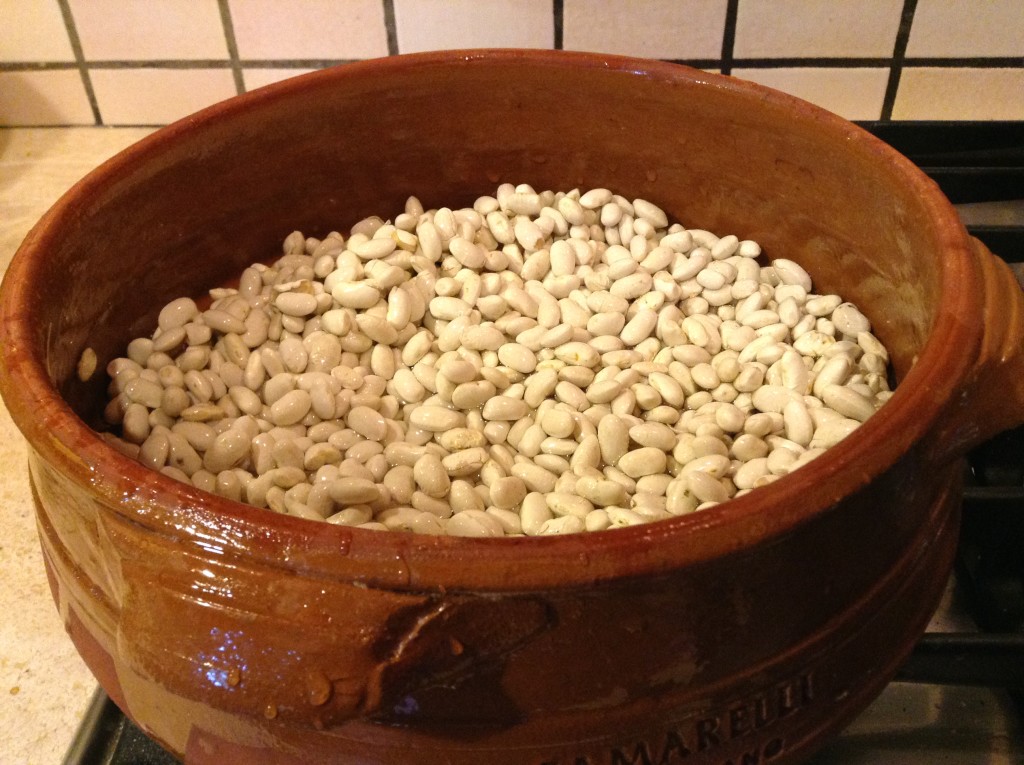 My friend Samin has declared January #beanmonth.
In Tuscany. every month is bean month. Tuscans are called mangiafagioli, bean eaters for their large consumoption of beans.
In Florence, dining out, you mostly find the cannellini beans or if you are lucky the rare zolfini bean. Heading out to Lucca, you really start to see a larger variety of beans on the menu.
Recently my friend Steve of Rancho Gordo, some of the BEST beans in the USA, asked me to contribute to his cookbook, Supper at Rancho Gordo.
I sent him two recipes, one is for a winter specialty from the area around Lucca, called Polenta Incatenata. Polenta is more of a northern dish, but by using beans and kale which end up imprisoned in the polenta, it becomes Tuscan.
Winter is all about comfort food and beans cover that in many ways. The art of cooking the beans in Tuscany is traditionally done in clay pots, stovetop. The old recipes used a glass wine flask, buried in the ashes of the fireplace. Yes, I have tried that, but getting the plump cooked beans out of the thin neck of the bottle is hard. I  adore clay pot cooking
Tuscan cooking is always simple. The beans I buy are always freshly dried, not years old, so no need to presoak.
Tuscan Beans- A Bean for all Seasons
Ingredients
Beans
Sage
Garlic
Water
Extra Virgin Olive Oil
Salt
Instructions
Rinse off the beans several times, look for small rocks or broken beans.
Place the beans in your pot.
Cover with cold water. Place on heat and bring to a boil, then lower the heat.
Add a branch of sage, a peeled garlic clove or two and a healthy 1/4 cup of olive oil, I only use extra virgin.
Cook the beans until they are tender.
Remove any scum which rises to the top while cooking.
I tend to add more cold water as the beans cook and absorb the cooking water.
It keeps the pot from boiling to hard also.
At the end of the cooking time, salt to taste and let sit before serving.
https://divinacucina.com/2015/01/tuscan-beans/
Keep it simple.These are like having an empty palette to paint on.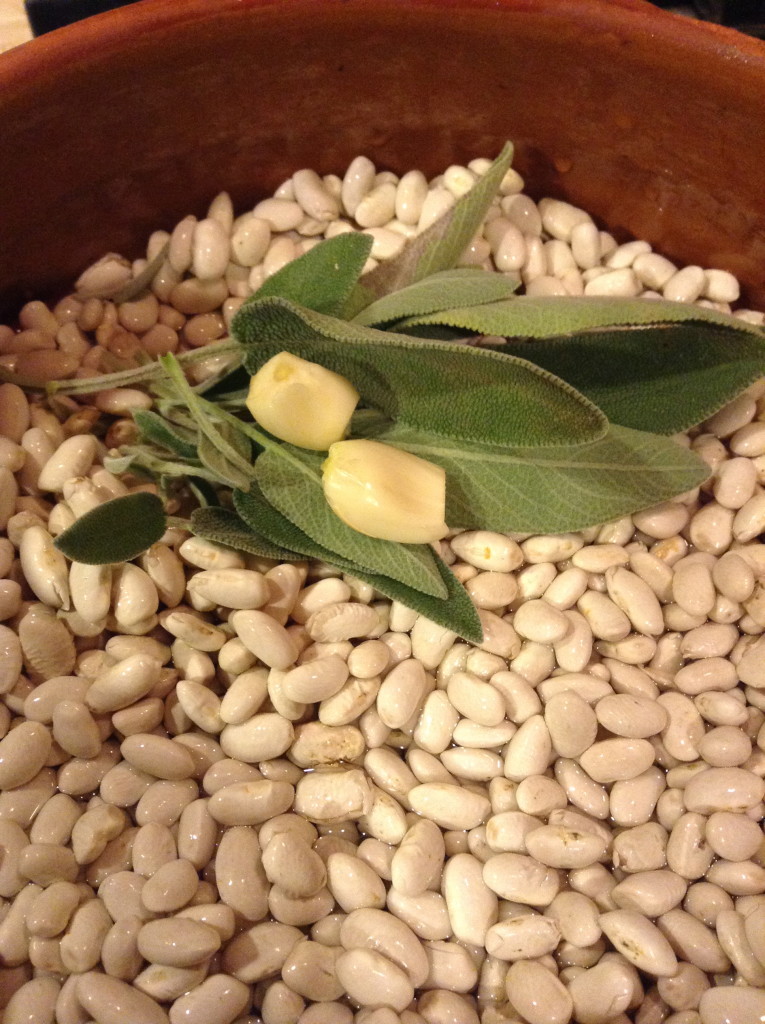 I cook a large pot of beans, preferably while sitting around watching TV at night and then package the extra for the freezer.
This week I made: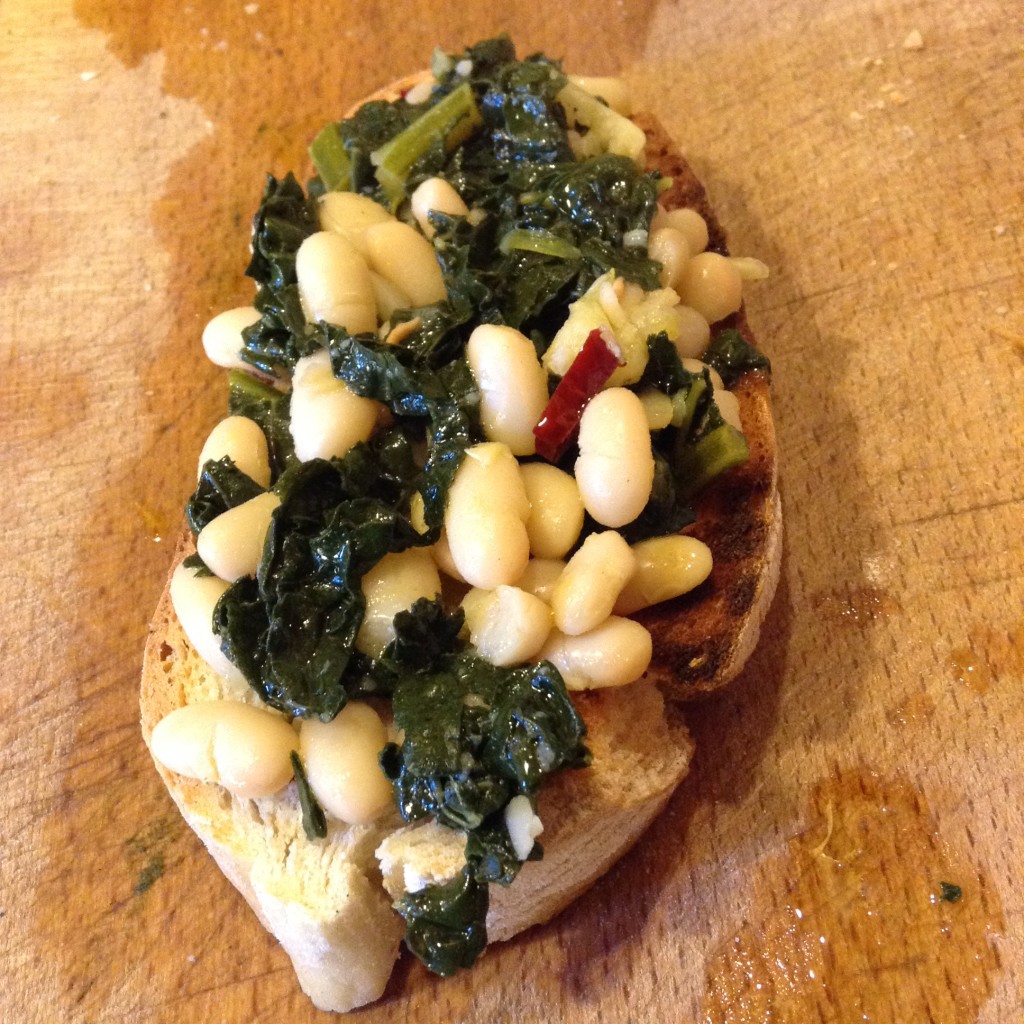 Fettunta- Bruschetta/ Tuscan garlic bread topped with beans and sauteed kale.
The same idea, you can serve in a soup bowl and add the bean broth or the broth from the kale on top and eat as a soup.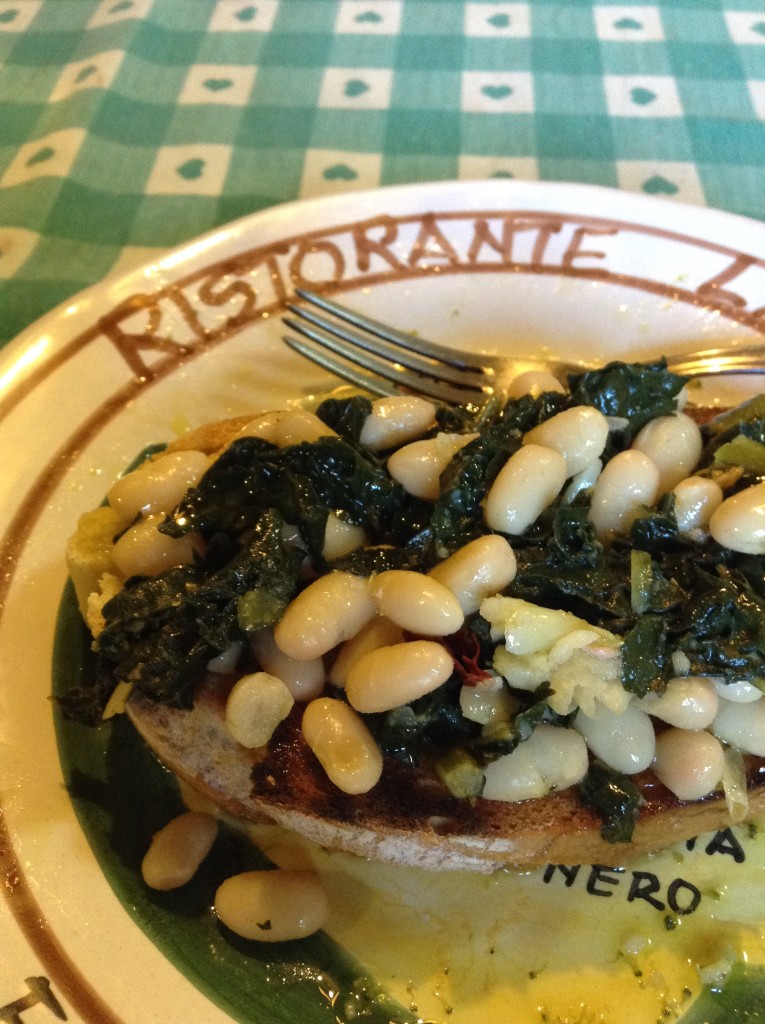 Then I thought about croutons with kale and beans.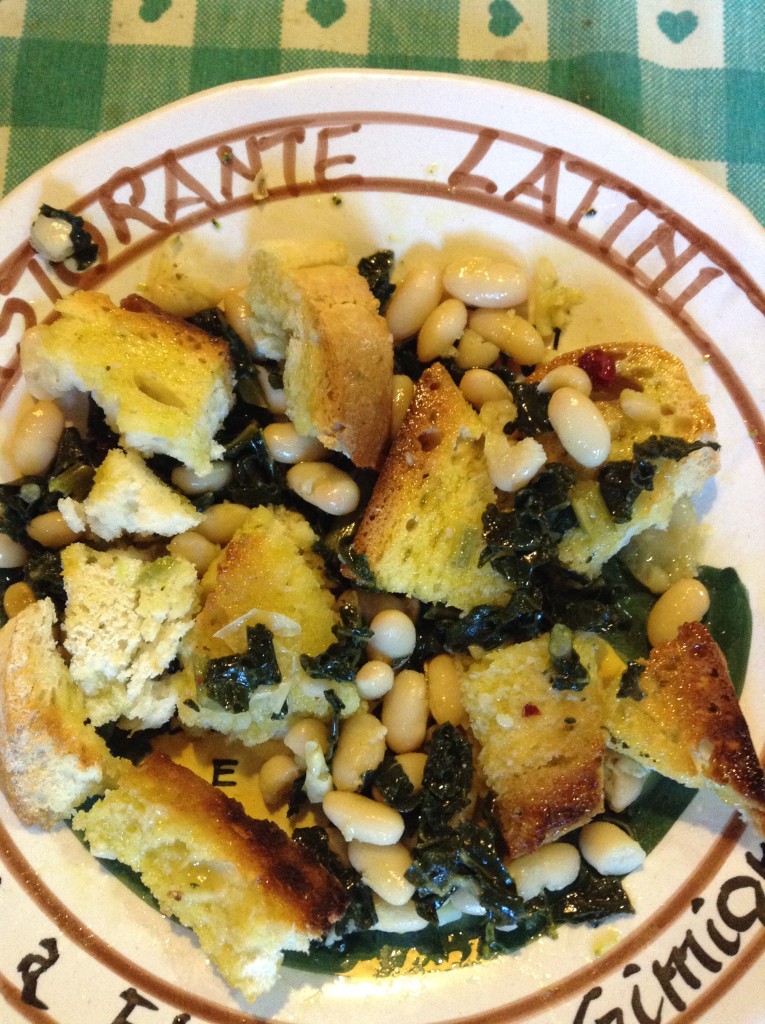 More traditional recipe is to re-cook the beans to serve with grilled sausage. Fagioli all'uccelleto.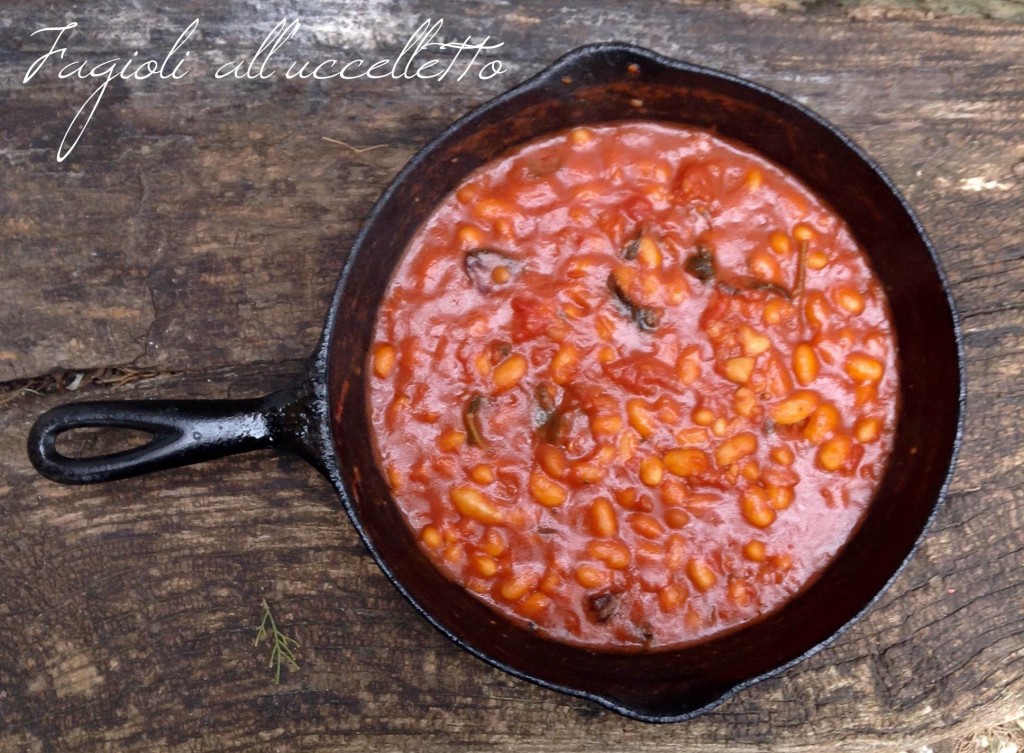 In a skillet, saute' a sage branch, garlic and chili in olive oil. When the garlic is golden, add canned san marzano tomatoes.
Crush to break and salt to taste. Add the white beans and as they cook together, you will notice that they give of their lovely starch and thicken the tomtoe sauce and change the color.
You can serve as is, but normally they are served as a side to grilled sausage.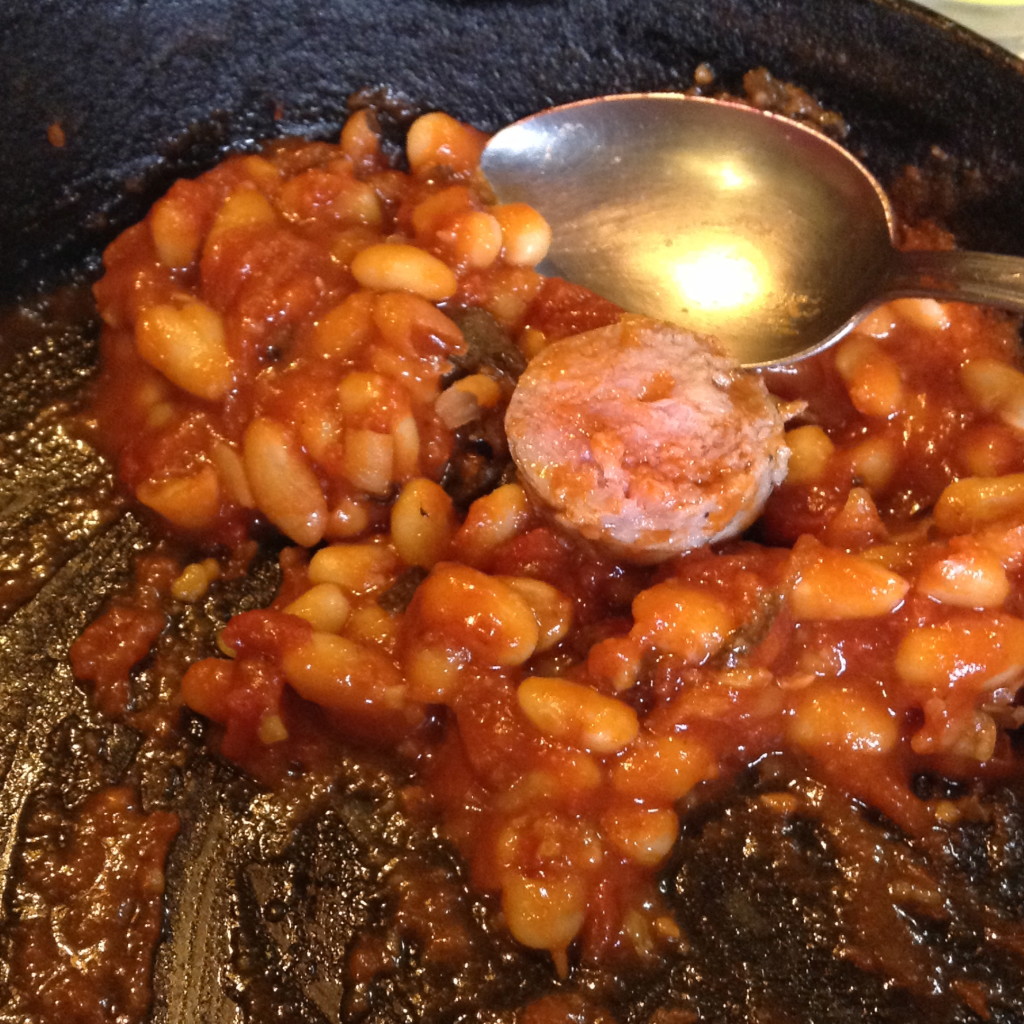 Having left-over kale and left over beans, I could have simply pureed half the beans and then cooked as a soup with the chopped kale, instead my husband asked me to make the Polenta Incatenata, a specialty from the hills around Lucca. Near Lucca, the borlotti bean is the bean of choice, but any bean is ok.
Polenta Incatenata
3 cups broth from cooking kale ( water with salt and olive oil)
 1 cup chopped kale
2 cups cooked beans with some of their cooking water
1 cup polenta
Heat the broth with the kale and beans and their liquid.
Slowly let the polenta fall into the cooking liquid while stirring.
Do not stop stirring until the polenta is cooked. Follow the instructions on the package.
We eat this with a spoon like a soup.
If you make it  a thick polenta, ( using more polenta in ratio to the liquid) with the left-overs, you can place them in a pan and the polenta will thicken and solidfy as it cools.
You can slice and bake or fry the next day.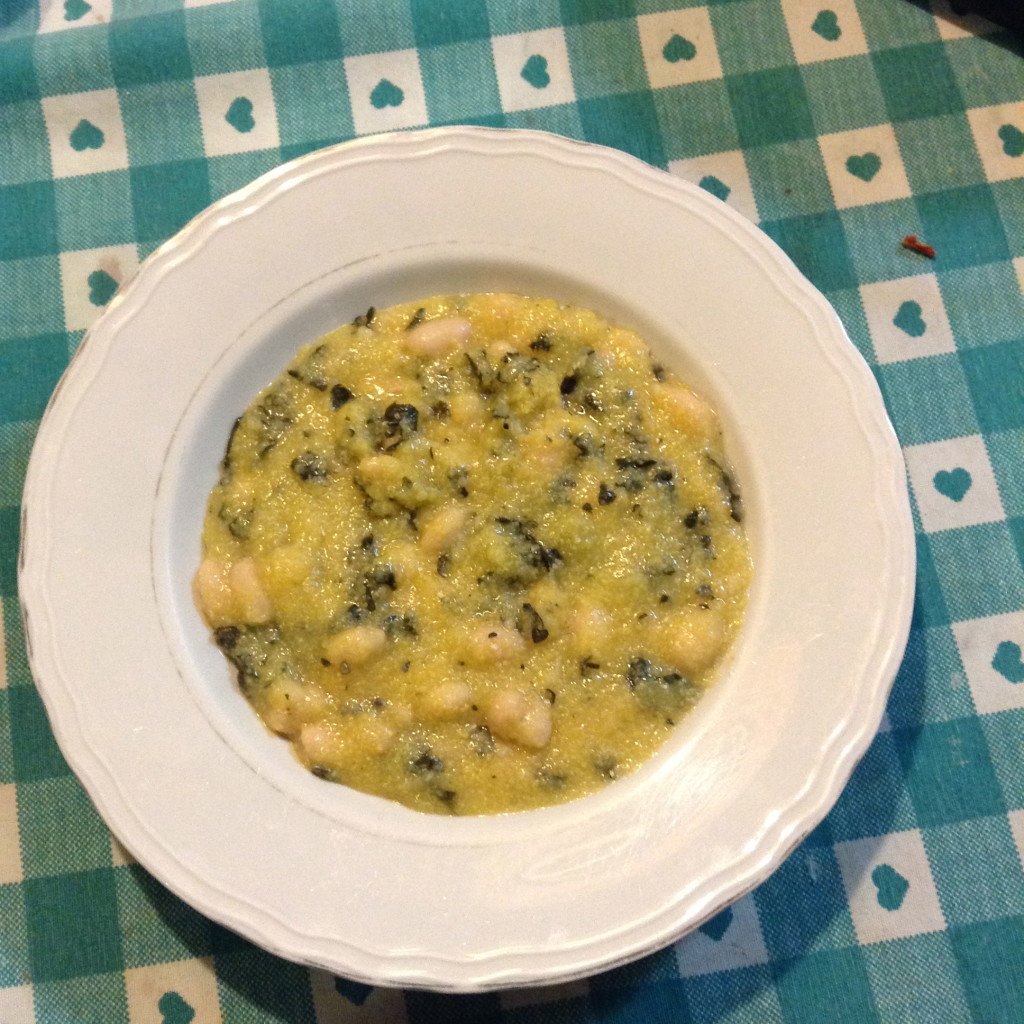 Summer months bring on Tonno e Fagioli,Tuna and Bean salad, now i would grill fresh tuna steaks and serve on a bed of beans.
Pasta e fagioli, short macaroni is served with the pureed beans as a soup, leave some of the beans whole for texture. I like to give a little bit of color, adding tomato paste to the bean mixture.
Tuscan minestrone has a heavy white bean base as well. Often I make the soup with just the vegetables, then when I want, add some pureed beans and whole beans, especially if I am going to be making Ribollita, our staple for winter! Bread soup "re-boiled" in minestrone. Perfect for the winter meals.