This is one of my favorites to keep in the freezer as a back-up dessert! Richer and fancier versions sold in pastry shops now have melted chocolate and chopped nuts added to make it more of a candy version. Rolling the outside edges in powdered sugar makes it really look like salame.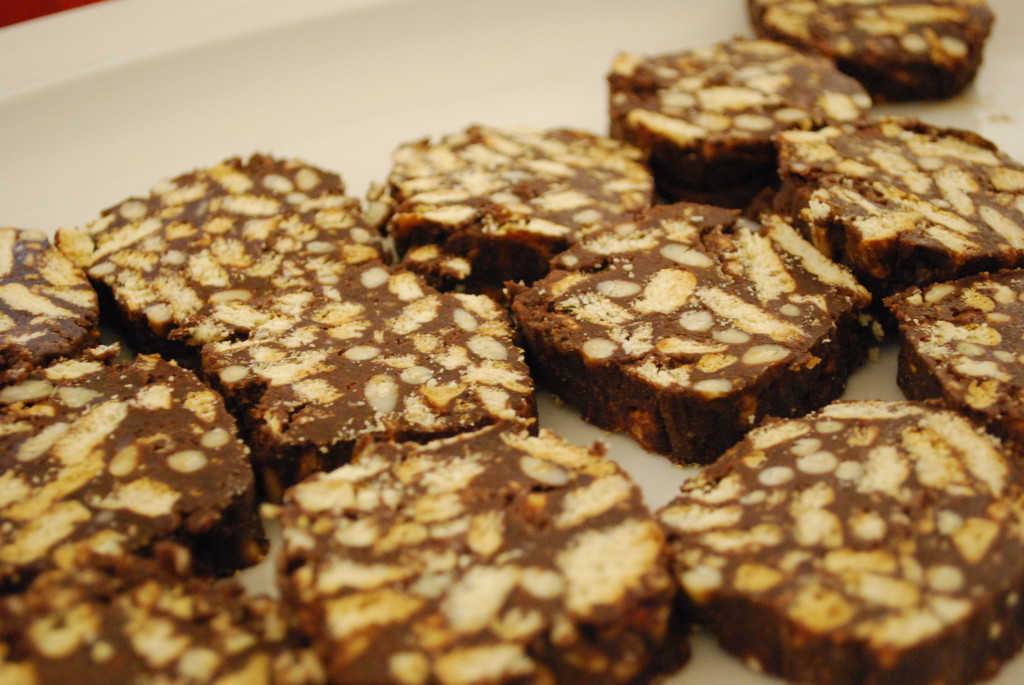 Here's the recipe for an Italian salame even vegetarians will love!
Lost Recipes-Salame Dolce
Ingredients
6 ounces cookie crumbs (best are small rectangular cookies called Marie in Italy, and Petite Beurre in the U.S.)
1/2 cup sugar
5 ounces melted butter, cooled
2 egg yolks
6 tablespoons unsweetened cocoa powder
1 ounce grappa (my preference), or Grand Marnier®, Amaretto di Saronno®, Kahlua®, rum, or whiskey
Instructions
Beat the egg yolks with the sugar until it resembles cake batter. Add the melted butter and cocoa powder. (And more cocoa powder if you want it really dark.)
Crush the cookies in a food processor or with a rolling pin, leaving some pieces a little larger than others so they resemble the fat in a salame.
Form a salame-like shape and roll it in aluminum foil. Place in the freezer for 30 minutes or until firm. Unwrap and slice. Serve with soft whipped cream and fresh berries.
https://divinacucina.com/2015/01/lost-recipes-salame-dolce/