As August hits us with it's super hot days,  it also gifts the garden with ripe tomatoes.
We were very lucky to have been invited down to Sarno outside of Naples to the first POMODORO SAN MARZANO DAY, celebrating the DOP tomato produced in the volcanic soil near Mount Vesuvius outside of Naples.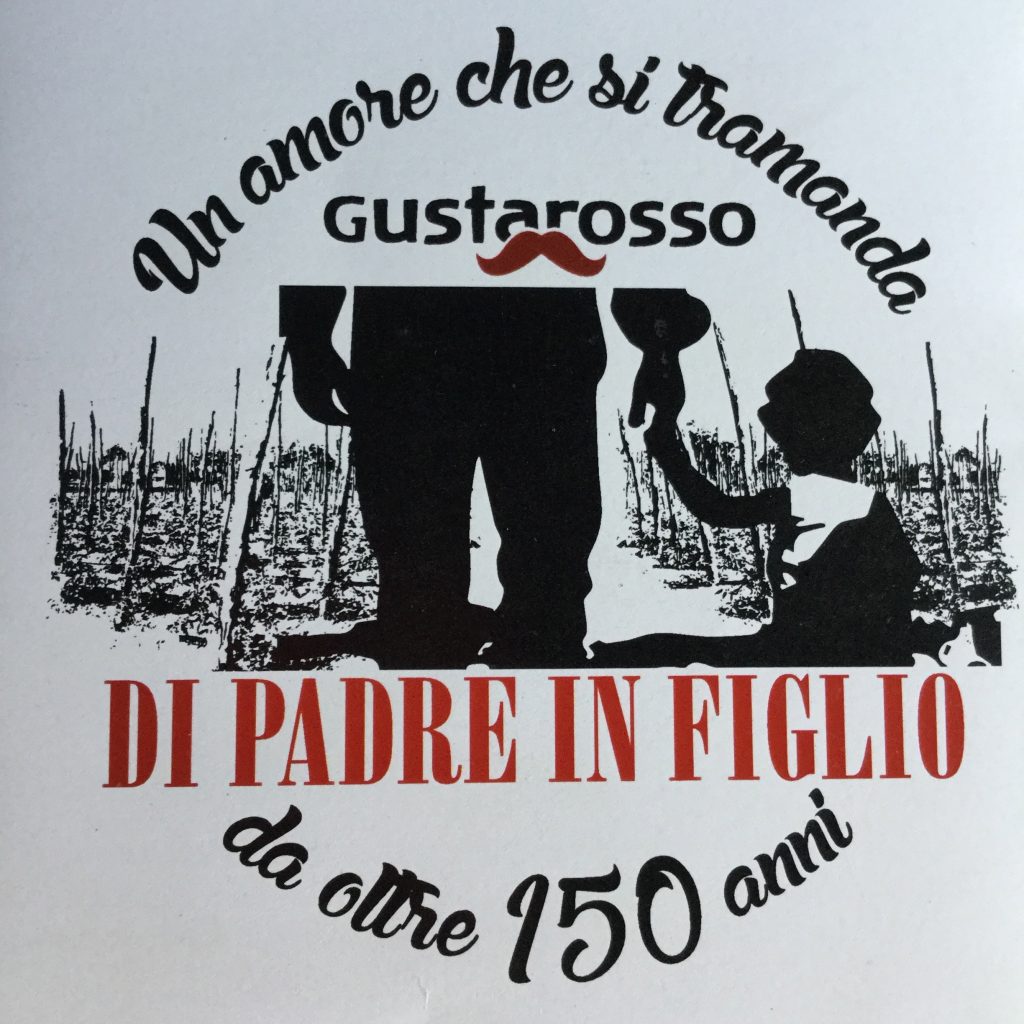 Years ago, Eduardo Ruggiero came to Gragnano and gave us a lesson on the history of the San Marzano tomato, which is a DOP( Denomination of Origin Protected) and  recognized by the Slow Food Presedia. He is also the President of the Confer
This year,his son Paolo organized this incredible event to help promote the importance of terroir of the San Marzano Tomato. Often there is no truth in labeling and you by something called San Marzano, as they bought San Marzano seeds from a large commercial seed company. But the fame and flavor of the San Marzano comes from where it is grown. I admire the love and passion that the entire Ruggiero family has put into protecting this crop and preserving the traditions of the area.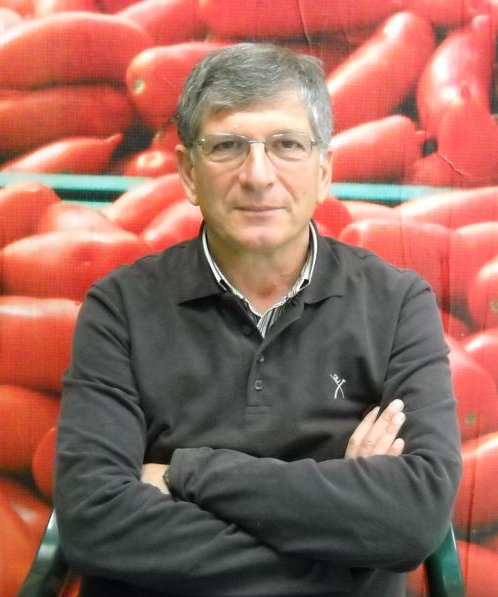 The Ruggiero Family has been producing the San Marzano since the early 1900's. Eduardo told me that the San Marzano was not a tomato but a  fruit, the first seeds brought from Guatemala had almost become extinct, but that they had saved the seeds and only use their own seeds to replant, not using the seeds sold by the large corporations which are treated and have changed from the original seed.
Pride and Pomodori
The Danicoop/Gustorosso warehouse not only has San Marzano tomatoes, but also other tomatoes and products produced by the members of the cooperative.
We toured the land where they member each had their own small farms. Each farm also has a small house to store their tools, relax from the heat and have access to the water which flows through the land. The Sarno river provides the rich volcanic soil it's moisture, without regular irrigation.
The land was like private gardens, not huge factory farms and the tomatoes where hand harevsted. The byline of Danicoop is that they tomatoes are "raccolto da nonni italiani", harvested by Italian grandparents. NO LIE!
Most of the people we met had been farming the land for over 50 years.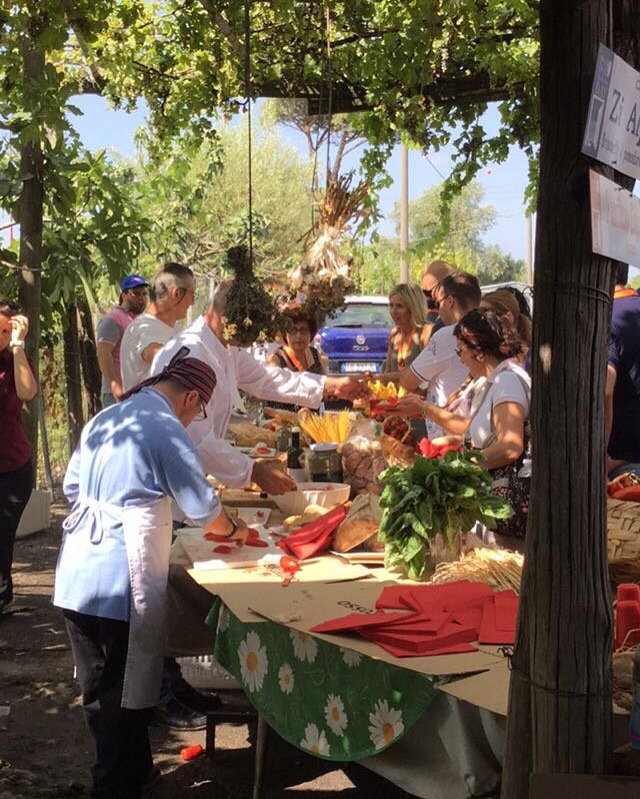 For the Pomodoro San Marzano Day, the farmlands were opened and the various members of the cooperative Danicoop, hosted local chefs and had tastings of specialties, all using the San Marzano Tomato. Simple dishes were incredible, using ripe, organic, local products.
Italy is full of regional specialties that just don't travel. Not because they can', but rather because people like to eat local. There is a large community of Napolitani up in Tuscany, so on market days I know where to find the truck with products brought up especially for market days, like fresh mozzarella, pane cafone, friarelli and whatever might be in season.
Our first stop was for an aperitivo, offered by Bar Romolo from Sarno. Bartender Giovanni Orsini created a Pomodoro Spritz which was so refreshing.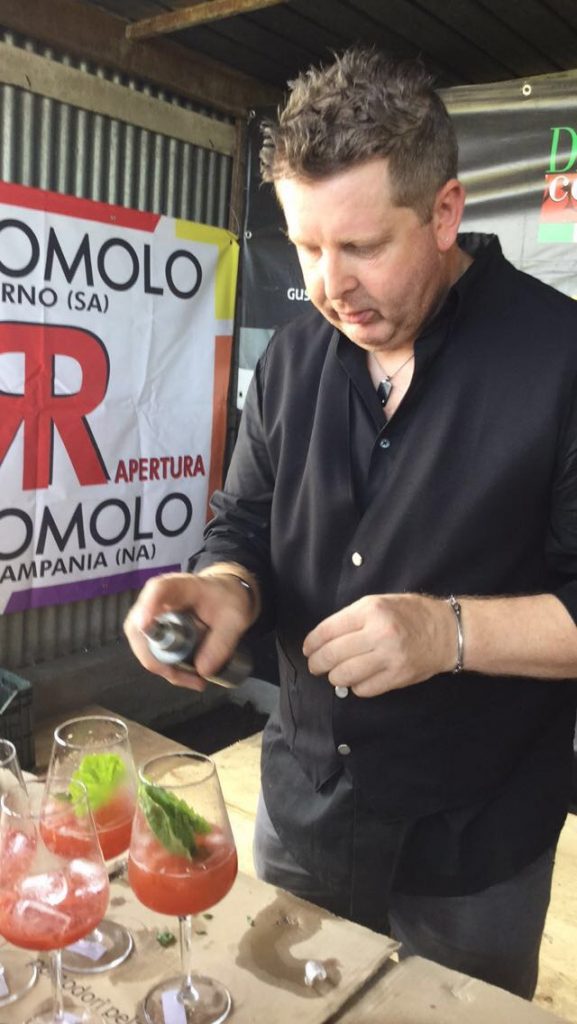 The liquid from the can of San Marzano tomatoes was lightly sweetened and chilled on ice. He then added prosecco and mixed to chill well. The fresh basil, which has an entirely different flavor here, was lightly bruised to not release any bitterness and added to the drink. He finished it off with a light spritz of balsamic vinegar. Try it and send him a thank you note!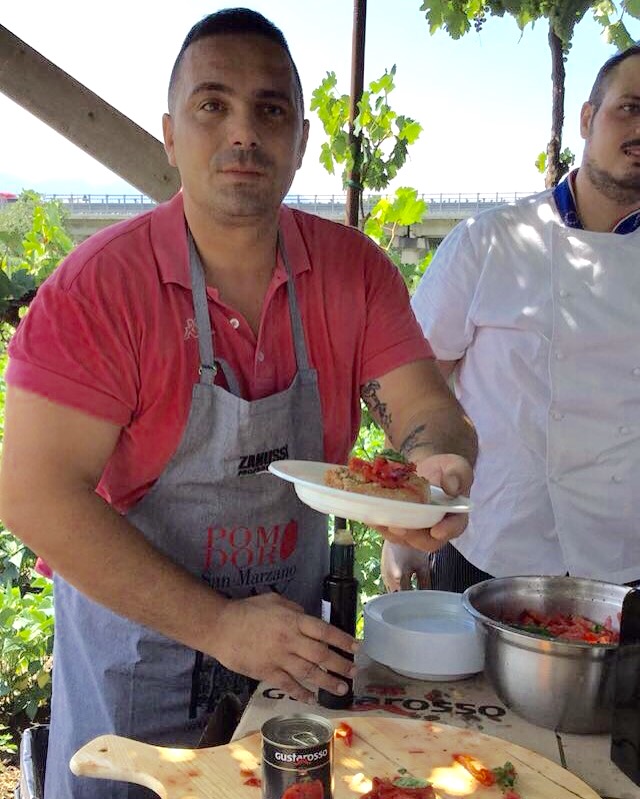 Simple bruschetta becomes sublime with the right tomato, good oil and seasoned well. Thanks to Angelo Squillante
There were demonstrations of how things are done family style,  August in Italy is time to preserve tomatoes for the year.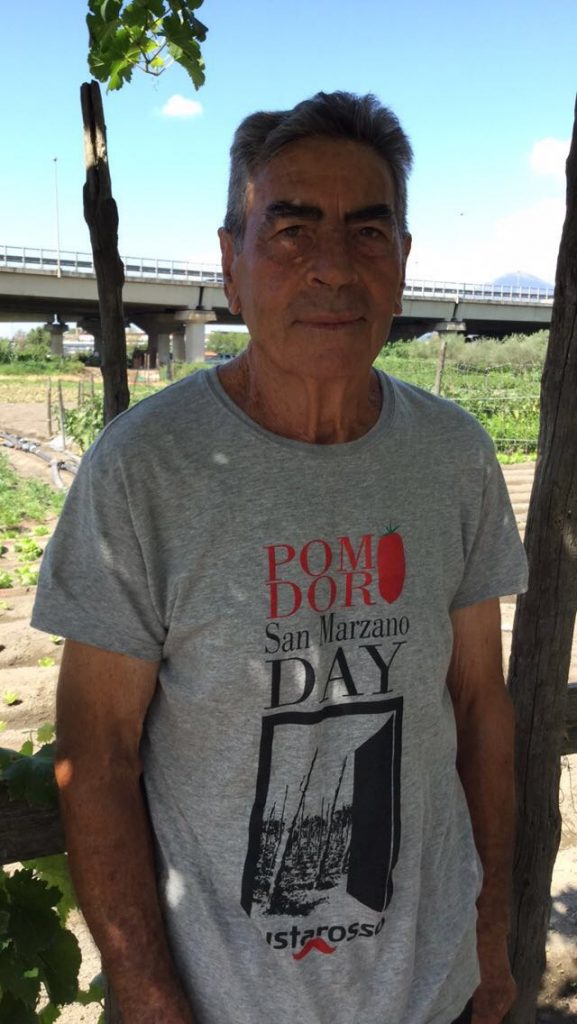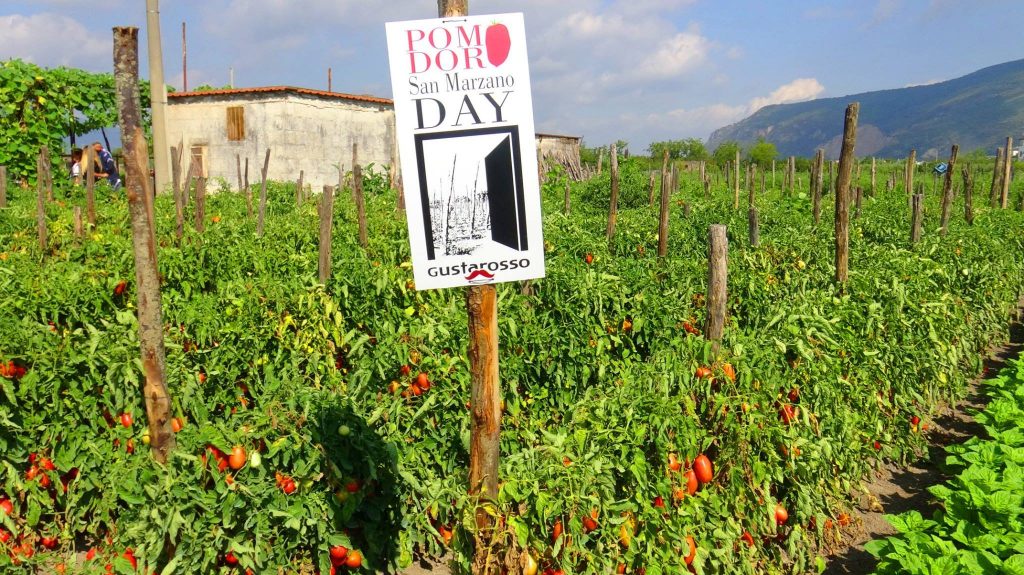 Take a peek inside now– with my little video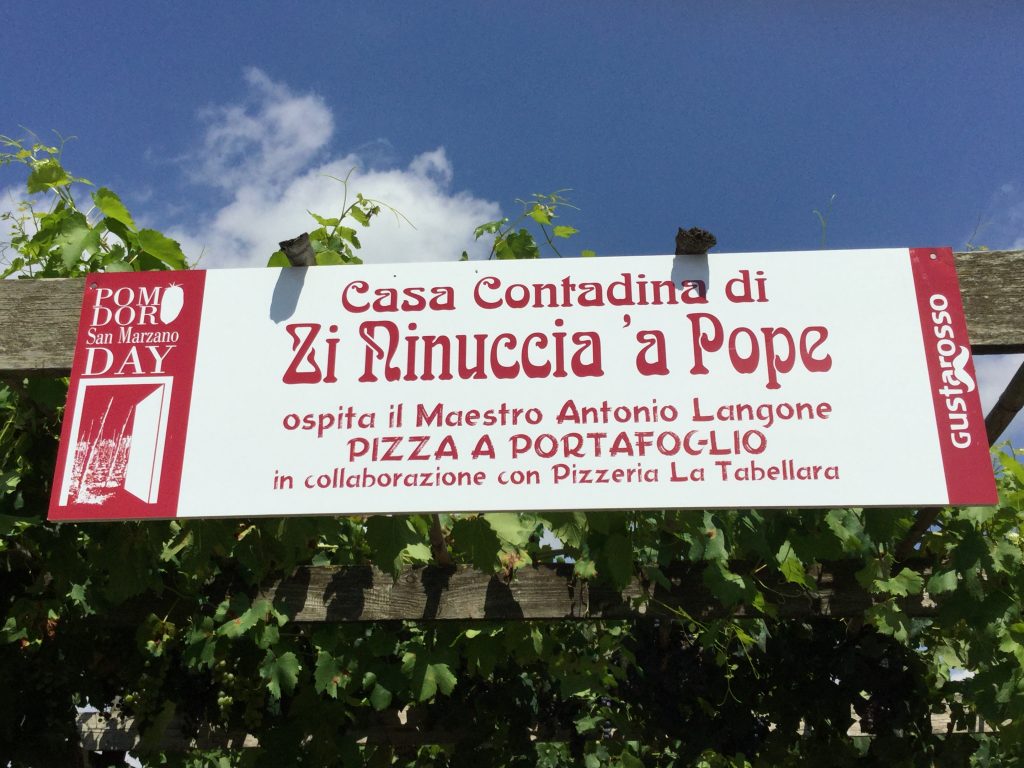 Another fun discovery was the pizza a portafoglio, where a simple pizza margherita, tomato, basil and mozzarella, is made a little smaller and a little lighter and served folded first in half, then again like a wallet, portofoglio. Possibily Italy's first fast food and street food. It was served from a beautiful copper pan with a lid, which kept the pizza's warm. They were sold on the streets and also delivered.
The folded pizzas are served in paper and protect you from burning yourself or spilling the sauce. GENIUS.
Grazie to Paolo Ruggiero for organizing this wonderful day. He told me that next year it will be  a two day event. If you would like to be part of the experience, let me know, we can create a trip based around the event and do the three P's. Paestum ( buffalo mozzarella), Pizza ( want to learn the secrets of the real Napolitano style pizza?) and Pomodori( celebrating the local San Marzano of course). Add on a visit to Pompei, Gragnano for the Pasta…. we can go on and on!!!
The festival went on and on- We had a few versions of bruschetta on pane cafone, a local bread made with sourdough base, the pizza fritta, fried pizza with tomato mozzarella filling. Boiled corn, which I have never seen corn for human consumption in Italy, what a surprise!
There were fireworks and traditional music and dancing. The party moved on from the first group of farms and across the road to another set of farms which then hosted a group of chefs serving pasta and desserts with San Marzano tomatoes!
Dessert??? YES! have you tried tomato jam? i posted a version on my blog. It was served on gelato and also a special cream puff filled with ricotta and topped with a little of the jelly, called Zizzinella.
If you are interested in tasting the San Marzano DOP tomatoes from GustoRosso, contact Gustiamo in NY, they carry them as well as many other ingredients from some of the best producers in Italy. Tell them the Diva sent you!
Do you remember this little illustrated story on REAL San Marzano?
One of my biggest gripes in life is that people spend so much on silly things like cell phones, designer shoes, fancy cars and eating and drinking in overpriced places… but when  it comes to shopping? People go CHEAP!
If you love yourself, do yourself a favor and buy good simple food. I promise you, it tastes better, you need to do less to cook and fewer ingredients.
PLEASE!!!!
Here is the recipe for this lovely drink created for the party– share the love!
Ingredients
Pomodoro Spritz
1 tbs cane sugar simple syrup
1/3-1/5 cup of the tomato juice in a can of San Marzano DOP
prosecco
basil
aceto balsamic in a spray bottle ( to taste)
Instructions
Place the syrup in the bottom of the glass.
Add ice.
Top with the tomato juice from the can. Stir well to really chill the tomato juice.
Add as much prosecco as you like, and mix again. ( I like to add an equal amount as the tomato).
Mix well again to blend and really chill the drink.
Lightly bruise the basil and add to the drink.
Give a quick little spray of balsamic vinegar over the drink.
Serve immediately.
* recipe from Bar Romolo, Sarno
https://divinacucina.com/2016/08/passion-pomodori-san-marzano-danicoop/