I recently received a copy of Emiko Davies 's cookbook, Florentine, The True Cuisine of Florence. It is filled with her favorite recipes from living in and around Florence. Like me, she got some of her inspiration for the local trattoria's, pizza places and friends. Marrying a Italian also helps for quality control!
I first saw her blog posts on Artusi, I smiled, it was one of the first books I also saw here in Florence. My friend Kyle Phillips had also translated Artusi into English, it was written in the 1800's as one of the first printed recipe books, for the upper middle class. But I rarely used Artusi, I really preferred the local working class recipes and used Paolo Petroni's books on local cuisine.
In her book, I find more of the Florentine recipes I also learned here. The book is lovely, rather large and filled with photos of both the food and Florence. I like the way she chose to group the recipes by subjects instead of by recipe; La Pasticcieria (Pastry Shop), Il Forno (Bakery), Il Mercato (Market), La Trattoria. Il Macellaio (The Butcher) and In Giro (out and about). It gives you more of a taste of how we shop and spend our days.
For my recipe to try, I decided to stay with a recipe which was near and dear to my heart. For 20 years, I had an apartment down in the center of Florence at the Mercato Centrale,where I held my cooking classes. When I wasn't teaching, I loved to walk around the corner to Trattoria Mario's, a tiny place only open for lunch. The menu at Mario's was fun,typical local dishes and there were daily specials which repeated themselves during the week. Bracciole rifatte was a personal favorite at Mario's.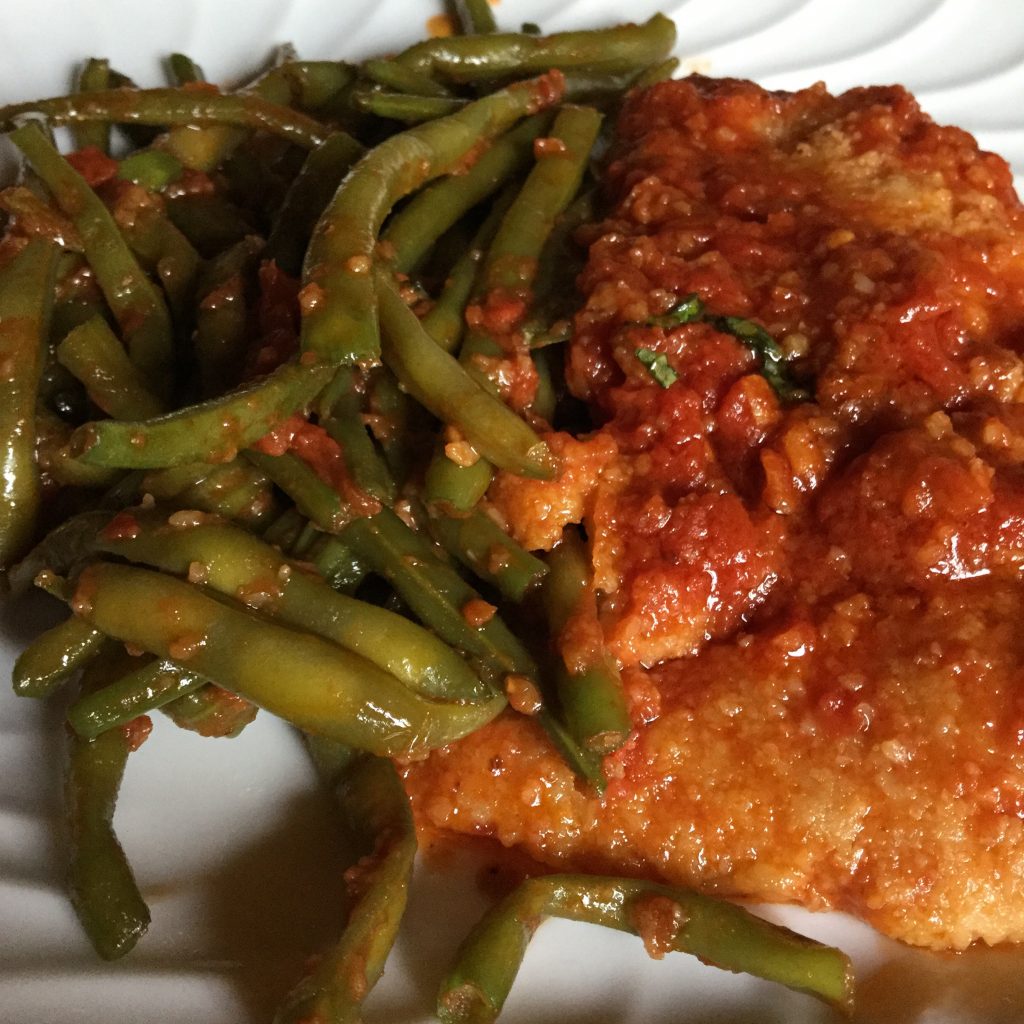 I think this recipe really helps you understand how we cook here. So many of the recipes are "re-cooked" like ribollita ( reboiled), these beef slices where are rifatti ( redone) or even biscotti with are cooked twice bis(twice) cotti(cooked). A cheap cut of meat, the piece I bought was called Rosetta or Noce, a muscle from the back thigh. The scalloppine is first breaded and fried, then slowly stewed in a seasoned tomato sauce until tender.
Instead of me re-writing Emiko's recipe for Braciole Rifatte, here is the link to the blog post she wrote. I always love the stories behind a recipe.
It begins with a cheaper cut of meat,this is from a muscle, sliced thinly then I pounded it even thinner.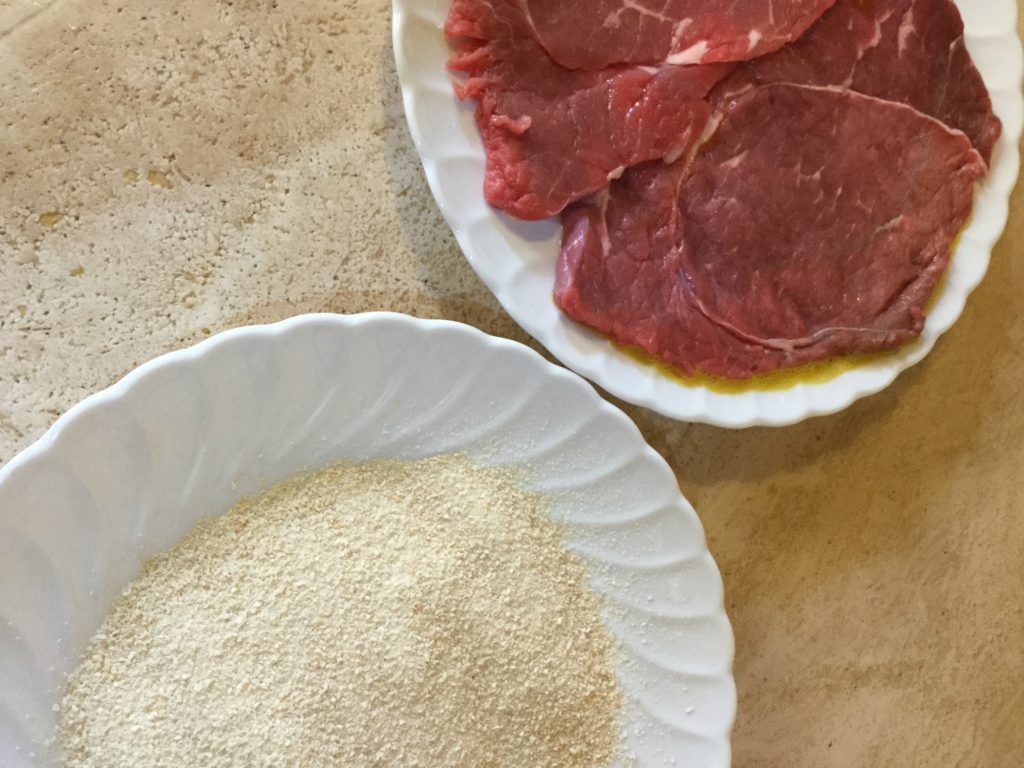 The lightly pounded beef slices are first dipped in beaten egg with salt, then breadcrumbs. Let sit while heating the oil to fry. I use extra virgin olive oil to fry in, as what I get is local and not a FAKE extra virgin olive oil. Mostly for sale are commercial oils which have been treated and "break" when fried. So you can use whatever oil you trust.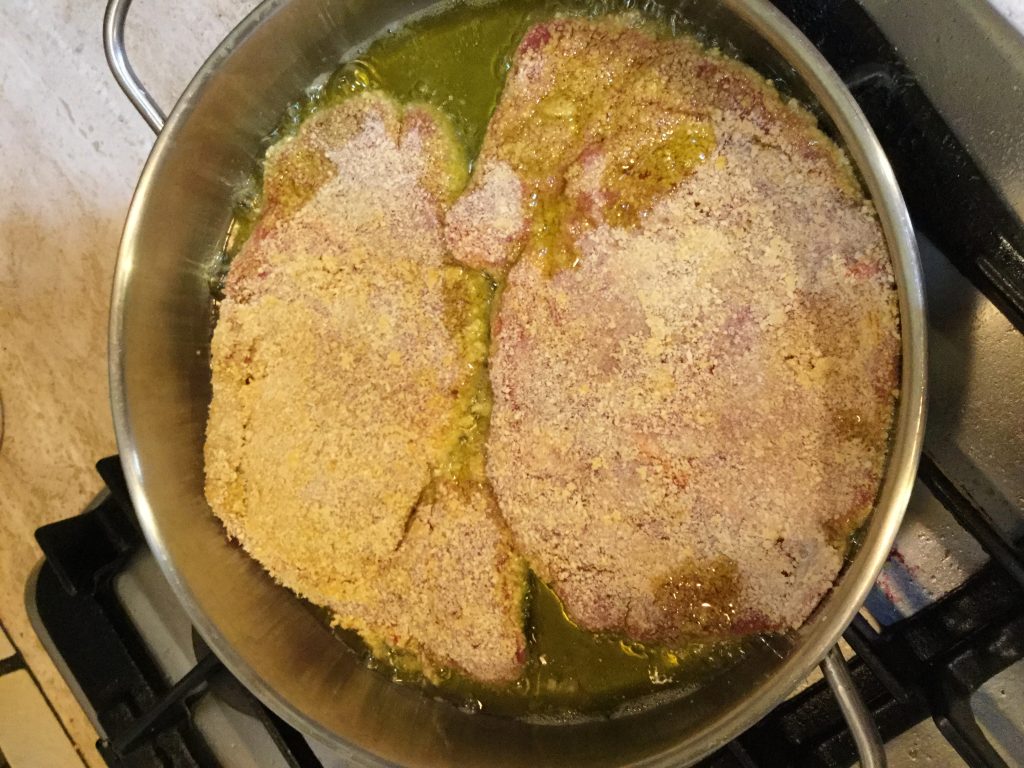 When they are fried crispy on both sides, ( don't fuss with them, just let them sit until golden and then flip).
Remove them from the pan and in the same pan, add a little more extra virgin olive oil,heat sliced garlic and I add chili peppers. Then a whole can of San Marzano tomatoes. ( if you really want to treat yourself to something special get REAL San Marzano DOP) many of the cans marked San Marzano are plum tomatoes are they are grown from the San Marzano seeds somewhere else which makes them different.
When the sauce has broken down, after smashing the whole tomatoes with a fork, lightly salt and place in the fried braciole.
Our favorite thing to do is then to remove the meat from the sauce, put some sauce on the meat, and then toss in vegetables to the remaining sauce and "recook" them too. Extra added flavor.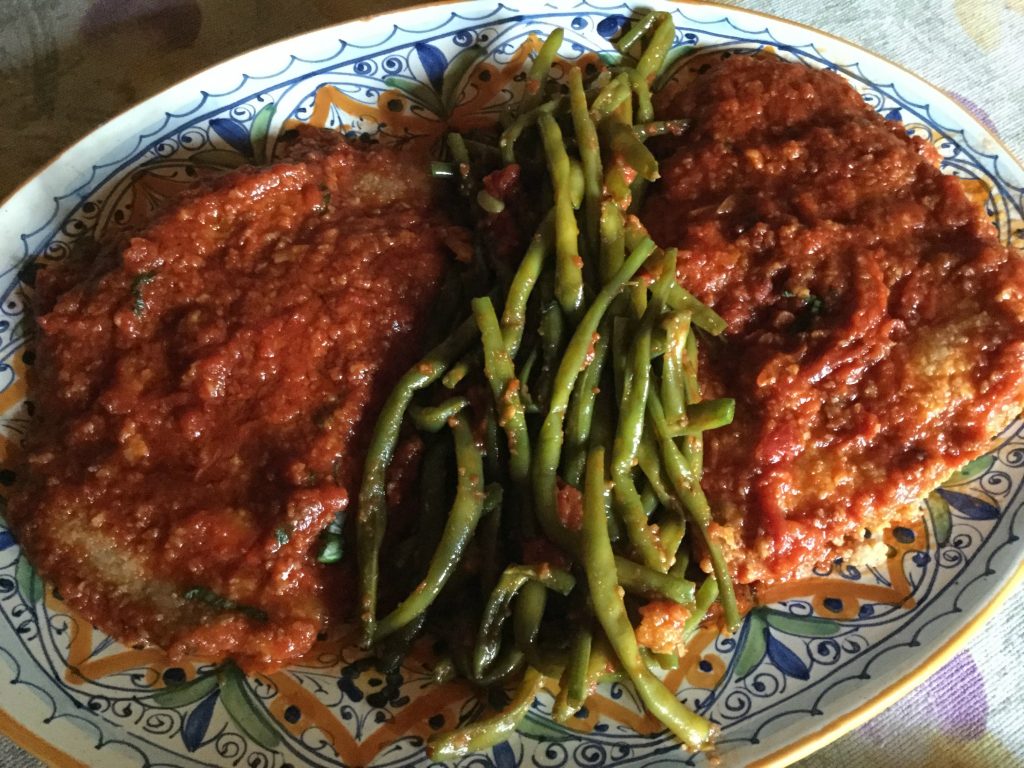 Recently, Emiko just announced she is working on her second book, on the food of Maremma, where she has been living while her husband was working down there. It is another fascinating region. Tuscany is filled with them.
The regional recipes in Tuscany as so many, most people hit the larger towns, Florence, Siena, Pisa and Lucca. I am so glad to see when people return and go beyond the big hitters and get out into the countryside and smaller towns.
Yesterday we took a back road we have not taken before and were rewarded by finding a restaurant I have been meaning to try, a field of sunflowers in bloom and another historic stop on the Francigena, the famous Pilgrim's Trail I am researching for a fall hiking and food trip.
Enjoy the book, it is a little bit of Florence you can bring home! It has inspired me to reissue my book  with fotos of my Florence. This October is 32 years since I arrived and fell in love with the incredible city.