Taste Chianti App review of  Prètto Prosciuttera Siena
Located just a small distance from the Piazza del Campo, Prètto Prosciutteria is a great stop to take a break anytime of the day. Not just a prosciutto place as the name would lead you to believe. It is sort of like the old wine bars, called Vinai, which have a little of everything for snacking while you drink, but no real kitchen.
Emanuele Pacini and his sister Tamara have created this wonderful place to enjoy their handpicked Tuscan artisanal foods and wine.
We went to taste some of my friend's Cinta Senese products, Ray and Anna Rita of Casamonti in Castellina in Chianti. Knowing that they sell his products, I was interested to see what other fine artisan products they used.
We started with a tasting board of what they suggested. There were three of us and it was HUGE. I think most people just get this and some wine. I needed to try other things as well, so we had their lampredotto sandwich and the trippa, two traditional dishes mostly found in Florence.  Both were perfect.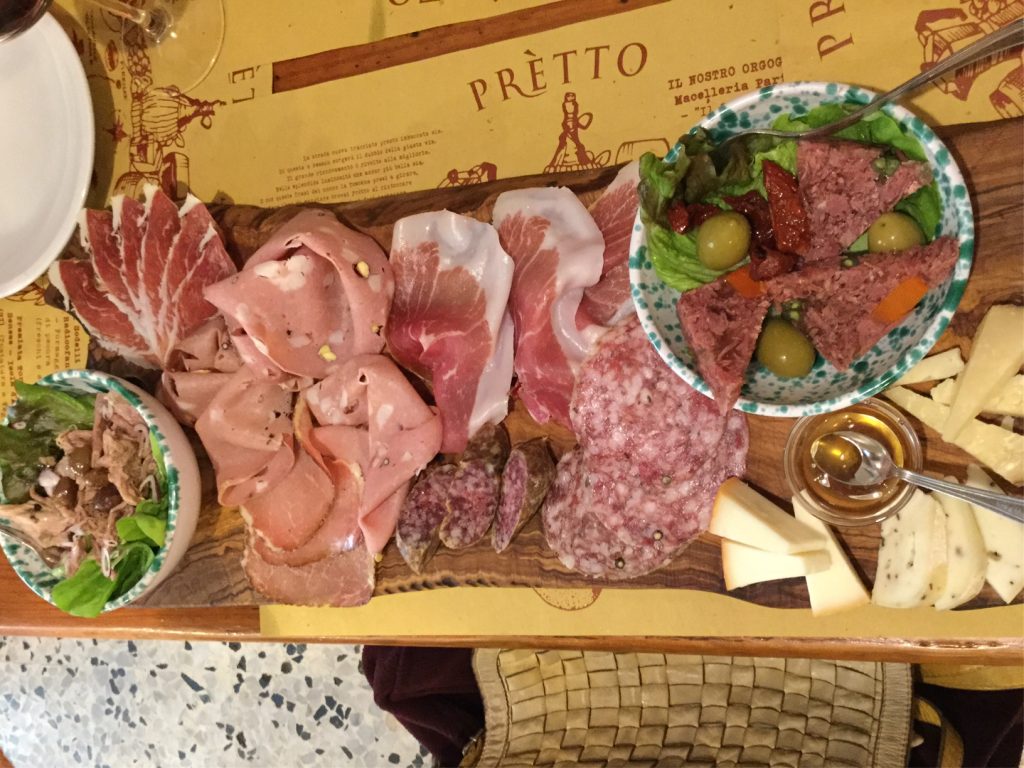 I especially like to have cheese with wine, they served the cheeses with a nice assortment of breads and a couple side of honey to put on the cheese, a common pairing. Our tasting tray also came with a couple of the specialities of the house, the "tonno" which is an old recipe from Chianti for serving a confit style pork and their "Simmental" which I adored. Simmenthal is a boiled meat in a marsala gelatine sold in cans, which was made to make a housewives job a little easier. This is no housewife version!  Do try it.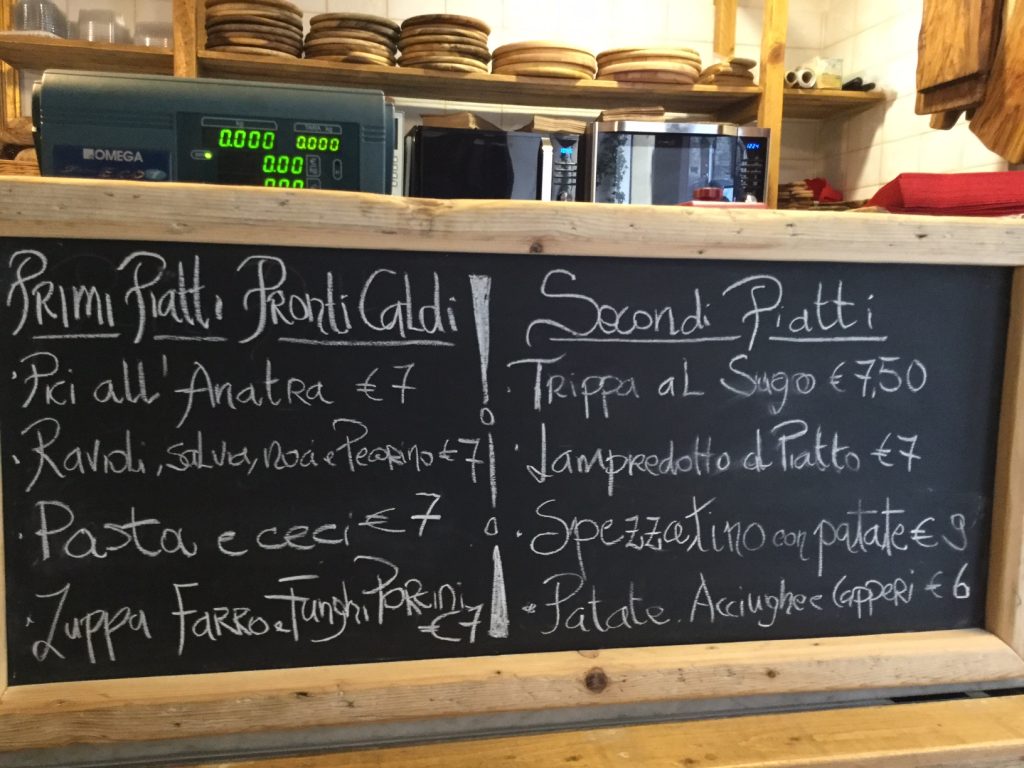 They don't have a kitchen to cook, but order special prepared dishes from a local chef and heat up to serve. All local products and traditional recipes. We skipped soup or pasta and went for the tripe,which was in the classic tomato sauce served with parmigiano cheese on the side.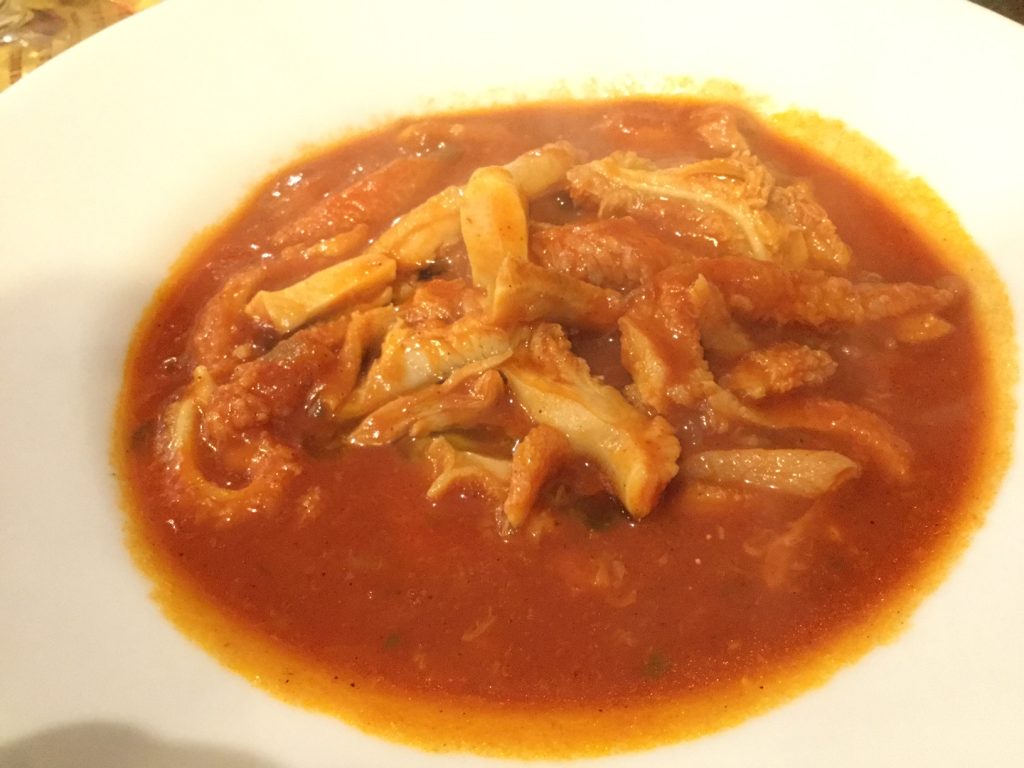 My lampredotto sandwich had the perfect crispy bun, I order mine with Salsa Verde and chili sauce.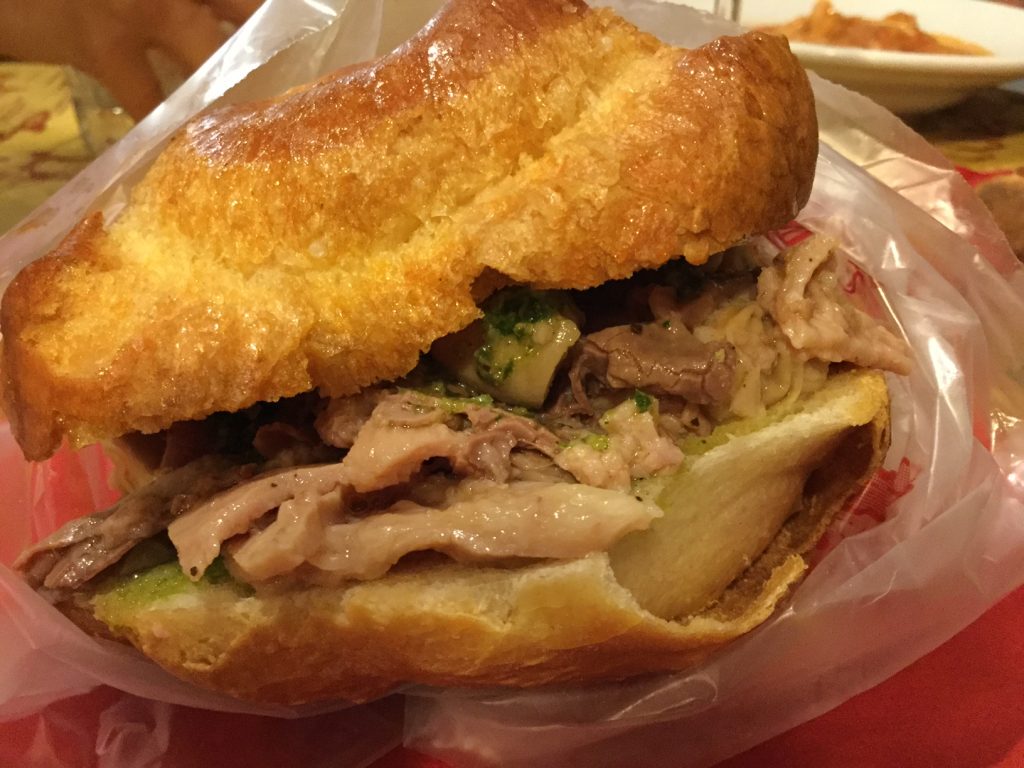 Traditionally this is a street food, served at carts around Florence, where you stand to eat, so was a nice change to be able to sit down and enjoy it with a glass of wine.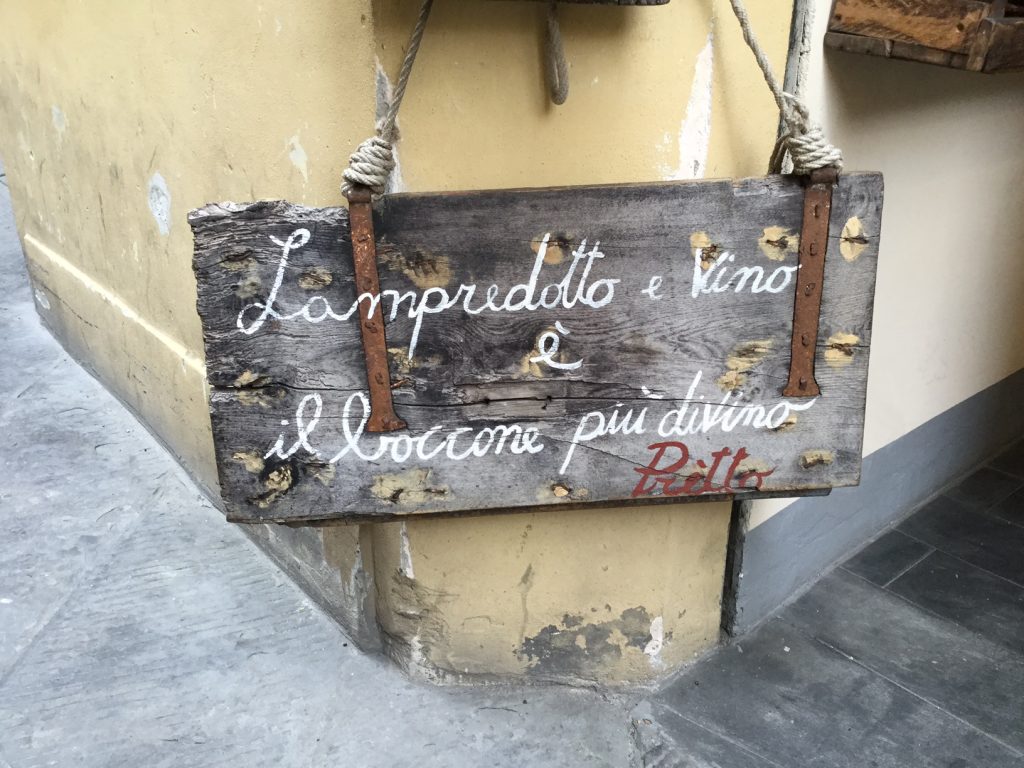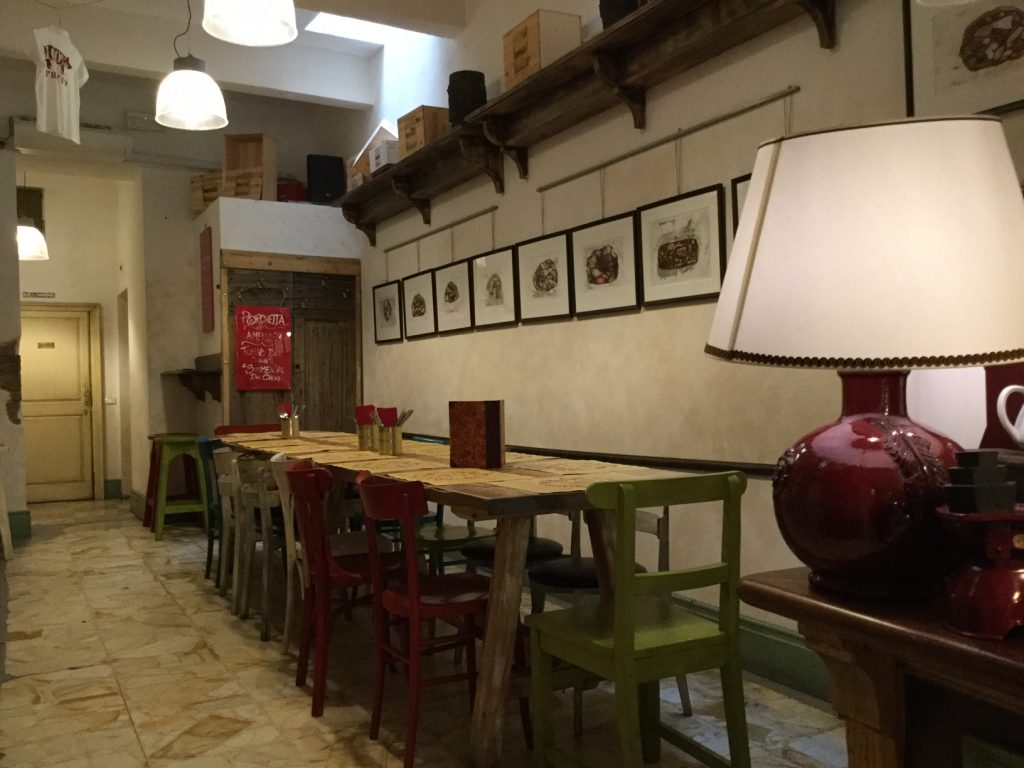 There is this large communal table in the back, which people share. It is especially busy during lunch time, but since they open at 10:30 and stay open until late in the evening you are not limited to when you can eat.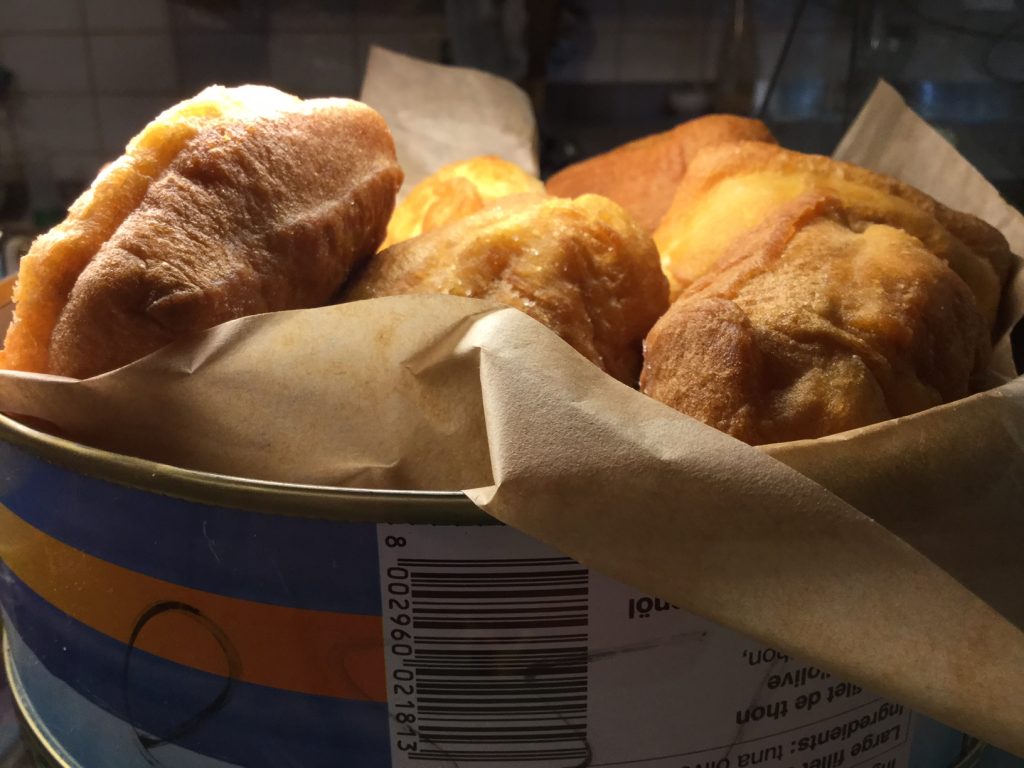 Look for these delicious fried dough specialties called donzelle or coccoli they are wonderful for panini.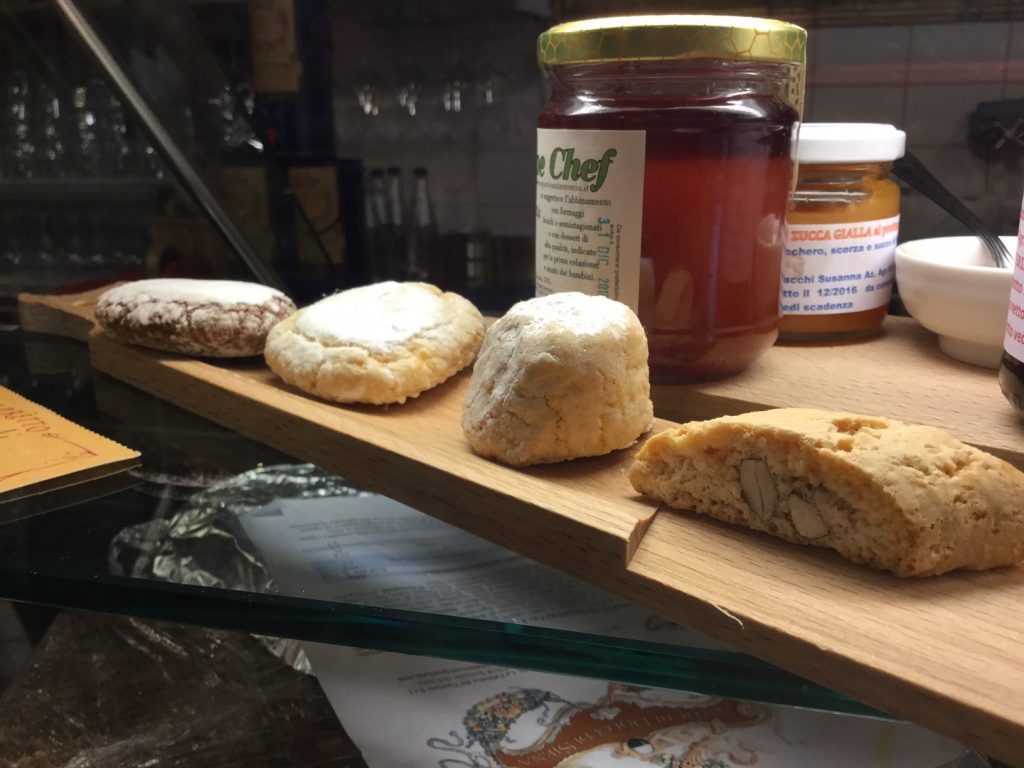 Don't forget dessert! Siena is famous for it's almond pastries, this tasting board looked nice. But we went for their eggless tiramisu!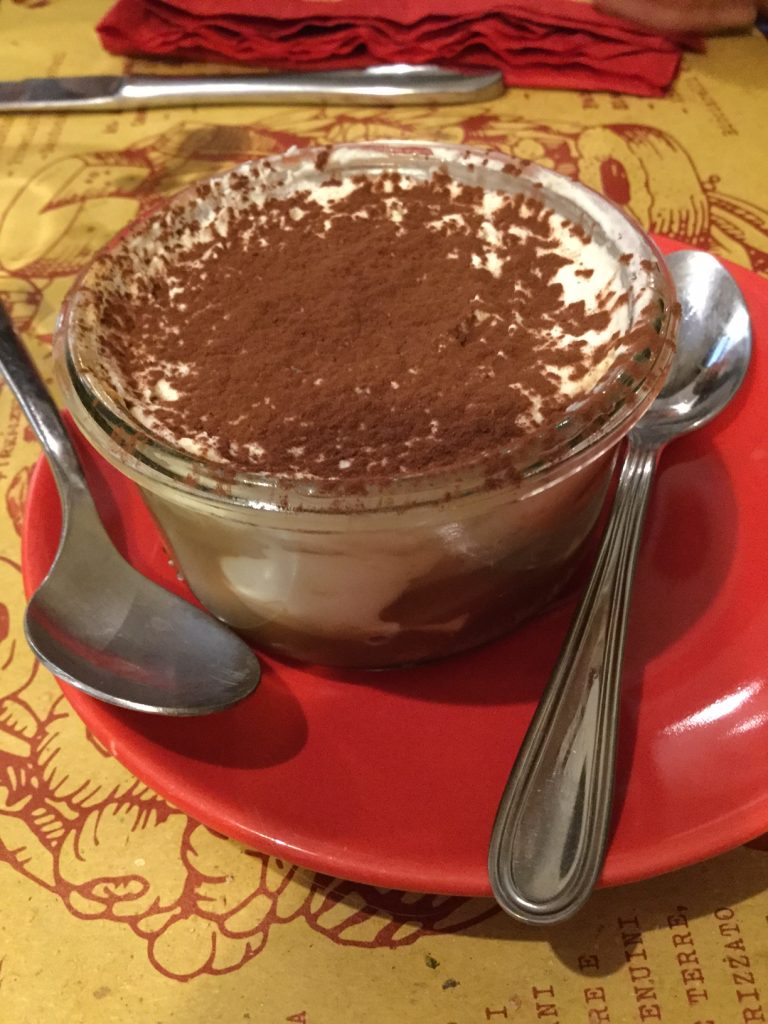 For a surprise ending, ask for the Bombardino del Chianti, be careful they are strong. It is like having a shot after your meal.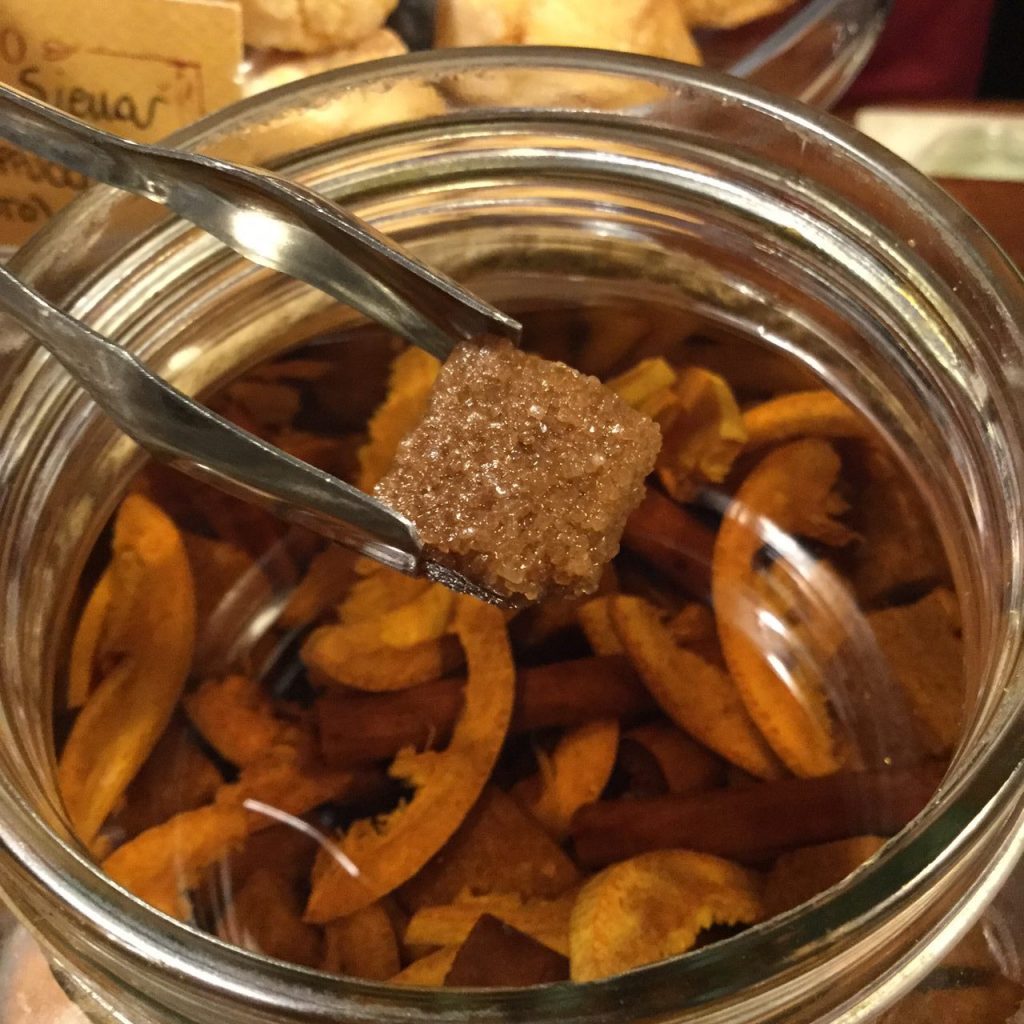 A local "digestivo" brown sugar cubes soaked in a spiced alcohol. WOW— what a kick. I have had these at various places around Chianti after dinner, but this was one of my favorites.
via dei Termini, 4
Siena
Open Monday through Thursday 10:30-11pm
Friday and Saturday 10:30- 12:ooam
Sunday 11:00- 3:00pm
For more places to enjoy in Chianti, download my free app TASTE CHIANTI, it's free!
I am just updating with more fun places, you will automatically receive the updates.
Tell them Divina Cucina sent you!