I have heard from so many of my Italian American friends about the Feast of the Seven fishes for Christmas Eve, but no one in Florence has ever heard about it.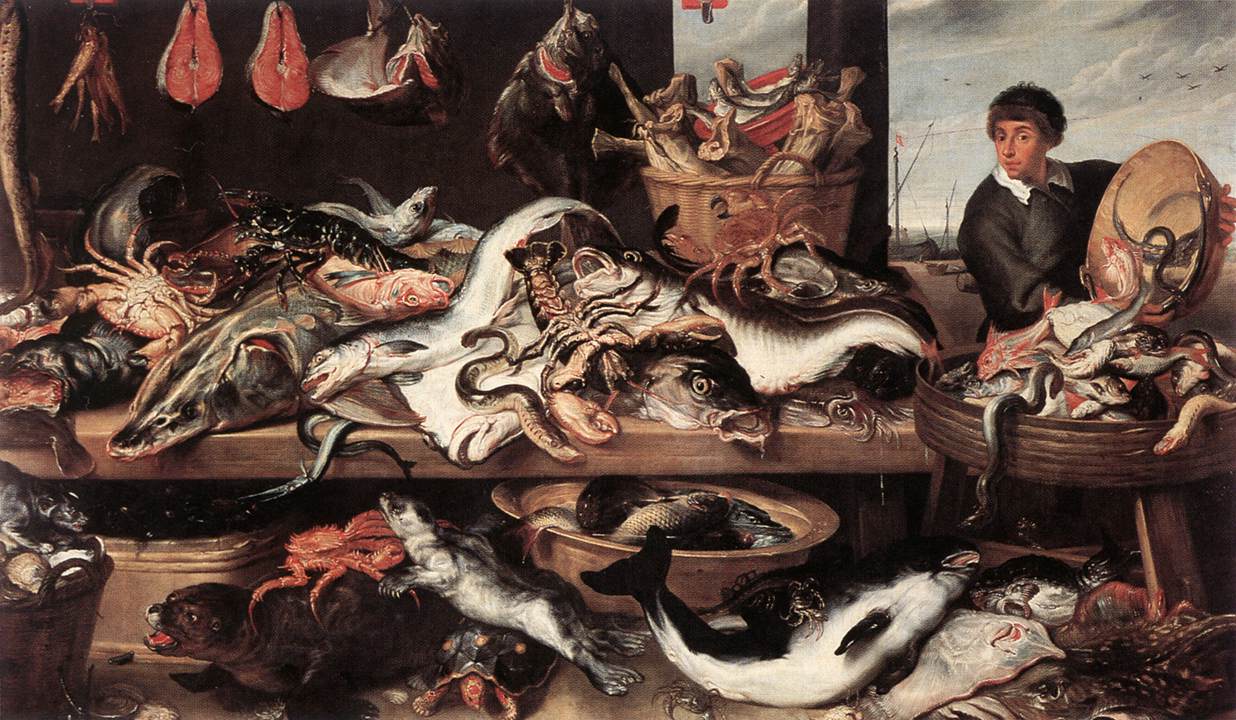 Like many Italian American traditions, they came with the immigrants and found new life in the USA. Regional Italian cooking, would trace that recipe back to the region of Campagna, Naples, where they have a large fishing community.
Most of the Italians  in San Francisco where from Naples, Sicily or Lucca, which was unusual.
The holidays can be stressful enough, so why not simplify?
I love to make a single rich fish soup from Tuscany called Cacciucco, they say it should have as many fish as it does "c"s in the name, that takes care of 5 of the 7 fishes in one dish.
Perhaps I love is as it reminds me of the Cioppino from San Francisco, looking at the recipe, I am sure it came from Tuscany.
There are two ways of making Cacciucco, Livorno claims to be the home of of the original recipe.  I attended a festival Cacciucco Pride last year, it was a blast, here is my post.
The traditional recipe has fish with bones, which makes a flavorful broth, but I find it harder to eat. I prefer the version I learned from Andrea's Aunt Vivetta, who has a restaurant down the coast in Cecina. She taught me to make it with calamari, octopus, cuttle fish and some other not bony fish.
Ingredients
2 lbs mixed fish (I don't like fish with bones and use Octopus, squid, cuttlefish,swordfish, mussels and prawns, fish filet like monkfish, halibat, swordfish)
1 red onion
2 garlic cloves
3 tiny Birds Eye chili peppers
olive oil
1 can tomatoes
1 c red wine
salt
Instructions
Prepare the fish:
Octopus is cut into smaller pieces, each leg, and the head into slices.
Calamari- cut the hood into rings and leave the tentacles whole, removing the beak.
Mussels- rinsed and steamed open.
Prawns- remove shells for easier eating, devein if necessary.
Swordfish- remove central bone and skin and cut into smaller spoon-size pieces.
Saute garlic and chili in olive oil.
Add octopus pieces. When they start to curl and change color, add the calamari. When the calamari turns white, splash with wine and add tomatoes. Salt to taste
Cover and let cook for 30 minutes.
Uncover and add the swordfish, mussels, prawns and fish filets.
Cover and cook for several minutes until the prawns and swordfish are done and the mussles have opened.
Serve in soup bowls, placing a piece of toasted garlic bread on the bottom of the dish and scooping the stew on top.
https://divinacucina.com/2016/12/feast-seven-fishes-cacciucco/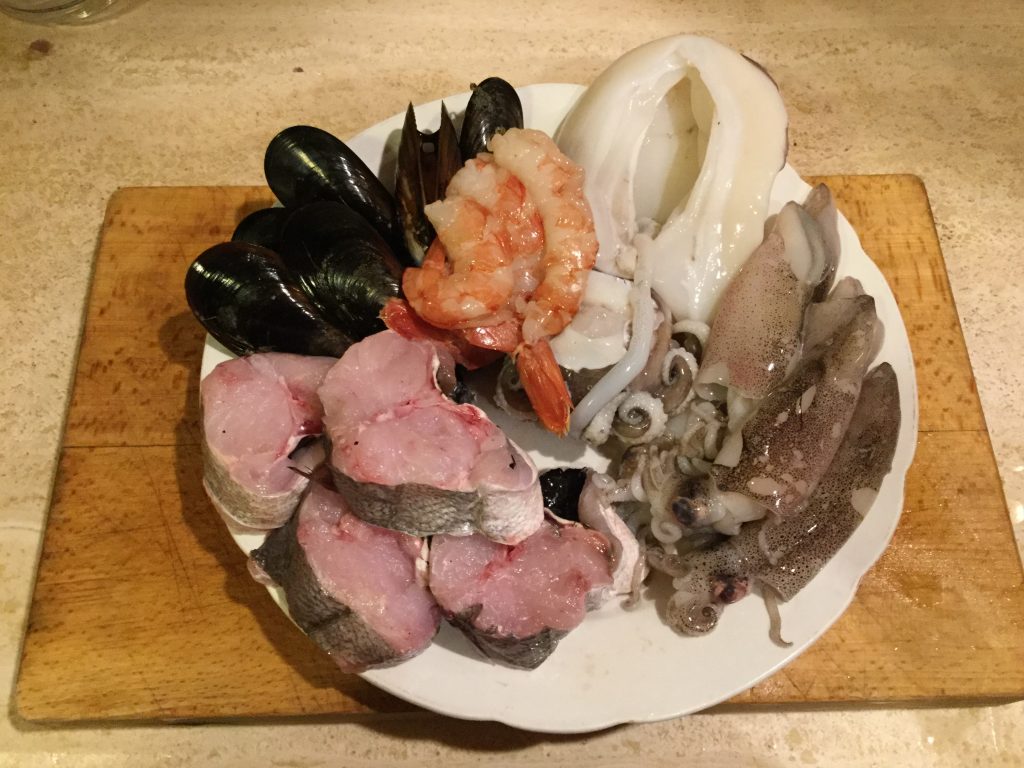 Sometimes I like to cook the Octopus on it's own to also have more to serve as another dish with potatoes or as a salad.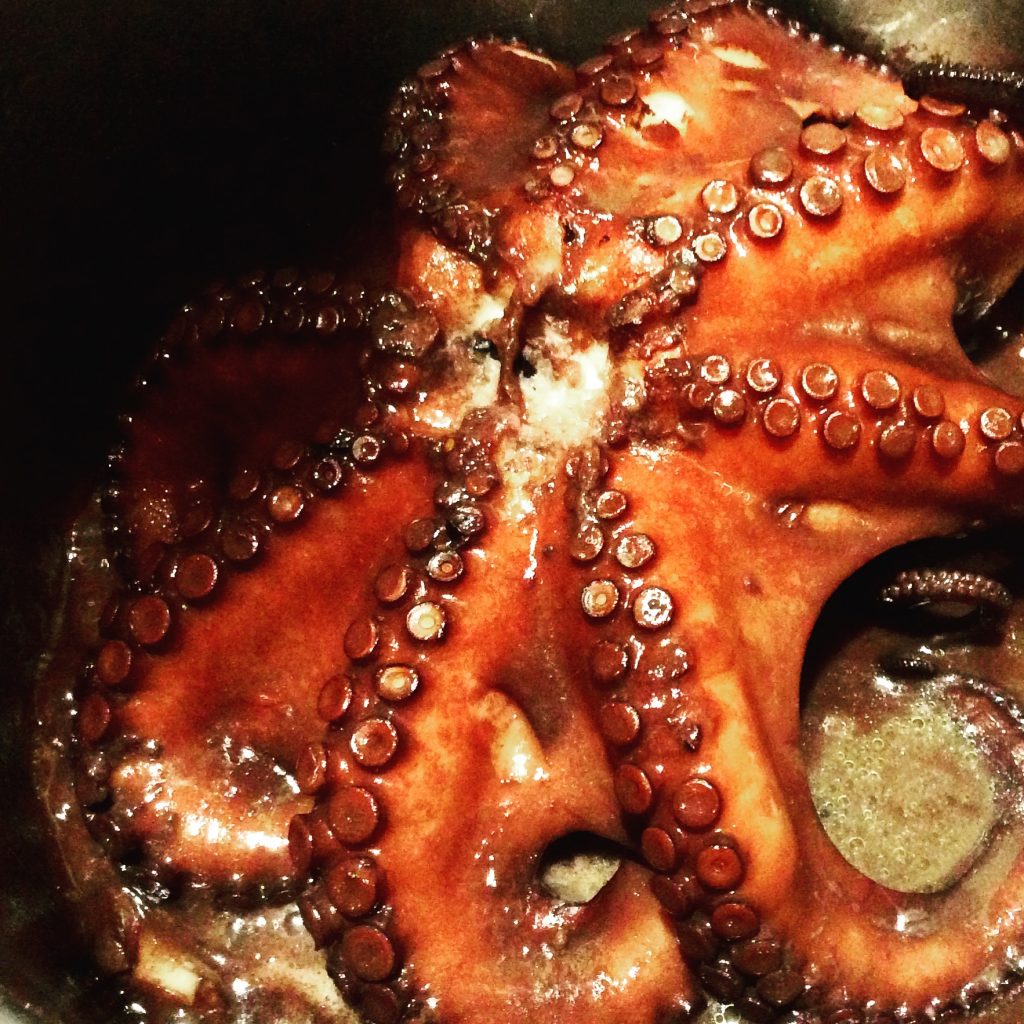 Here is my recipe for cooking octopus, a variation is to add a cup of red wine, the octopus in the foto above was cooked with red wine. I then used part of it in the soup and the rest saved to make a salad.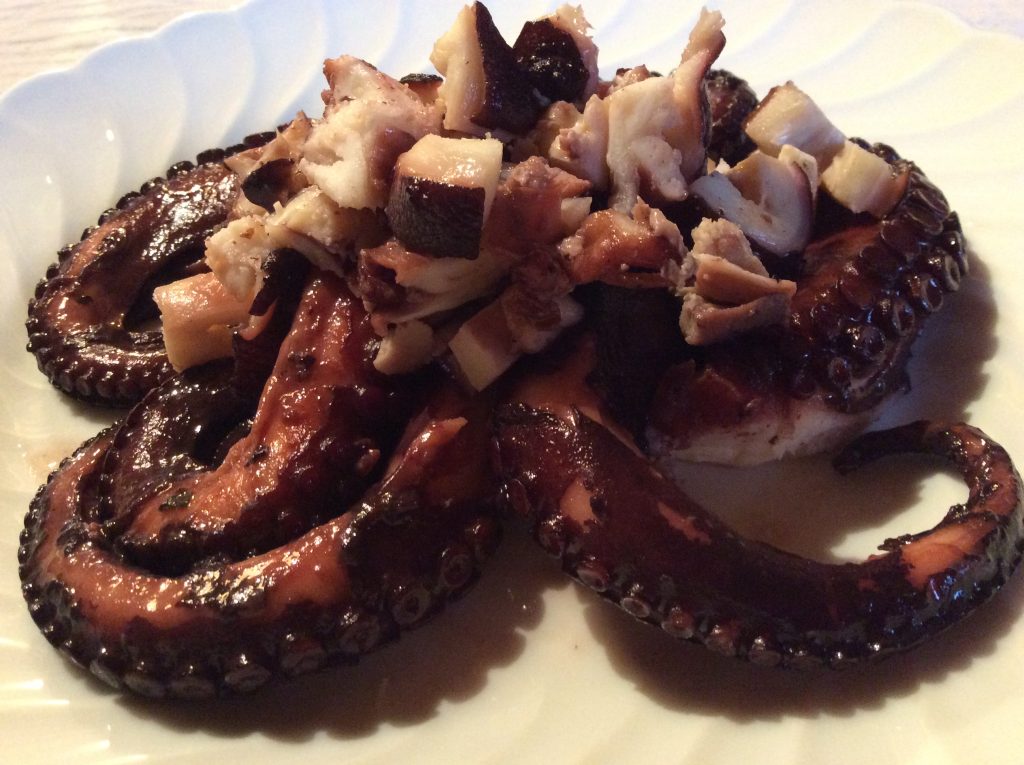 So the fish soup can almost take care of all seven of the fishes in one dish:
Calamari, Cuttlefish, Octopus, Prawns, Mussels and a nice filet. A traditional fish would also be Baccala'( cod) or in California Crab.
I always make some version of this "pickled" fish dish, it is common in Venice but have also had versions in Sicily. Very similar to Escabeche, called scapace in Italy. It is best when prepared ahead of time.
Keeping my main meal simple for the holidays leaves me more time for my passion, making Christmas cookies and candies.