The Medici family always knew a good thing. 300 years ago, they created the wine producing region of Carmignano. Carmignano is part of the province of Prato, just outside of Florence. I have several favorite restaurants and bakeries, shops and wine producers in the area I love visiting in Carmignano, but the town of Prato is also not to be missed. I will be writing more about my Divine Day trips with destinations soon, but this week there is a food festival! I adore Italian festivals, especially based around food and wine. Many food items have been given a special recognition, to let you know when they are regional specialties, and strict rules apply. This weekend Prato is focusing on Food and Wine. Here is the link to the event ( in italian)
If you come to Florence to visit, there is so much to see, a lifetime is not enough. But it would be a shame to not take advantage of the perfect location for day tripping, to  escape from the crowds and visit nearby towns. Prato has been a famous town since the Medieval times for its markets and fabric making, there is a art museum and a fabric museum.
The weekend of June 18 and 19, 2016 there will be a fun weekend of food and wine to promote the Prato based products. Many food items have been given a special recognition, to let you know when they are regional specialties, and strict rules apply.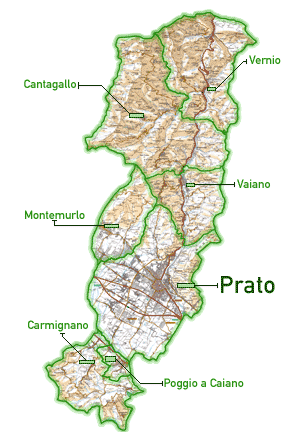 Here are some of the local specialties which are being represented in the festival:
Mortadella di Prato 
(What is commonly known as baloney, mortadella is one of my favorite ingredients not only for a simple sandwich, but to be used also in cooking. The Mortadella from Prato, is only made by a few producers and uses a secret ingredient, Alkermes, in their recipe.) It is part of the Slow Food Presidio, meaning a product to be protected and saved.
Biscotti di Prato
The traditional almond cookies have many variations. When I visited one of the historic bakeries in Prato, they do NOT twice cook the biscotti, which made them softer to eat. "Bi" means twice and "cotto" means cooked, but not all Biscotti are twice cooked. There are so many more "cookies"  in the area at local bakeries, we often make special trips to go and buy them directly.Brutti ma Buoni are a personal favorite.
GranPrato ( wheat and baked goods)
Ancient wheat varieties and stone ground flours are not new in Italy. Bread is sacred to Italians and we search out the best bakers using the best ingredients and if possible, natural yeasts and breads baked in wood-burning ovens). The bread in Prato is famous, Bozzone is one kind we buy, made with a natural yeast "madre", slow rising and baked in a woodburning oven it is perfect with the Mortadella!
Vino di Carmignano
Incredible wines from a little known region, deep and rich. Some of my favorites!
To celebrate, not only in Prato, there will be restaurants in and around Florence also using the ingredients to create special dishes to celebrate 300 years of the Carmignano wine region. What's not to love?  Here is the calendar of events in Florence. 
I will be sharing my itinerary to enjoy the area— with a map of my favorite places in and around Prato.
I was sent a lovely box of products to taste and create something.. just baked some rolls with the @granprato whole wheat flour— and what will I put inside???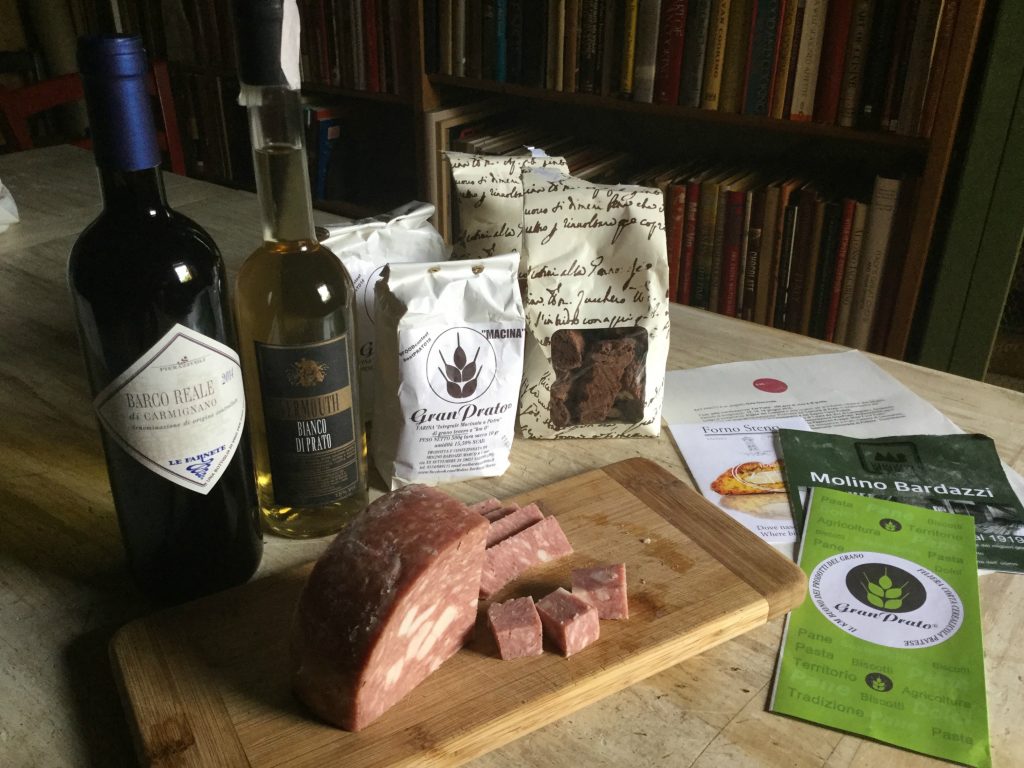 I absolutely ADORE Mortadella– so was already convinced I would create a recipe using it. Normally I simply eat it. In Italy, paper thin slices of mortadella are served in our flat bread, schiacchiata, as a sandwich, no mayo, nothing. It stands on it's own. For parties, cut the mortadella into cubes and serve with a nice dry Prosecco. My husband's cousin, liked to slice it thickly and then heat it and top with cheese as a "poor man's"  steak.
Mortadella is also used as a filling for tortellini, so I was thinking or chopping it and making a Tuscan burger, but keeping it simple to let the fragrance and flavor of this version from Prato stand on it's own.
The Mortadella from Prato, is an old recipe, being made today by  a few families. The fat is a little chunkier and the meat ground not as fine as the commercial versions, but the secret is in the seasoning. The mixture has an old school liquore, Alkermes as well as a Tuscan spice blend called droghe, which has coriander, cloves and more!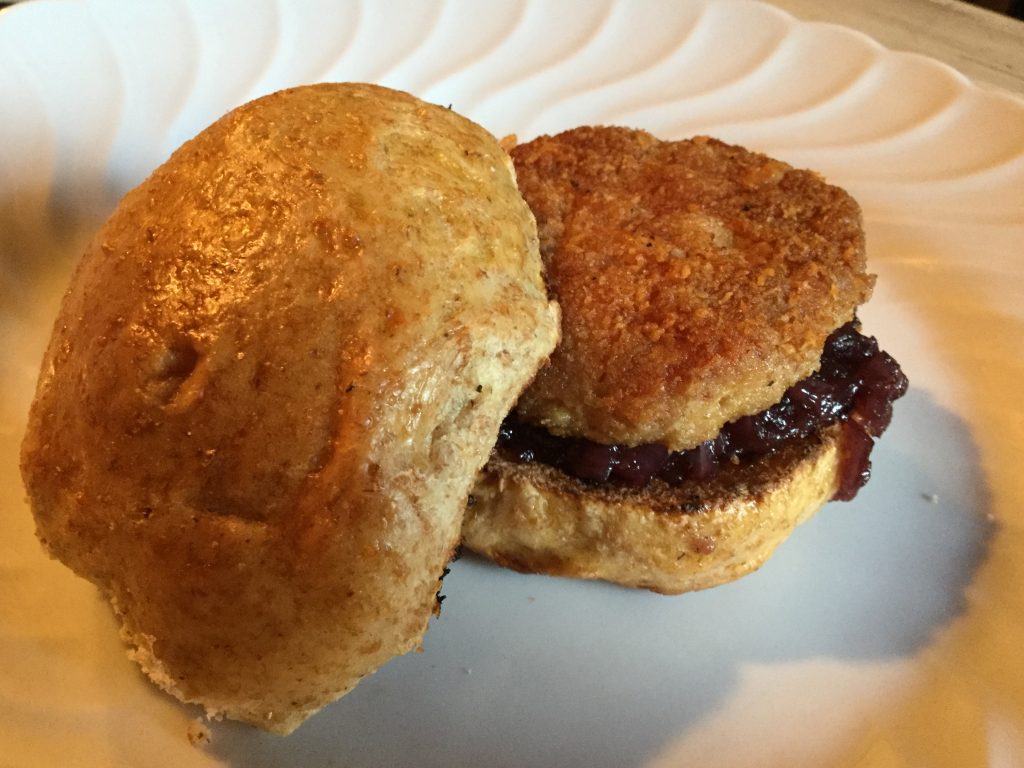 I chopped the mortadella and then ground it finer, leaving a few pieces still big, to give bites of flavor. Lightly breaded, I grilled them and then served on whole wheat buns, made from the local stone ground whole wheat flour from @GranPrato, to which I also added the Alkermes in the dough.For the sauce, I made a red onion compote with a reduction of the local Barca Reale wine to give it body.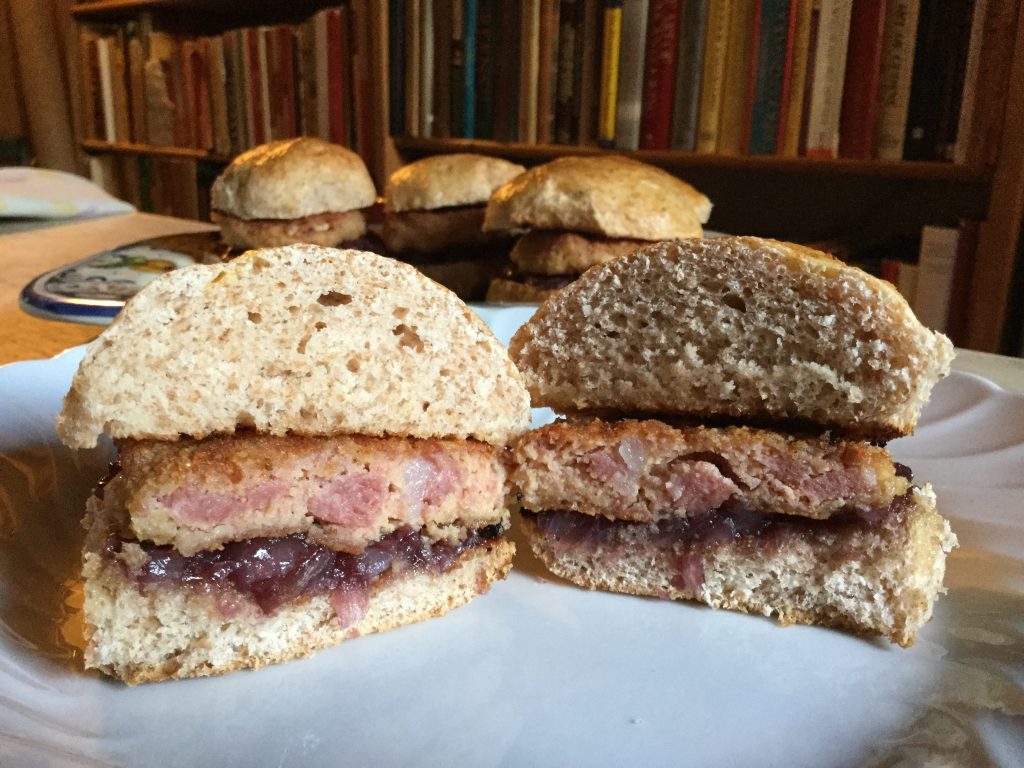 Ingredients
Buns
500 grams whole wheat flour from Granprato, Molino Bardazzi
250 ml warm water ( I replaced 1/4 of a cup of Alkermes about 50ml for some of the water)
3 soupspoons of extra virgin olive oil
3 tablespoons of sugar
1 tsp salt
For the Burgers:
Prato Burger
250 grams of Mortadella di Prato, IGP
100 grams of grated Parmigiano Reggiano or an aged pecorino
1 egg, beaten
Breadcrumbs
Instructions
Place the flour in a large bowl.
Mix the sugar, salt and yeast into the warm water.
Place the liquid into the flour and mix well.
Knead the dough for about 10 minutes and place in a bowl, rub the surface with oil and cover and let rise until doubled in size.
Punch down the dough and roll flat, cut into equal size pieces. (I made slider size, so about 40 grams per piece)
Form round balls and place on parchment paper on a baking pan and cover and let rise again.
Brush with beaten egg before baking. ( you can add the traditional sesame seeds for the bun now if you like)
Bake at 175C for about 15 minutes until golden.
Let cool before using.
For the Prato Burger
Chop the mortadella into cubes, and mix with the cheese.
I used an immersion blender to roughly puree the mortadella, leaving some larger pieces in for texture and bites of flavor.
Add the egg, mix well.
Let chill.
Form patties and lightly cover in bread crumbs.
Oil a grill pan and preheat.
Grill the patties, turning carefully.
https://divinacucina.com/2016/06/day-tripping-florence-prato-eatprato/
Red Wine- Red Onion compote
4 red onions, I used the seasonal red onions from Certaldo
1 cup Barca Reale wine from Carmignano
4 soupspoons of sugar
2 chili peppers or black pepper to taste
salt to taste
Saute the sliced red onions in extra virgin olive oil.
Add the red wine, sugar and salt.
Cook down until the mixture is caramelized.
If it gets too dry, you can add more wine or water.
Lightly puree the mixture to make it spreadable.
Toast the buns, spread with the compote and top with the Prato Burgers.
You can add any of the normal burger garnishes if you like, fresh tomato slice, raw onion, mayonnaise.
Attending local festivals is a great way to learn more about an area, have fun with locals and be overwhelmed with food, wine and festivities!
#eatPrato!!!
When you go to Prato, don't miss ordering the regional specialty— Sedano Rifatto, a rich dish made using celery!!! with ragu.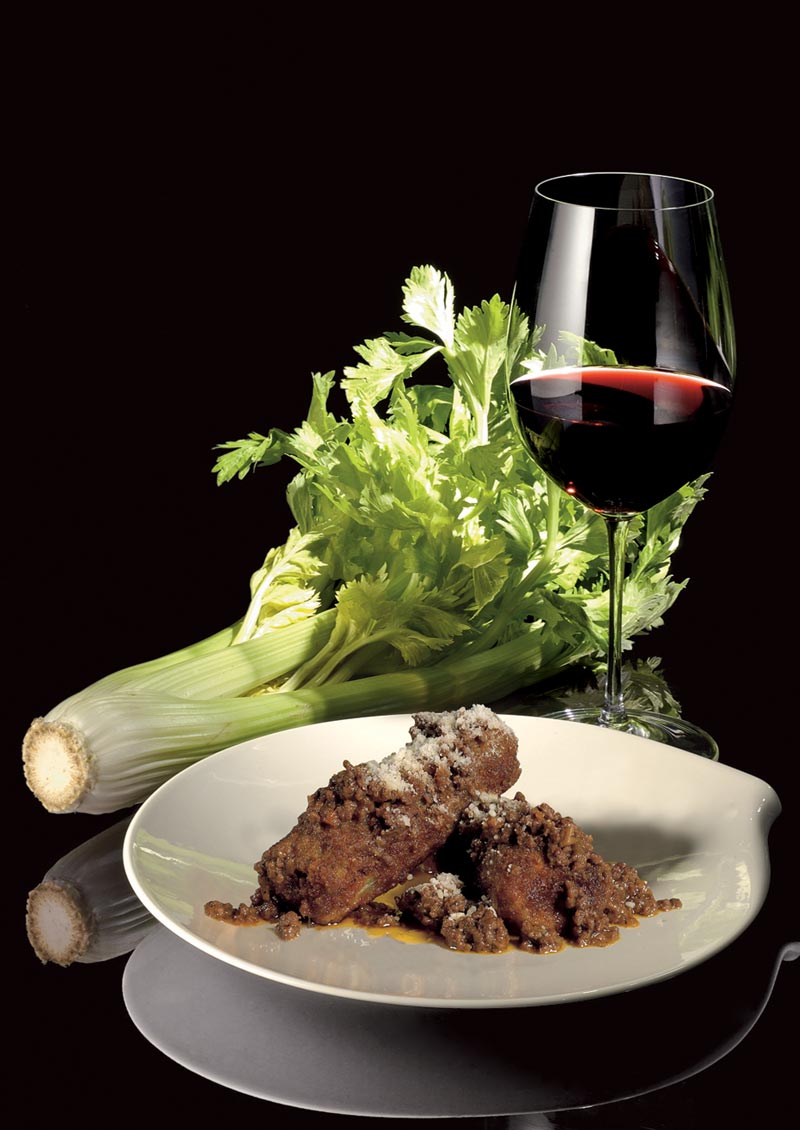 It is a richer version of what my mother-in-law Tina made, Sedano Rifatto.