Recipe names are funny, this is a personal favorite, naked ravioli. Naked? Yes, they have no pasta dough around them, so simply the classic spinach and ricotta filling made into a gnocchi like dumpling. In other area's they are knows as strozzapreti, "priest-chokers" but strozza-preti can also be a long handrolled spaghetti like pasta which I would call pici.
You never really know what you might get with all the regional names for dishes.
I remember one of my first jobs in Florence, waiting tables at a small trattoria in Fiesole, and Italian American family came in and ordered the Braciole. I spoke Italian with them, not English, and let them practice their Italian too. When I brought her the Tuscan braciole, she started screaming in English, saying that was not what she ordered. At that point, I asked her where she was from, most Italian-Americans know Braciole as a rolled beef dish, which is only down south near Naples region.  Here in Tuscany a braciole is a thin slice of beef, which can be prepared in various ways, when it is rolled up ( a tiny braciole) it is called an involtino. But she had not asked me what it was.
Lesson learned.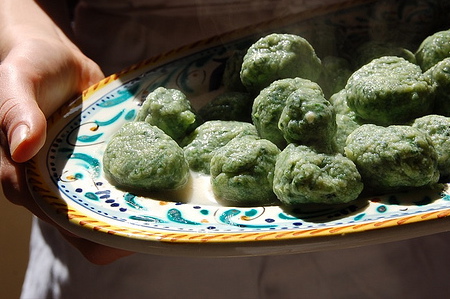 Spring has come early in Tuscany, I have wild violets blooming in the garden and the mimosa tree, which is the first sign of Spring, has been in bloom for weeks now.
Traditionally made in spring with the young tender spinach or wild greens such as borage or nettle, mixed with fresh sheep's milk ricotta, which also has a special flavor from the sheep eating the tender greens in the fields. It is a perfect celebration of Spring.
Ingredients
Ravioli Gnudi
6 oz spinach
6 ounces ricotta
2 eggs
3/4 cup flour, plus more for dusting the outside ( Italians use 00 flour which is lighter)
1/4 tsp nutmeg
salt
3 Tbs parmesan
Instructions
Cook spinach in very little water. Drain and squeeze out all excess water. Chop finely.
Place in a large bowl and add ricotta, eggs, parmesan and flour.
Season the spinach mixture with salt and nutmeg. Blend well.
Bring to boil a large pot of salted water. Lower to simmer.
Form the gnudi by using a tablespoon or, using floured hands, make small walnut-size dumplings.
Be sure the gnudi are covered with a good coating of flour before poaching, this is their protection.
Drop a few at a time into salted water.
They will drop to the bottom and then float to the top when done.
Let simmer 20-30 seconds more before removing with a perforated ladle.
Place in a warm oven in an ovenproof dish until ready to serve.
They are wonderful topped with fresh sage leaves sauteed in butter until crisp.
Pour butter and sage on top of ravioli.
Toss gently and serve with parmesan cheese.
https://divinacucina.com/2016/02/gnudi-naked-ravioli/
They cook quickly , but sometimes you want to prepare ahead of time. You can precook the gnudi and they can stay hot or be reheated in the oven.
They are great with a simple flavorful tomato sauce, I place them on the tomato sauce and then add some grated parmigiano on top.
Gorgonzola sauce" melt the Gorgonzola dolce, the softer creamier one in a pan with some butter and sage. Really rich and can then be a meal. Lovely topped with chopped toasted hazelnuts.
Walnut sauce: This is a classic, white pesto. You can puree into a creamy paste of let it stay a little chunky.
Why wait for spring– try these anytime of the year and be inspired. Even plain ricotta gnudi are fun. I have also had with ricotta and bits of wild asparagus inside.
If you would like to get a copy of my cookbook, Secrets from My Tuscany Kitchen, look on the side bar. You can order a real book, and it is shipped from California or get the kindle e-book. Thanks for your support.
If you are coming to Chianti, click on  the link here to access the free app, both iOS and android versions are available.
You can follow me on Instagram as Taste_Chianti and as Divinacucina
On Facebook you can follow me here. 
I adore getting feedback, let me know which recipes you love- do you use the app? Do you like getting tips for travelling?  restaurants? artisans? I have so much information living here since 1984, sometimes it is just overwhelming even for me.
I have used even more ricotta and spinach— as I love a really SOFT gnudi– you will learn to tweek, I prefer to use as little flour as I need inside– and dust on the outside.
ALWAYS do a test gnudi first, to see if it floats and doesn't fall apart, before cooking them all!