Ages ago on a trip down to Umbria, we stayed in a castle hotel run by locals that has restored the abandoned castle. We dined there one night. Chef Donatella Lauteri, the young wizard in the kitchen, shared this incredible recipe with me ,warm truffled farro (spelt) salad. She called it Chicchi, little kernals.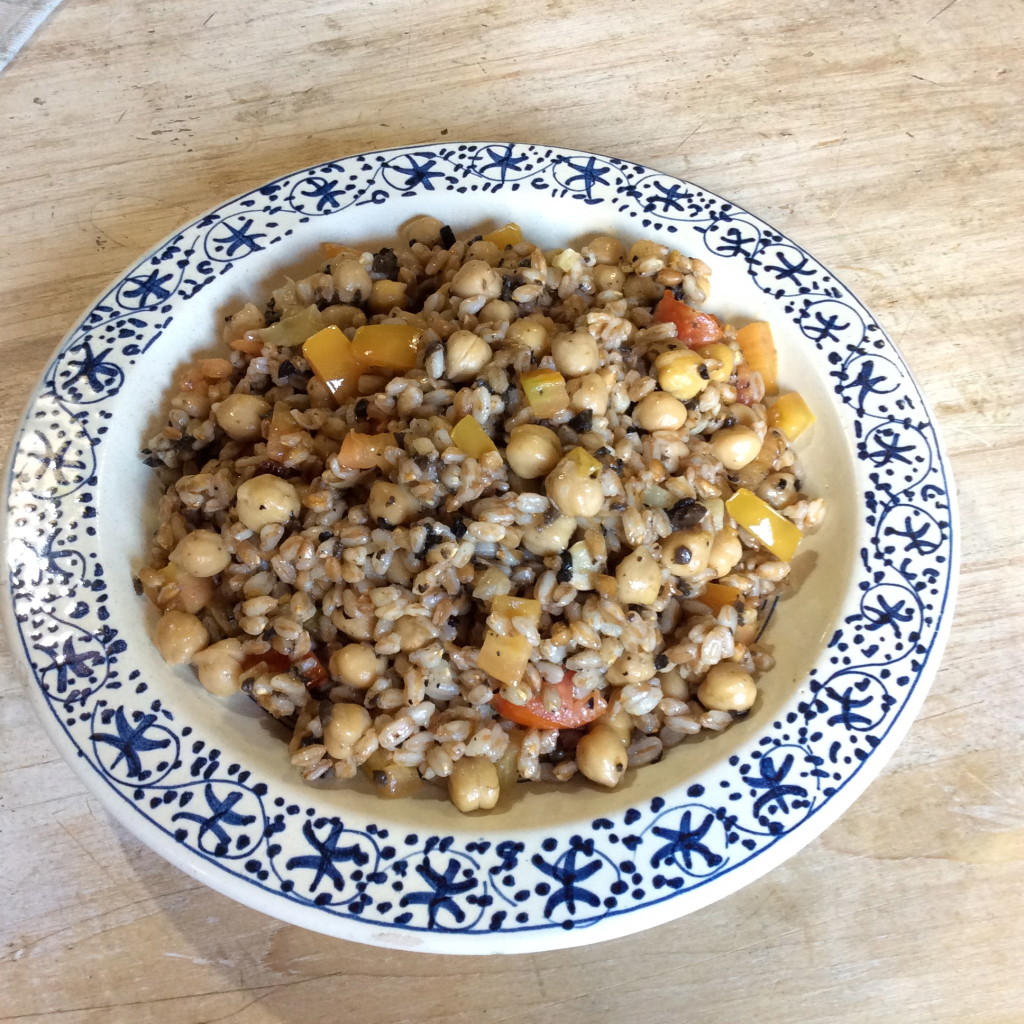 Most recipes in Italy are passed on by word of mouth and measurements are not very specific. Use fresh herbs and tomatoes in tiny amounts, pinches, as they are only to accent, not overpower the truffles. Truffle oil may be substituted for the black truffles.
Truffled Farro Salad-Chicchi
Ingredients
Insalata di Farro e Ceci Tartufato
10 ounces dried chickpeas
10 ounces farro (spelt or emmer) an antique grain, easy to find.
3 ounces black truffles ( thanks to S.Z Tartufi for the truffles)
Garlic,Basil, Sage,Rosemary,Oregano Q.B quanto basta-- Italians add to taste
Cherry tomatoes cut into 1/2 or 1/4 pieces
Salt
Pepper
Chili flakes
Parsley
Instructions
Soak the chickpeas in cold water for 12 hours, changing the water 3 times. (If you use canned chickpeas, rinse them thoroughly!)
Cook the chickpeas in the same water for about 1 hour adding more if needed while cooking
Cook the farro in lightly salted water until tender. I cook about 15 minutes.
Do not overcook the chickpeas or farro!
Finely chop the garlic, basil, sage, rosemary, chili flakes, and oregano.
Lightly sauté the herbs in olive oil, then add the tomato bits.
Add the drained chickpeas and farro, drizzling with a bit of broth until cooked.
Off the flame, stir in the truffles and serve with slices of fettunta.
https://divinacucina.com/2015/09/truffled-farro-salad-chicchi/
(Fettunta is Tuscan garlic bread (Bruschetta). A thick slice of Tuscan style bread is toasted and then lightly rubbed with a clove of garlic. The best extra virgin olive oil is poured over the bread. Then it's seasoned with a little salt.)
Outside of Italy, truffles are an expensive luxury item, but here, almost everyone knows a truffle hunter. I am blessed to live in Tuscany, where the have truffles all year long. Mostly the black truffles which are less expensive and in winter the white truffles.
I was sent a sample of Truffles to use in the kitchen by the S.Z Tartufi company in Abruzzo. I had no idea they also had truffles in Abruzzo.
Now that it is not so hot, I will be trying a couple of the other products they sent to sample. I used the black truffle paste, which is mixed with black olives. When I want to be fancy, I use sliced black truffles.