On my flight home,  I knew something was going to go wrong when I heard a woman hacking right behind me on the plane. It is so easy to get sick while travelling.

The only thing that was ok, was that I did not get sick while in the states.

I got Bronchitis!

As soon as I had arrived home, before really getting sick, I went shopping and bought the meats to make a fabulous Bollito Misto, boiled beef, meal.

I have mentioned it many times before, but I adore making boiled beef as it is several meals in one pot!

We enjoyed the broth right away,but then I was so sick, I didn't feel like eating any meat.

Until yesterday.

I craved comfort food and lesso rifatto is one of my favorite dishes to make.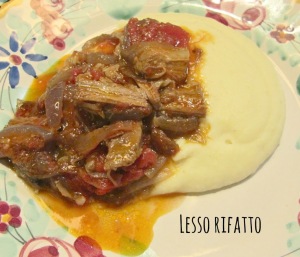 A poor man's trick to stretching the meat for a large family, the recipe recooks the boiled beef in twice it's weight in sauteed onions.

I usually make a huge pot and freeze leftovers, broth included, in small batches.

The day I make it, I usually have the broth with tortellini as soup and the meat as a main course.
There is usually enough broth for several meals as well as meat to serve on it's own, the lesso rifatto and also using some of the meat to make small beef croquettes.


Bollito Misto
2-1/2 pounds beef (muscle, tongue, etc. for boiling)
2 beef bones
1 onion, peeled and left whole
2 carrots, peeled and cut into 3-inch lengths
1 celery stalk
1 tomato
Parsley
Sea salt to taste, about 2 tablespoons
One-half capon or boiling chicken, optional
Place all the ingredients in a large soup pot, and cover with water. Bring to a slow boil, covered for 1 hour. Skim the surface. Add the chicken and cook for another hour. Control the beef to see if it is cooked. It should be very tender; the skin will easily come off the tongue.(I like to make this the night before so I can remove any excess fat from the broth.)
Remove the beef and vegetables from the broth. Throw away the tomato, parsley, and beef bones. Strain the broth and replace the beef in the broth. Refrigerate overnight. Remove the solidified fat from the broth the next day. Reheat all together.
To serve, remove enough broth for the soup.

Heat the tortellini in broth and serve with grated Parmesan cheese. 
Serve the beef already cut and arranged on a serving plate, with salt and extra virgin olive oil, mayonaise, salsa verde and candied mustard fruits if you have them or mustard.
Salsa Verde
1 cup Italian parsley, leaves only
2 tablespoons capers
1 garlic clove
1 anchovy filet
Red wine vinegar, to taste
1/2 cup olive oil
1 slice white bread
Finely chop the parsley, capers, garlic, and anchovy, using a sharp knife. Put the mixture into a serving bowl and add olive oil and red wine vinegar. Adjust seasonings. Remove the crust from the slice of bread, and soak the bread in red wine vinegar. Then crumble the bread into sauce. (This is the poor man's technique; the bread looks like pine nuts in the sauce! Instead you can add some chopped pine nuts!)
I love salsa verde on hot green beans and boiled potatoes. I also make an appetizer by removing the yolks from hardboiled eggs and blending them with the sauce. Refill the eggs and refrigerate before serving.
1 pound leftover boiled meat, chopped into small cubes
1-1/2 pounds red onions, finely sliced
2 cups stewed tomatoes, or red wine
Olive oil
Salt
Sauté the onions in olive oil; when golden, add tomatoes or red wine. Season to taste with salt. Bring to a boil and let cook for 10 minutes. Add the leftover beef and cook covered for an additional 20 minutes. To make this even richer, add some cubed raw potatoes to the pan with the onions.