When the chill of winter first blows into town, any good Italian knows it is time for a Cioccolato Caldo.
If you have never experienced a Italian hot chocolate, you are in for a surprise.
It is not that thin water thing we drink in the USA with marshmallows, but rather like drinking pudding.
I was asked to participate in a pairing of a recipe with Cioccolosa instant hot chocolate mixes, by the Antonelli family. These are used in bars to make each portion to order.
Being American and loving Mexico, where chocolate originated at the "food of the gods", I naturally thought of pairing them with a fried dough, like churro's.
On a recent trip to Sicily I found the perfect pairing, Sfince, a fried dough made into either a doughnut shape or a small fritter, fried and then tossed in cinnamon and sugar with orange or lemon zest.
The Cioccolosa comes in a variety of flavors, but the one that caught my eye was  an Orange and Cinnamon mix which immediately reminded me of Mexican chocolate.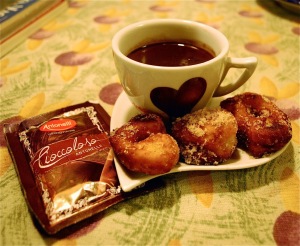 What I also loved about the Sfince is their size. Just a mouthful, perfect to dip into your hot chocolate too!
The dough is wet and harder to work with but fabulous! They make them in fall for San Martino's day.
Sfince di Antonietta, Menfi
Ingredients
500 grams semola flour, "rimacinata"
500 grams boiled potato, riced
1/2 liter of hot milk
1 cake of fresh yeast
2 tbs of sugar
1 tbs of salt
Sugar and cinnamon with grated orange zest for dusting.
Instructions
Dissolve the yeast in the warm milk,
Add the salt and sugar to the flour.
Mix the riced potatoes and the flour together in a bowl, adding the hot milk with yeast.
Mix really well, for at least 10 minutes.
Cover and let rise.
Heat oil for frying.
Wet your hands and grab small amounts of dough and flatten, about the size of a walnut.
When you get the dough near the hot oil, press your finger in the middle to create a donut and let drop into oil.
To create small round fritters, use a teaspoon and drop into the oil.
Remove when golden and toss in cinnamon sugar.
https://divinacucina.com/2011/11/cioccolosa/
Serve with a cup of Cioccolosa hot chocolate.
Winter is here!