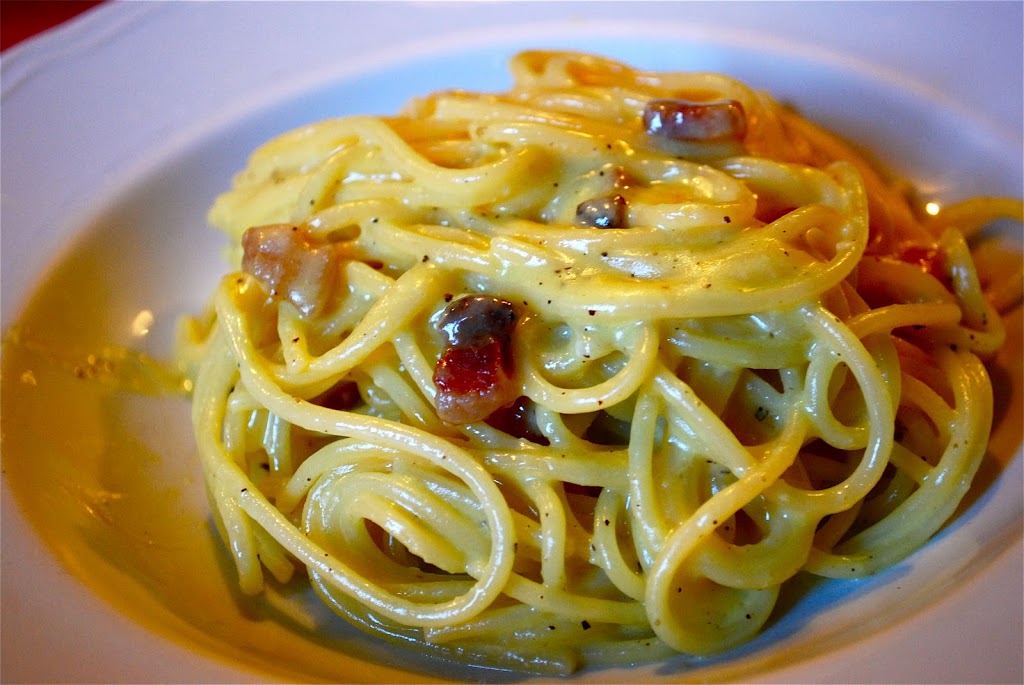 This is one of my favorite Italian comfort foods and probably the most misinterpreted.
There is no cream in Carbonara sauce. The creaminess is a magical effect, created by stirring the grated cheese into the egg yolks ( I like just yolks instead of whole eggs) and a good dose of black pepper and then some of the water from cooking the pasta is stirred in to temper the yolks before adding the hot pasta with crispy pancetta ( in Rome, guanciale is used, a bacon like pork product made from the fatty cheeks,guanciale, of pigs instead from the belly where pancetta ( and bacon) come from.
Pasta is a first course in Italy, but this is so satisfying, it would be lovely as a one course meal served with a nice salad after or as a fun brunch item; it is eggs and bacon!
This post  is for WanderFood Wednesday! Enjoy the other posts as well!
In Italy, recipes are very regional. The Carbonara sauce is from Lazio, where Rome is located.
Each person has their own personal secrets to making THEIR sauce, which is what I adore about living here.
By recreating these dishes at home, I can let my tongue do the travelling, even when I can't. I do try to get the correct ingredients, which is not so hard. Pecorino Romano is also from Lazio, but easily found almost everywhere.
What recipes do you recreate when you want your palate to travel?
WanderFood Wednesday- Creamless Carbonara
Ingredients
serves 4
320 grams of bucatini or thick spaghetti
150 grams guanciale, cubed ( or pancetta) not bacon which is smoked
100 grams grated pecorino Romano cheese ( about a cup)
2 whole eggs or 4 yolks
salt- pepper
2 tbs olive oil
Instructions
Put a large pot of water on to boil, when the water boils add salt to water to cook pasta.
Cook spaghetti in salted water ( usually spaghetti is 10-14 minutes, depending on size).
While the pasta is cooking, saute the pancetta cubes in a little olive oil until crispy.
Mix the whole eggs or 4 yolks with the grated pecorino cheese, whisk well.
Add a generous amount of fresh ground pepper.
Before draining the pasta, take a ladle of the water and add to the cheese mixture, stirring well to mix.
Add the drained pancetta cubes.
Drain the pasta and add immediately to the bowl with the cheese mixture and stir to mix well.
The heat from the pasta should cook the eggs.
Serve with more grated cheese.
https://divinacucina.com/2010/12/wanderfood-wednesday-creamless-carbonara/