Probably one of the BEST recipes I have learned and taught in Tuscany are my Tuscan Herbs.
Every butcher has his own blend, which is used on the fabulous prepared meats, ready to cook, which are sold in the markets here.
The base is a simple trinity of rosemary, sage and garlic, finely chopped with fine sea salt.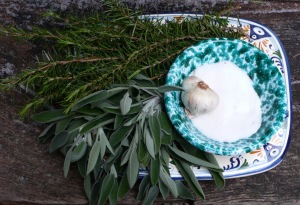 This makes a fabulous gift anytime of the year.
Remove the herbs from branches and place on cutting board with some sliced garlic and salt.
Chop with a sharp knife or a mezzaluna until very fine.
The salt absorbs the essential oils in the herbs and helps dry the herbs.

Once they are finely chopped, you can leave out for a day or so to dry and then jar as a gift.
My local butchers also add black pepper, fennel seeds or pollen and sometimes fresh bay leaves.
I like to use the base and add things as the recipe inspires me.
I like David Lebovitz's article and foto he took when he wrote about my recipe.
Enjoy- it is great on meats and also on roasted vegetables.
Most of my students end up adding it to a plate of good Tuscan oil and just dipping bread in it.
If you want to use it fresh, go light on the salt.
It is very similar to the herb infused oil for Dario Cecchini's Arrosto Fiorentino.