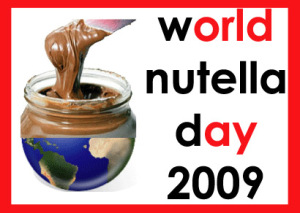 Celebrate!It is NUTELLA DAY!!!
The blogging world is a wonderful world. These two wild women have put together a fabulous way to bring joy into winter. Chocolate! February always makes one think of chocolate anyway, and this year it backs right up with Carnvale which inspired my recipe.Stop by Sara's site, Ms Adventures in Milano and Michelle's Bleeding Expresso down in Calabria. Nutella is Europe's Peanut Butter. I dream of them both together and could come up with some truly crazed recipes.
Being born in Memphis, Elvis' favorite recipe for a peanut butter and banana sandwich, with BACON!! and then grilled…. add nutella! With the bacon candy, can chocolate and nutella be far off?
At the local pastry shop, Dolce Follie, makes some variations on traditional recipes. One of my favorites is her chantilly cream, which is a rich custard lightened with whipped cream as "frosting" for cakes. She was also the first person to make the filled "cenci" ravioli's in Tuscany.
She uses a chocolate pastry cream, but for me, nutella was the obvious answer!One of the festivals I go to, serves fried dough with Nutella and pizza with nutella and mascarpone is a typical dessert course!
Here is my recipe for Cenci. I made small circles and spooned the nutella and like a ravioli,just folded… and fried! I just flew into the states and my sister said Rachel Ray does wonton "ravioli" which are probably a lot easier, but I love the cookie dough crust of this recipes.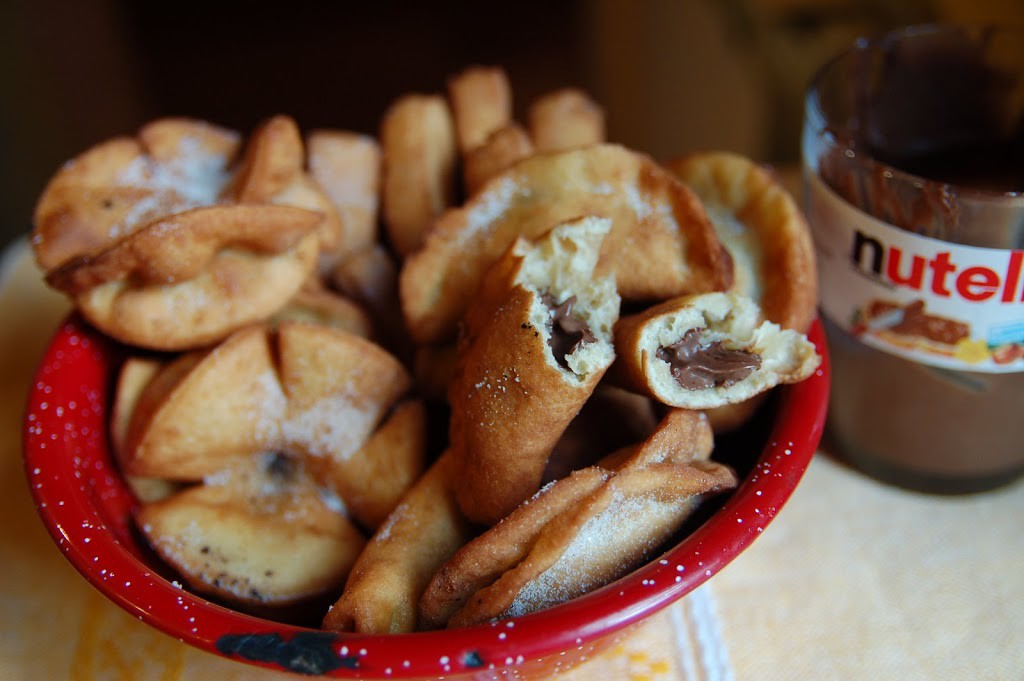 Quick to put together, the dough itself is usually just sprinkled with either granulated or powdered sugar and can be found in some version, all through Italy right now.
Ingredients
3 cups flour
2 eggs
1/4 cup sugar
2 tbs Vin Santo, or sherry
grated peel of one lemon (zest)
3 tbs olive oil
pinch of salt
oil for frying (sunflower or corn oil) are cut with zigzag edges and a slit in the middle and one end is passed through to twist the dough.
Instructions
In a large bowl, mix eggs, sugar, olive oil, Vin Santo, lemon peel and salt.
Add flour and mix well.
Knead for 10 minutes.
Let rest covered in a towel for 1/2 hour.
Roll out very thin, I use a pasta machine.
If dough seems too tough add a little milk or white wine.
Cut into desired shapes.
For the Nutella Ravioli, I used a water glass to cut small circles and placed a teaspoon of Nutella inside and sealed the edges and fried. They cook quickly.
Traditionally they serve with Vin Santo, the Tuscan dessert wine.
https://divinacucina.com/2009/02/world-nutella-day-for-carnevale/