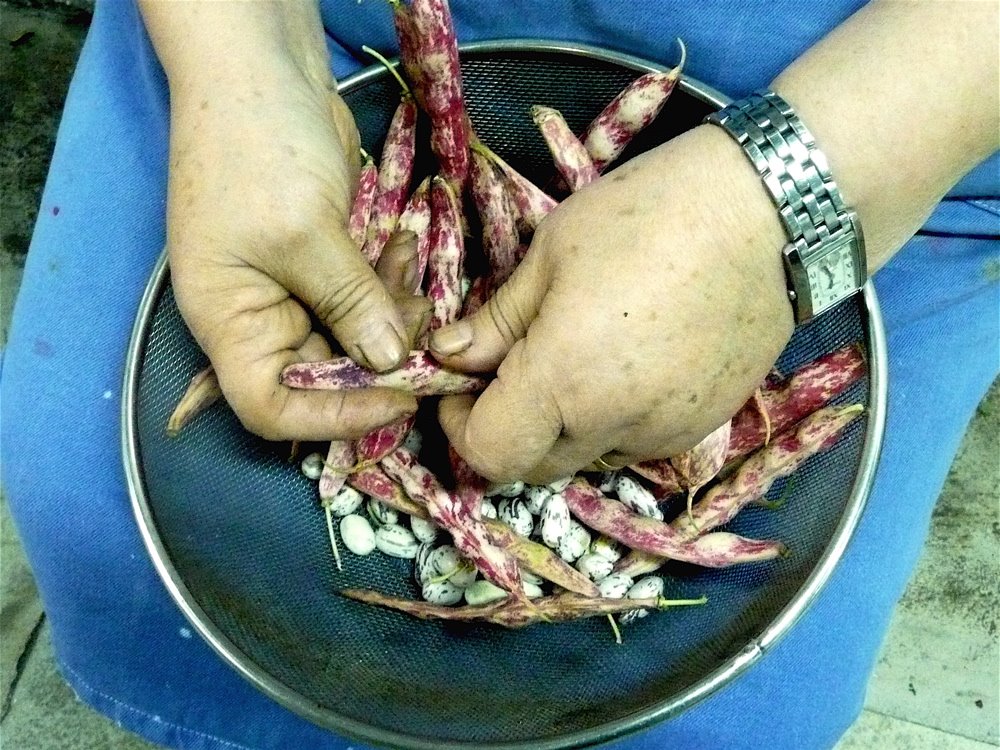 Shelling fresh Lamon beans from Cuneo
One of the best things about the markets in Italy is the service. I love going to get my beans and my lovely vendor is sitting there shelling the beans for me!It makes life so much easier.
I also adore cooking fresh beans as they only take about 30 minutes instead of hours for dried beans.
In American, my personal bean guru is Steve at Rancho Gordo. He can get beans to you from his site, and now you can also get his book!!!!
His blog is full of great ideas too on cooking beans.
As the hot summer days are leaving us and cooler evenings and even rain is arriving. Soothing soups come to mind. If it is still hot outside, they can be eaten warm instead of hot.
To create a full meal, add a pasta or rice (or as we do here Farro, called spelt or emmer) to create a perfect protein. Soul food for Italians!
Made with tiny macaroni, known as Pasta Fasool by many or Pasta e Fagioli in Italianthere are as many variations as there are mothers.

Zuppa di Farro e Fagioli- Tuscan bean soup with Farro
12 ounces dried white beans, cannellini, pinto beans or cranberry beans called Lamon here
2 quarts water
2 garlic cloves
1 sage branch
1-tablespoon salt
3-tablespoons olive oil
3 oz farro
First cook beans:
Place beans and cold water in a heavy-bottomed bean pot. Add sage, olive oil and whole peeled garlic cloves. Cook slowly. Do not let the water boil.
Add more cold water as needed.
Cooking time, anywhere from 2 to 3 hours if you are using dry beans or 30 minutes for fresh.
Add salt in the last 10 minutes of cooking time to prevent the beans from getting tough.
Tasting is the only way to know that the beans are done. The beans can also be cooked in the oven in a casserole. You can serve the beans drained, drizzled with olive oil and a twist of fresh black pepper.
To make Soup:
Parboil farro in salted water. Drain. Purée half the beans and put the remaining whole beans in a soup pot together.
Heat, adding more water if soup seems too thick. Add farro to soup and heat together.
In a small pot, heat 1 tbs of olive oil per person and 1 tsp of Tuscan Herbs, just to warm.Drizzle into soup.
Enjoy this recipe as  pasta fasool, substituting short macaroni for the farro, precooking it in salted water.
I also usually add a little tomato paste to add color.
Here is another twist on the classic which I enjoy at a wonderful trattoria outside of Florence.
Burde's Zuppa di Fagioli-
Bean Soup from Burde's Trattoria outside of Florence
Cook the beans and farro together until the farro is really over-cooked.
In a small skillet, sauté one red onion, chopped, in some extra virgin olive oil.
Season to taste with Droghe Toscane, similar to pumpkin pie mixture and when the onions are softened, add to the soup.
Add tomato paste and some water.
Purée the ingredients together until smooth. (In Italy I use a Passatutto, a food mill to remove any skins)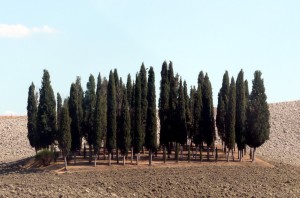 Life is as simple as a bowl of beans!
Enjoy the simple pleasures of the season.