Martedi Gras- Fat Tuesday or in Italy, Martedi Grasso. What is the perfect food to celebrate?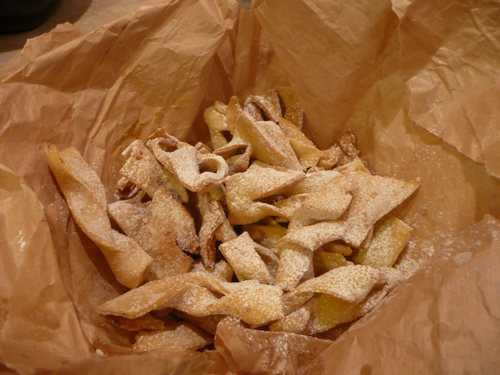 Something fried of course!

All over Italy, someone is frying up sweets. Often with the same shape, but a different name.
Here in Florence, we have Cenci, which means rags, like the shape they have, which looks like torn cloth.
In Liguria and other areas, there are Bugie, little lies.Chiacchere, small talk.
My grandmother was born in Tiblisi, Georgia and moved to Shanghai when she was very young as many did.
One of the recipes I remember her making was Horvast ( my spelling) a fried cookie made with Vodka in the dough.( when I googled it I found it spelled Khvorost)
I was amazed when I came to Italy to see my grandmother's cookie, but made with the Tuscan dessert wine, Vin Santo.
So in honor of my grandmother today I used Vodka!

Tuscan Russian Fusion- Cenci
Ingredients
150 grams 1 1/2 cups Italian pastry flour
1 tbs granulated sugar
2 tbs olive oil
1 whole egg, beaten
grated orange rind
1/4- 1/2 cup vodka
Instructions
Mix all the ingredients together, adding as much vodka as needed to make a nice firm dough you can knead.
Roll the dough out as thin as possible. Cut strips, 2 wide and cut an opening in the dough, leaving the ends attached.
Pull one end of the dough through the opening, twisting the dough.
I fried mine till golden in extra virgin olive oil ( because I can!)But sunflower or peanut oil is fine
Dust with powdered or granulated sugar and serve.
https://divinacucina.com/2008/02/fat-tuesday/