While doing research for my Taste Chianti App, which includes places to eat, drink, shop and stay. I discovered a wonderful artisan right near my house.
Facebook works in mysterious ways. I saw my friend Sarah from Chicago had had corzetti stamps made in Chianti. Since it is a Ligurian specialty, that surprised me. I had already had a custom stamp made in Chiaveri when I was there, by another Master, Franco Casoni. We finally made and appointment to visit Filippo's workshop in Tavernelle Val Di Pesa.
Filippo is an old school maestro, learning the skills passed on from his family, plus having attended art school in Florence. The family story goes back to when they made furniture, picture frames and other ornately carved pieces for a famous and eclectic Florentine architect  working in Genova, Gino Coppede.  In the photo above, you can see some of the original drawings, which Filippo still works from for creating the detailed pieces as accents on furniture or frames.
I have added a couple of Filippo's stamps to my collection, his attention to detail is amazing. You can see his work on his Etsy site, where he can also ship to anywhere in the world. I have spoken to Filippo about having "visiting" hours to the workshop, where you can just stop by and directly pick up a pre-made corzetti stamp, in one of the classic designs.  Custom designs take more time.
The origins date back to the noble families in Genova wanted to create their family shields as pasta stamps for "coins" of pasta for special events like weddings or baptisms.
My friend Adri Barr Crocetti, whose family comes from the area, has written several fabulous posts on making corzetti. So I am not going to go into recipes and descriptions when she has done such a fabulous job. Be sure to follow her.
Here are my corzetti ready to cook. It is important not to roll them too thickly or they won't be nice to eat, but yet no too thin, that the design on both sides can impress without pressing through to the other side.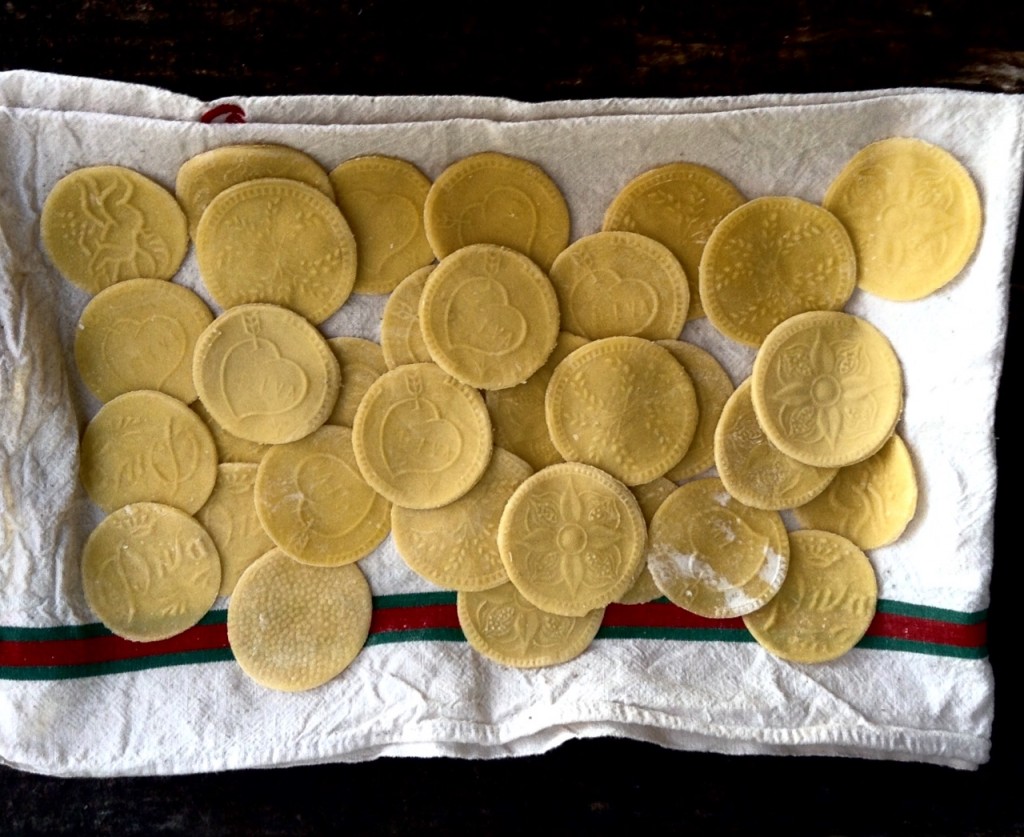 Since the recipe I made was a classic, it made 4 nice sized portions. We ate two like this and the other day had them with a fabulous fonduta made with saffron from my friends at Croco e Similace, Toni and Gabriella. I went by to buy saffron for my classes in USA and they gave me a jar of the fonduta to try. It enhanced the saffron even more, but covered the designs of the pasta more too. I will write more on my saffron sagas in a coming post.
I am blessed to live in an area where quality in life is important and artisans still exist. This is getting harder and harder to say. Instead of giving artisans a tax break for preserving the arts and quality in "Made in Italy" they are slowly disappearing.
Filippo's the only one left in his family, so I am proud to have a piece of history in my collection. Stop by his etsy shop to see the incredible pieces he makes, rolling pins, cutting boards etc.
Filippo Romagnoli
Via Firenze, 3/5
Tavarnelle Val di Pesa FI
florentinetouch@gmail.com
( the workshop is under his home, email to arrange a visit)