Probably one of my most requested recipes is the non-stir risotto I learned from the owner of Pila Vecia, Gabriele Ferron.
We visited him in his place just outside Verona and saw the old mill for milling the rice and learned all about rice.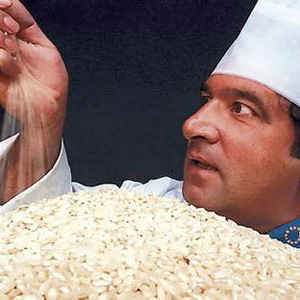 Like all regional recipes, there are different rules, depending where you live. He told me that the long stirring of the risotto can damage his rice, so he prefers the non-stir techinique. I think most people don't quite get the  cooking time down right, there are so many different factors to making the rice perfect. There are special copper pans, getting the right temperature, ratio of liquid to rice. So many ways to make a mistake.
For me, risotto is my go to recipe when i don't know what to have for dinner, and I can have it ready in less time that it takes me to make pasta.
A classic combination I like is risotto with zucca gialla, which can be pumpkin or squash. The color of the pumpkin, made me want to pair it with another classic for risotto, saffron.
Here is my risotto based on his tricks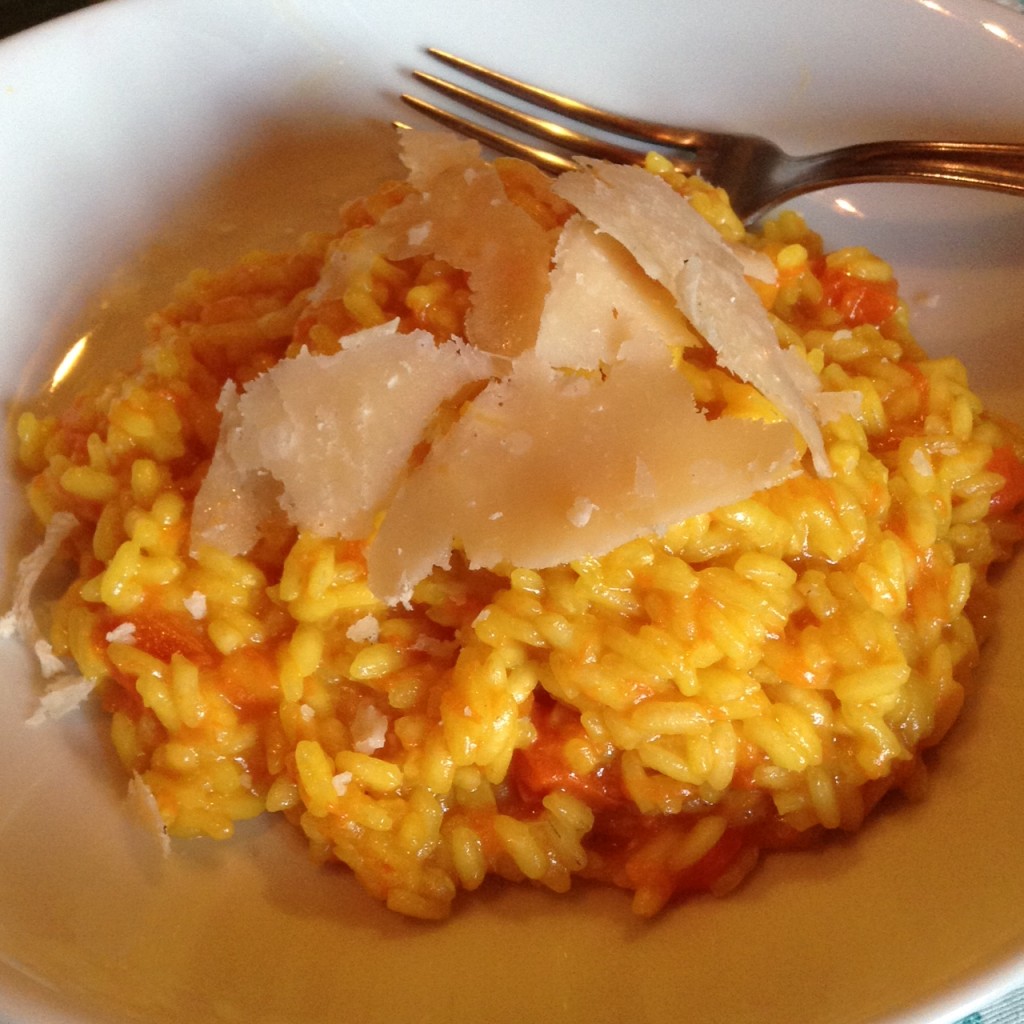 Easy Risotto- with pumpkin
Ingredients
Risotto con Zucca Gialla e Zafferano
1 clove of garlic, sliced
1 small piece of ginger, peeled and minced
1 cup of peeled and cubed pumpkin, Butternut squash is perfect or Kabosha
Saffron ( in Italy, we can buy powdered saffron in small packages, I used one)
1 cup canaroli, arborio or vialone nano rice
2 cups water
extra virgin olive oil
salt
Parmigiano Reggiano
Instructions
In a pot large enough to hold the rice when cooked, it doubles in size, cover the bottom of the pot with extra virgin olive oil.
Add the sliced garlic and ginger. Turn on the heat. Adding the garlic to preheated oil, it is easier to burn.
Add the cubed pumpkin when the garlic starts to brown. Stir to flavor it in the oil.
Add the saffron and stir again to help bring out the flavor of the saffron.
Add the rice, stir to blend well with all the ingredients. It should be hot to the touch.
Add the water, I don't use broth, i think i have enough flavors happening.
I started with a base of ginger and garlic.
Then I added the pumpkin in small cubes and topped with some saffron.
Add the water, I don't use broth, I think I have enough flavors going on here and I was a vegetarian, so like to keep things simple and have things my vegetarian friends can eat.
Bring the water to a boil, cover and lower the heat.
Cook for 14 minutes. The liquid should be totally absorbed.
NOW you can stir. Add in some grated parmigiano reggiano and about 1/2 cup of water. Start to stir. the stirring now will bring out the creaminess in the risotto, without adding any cream. Some people like to stir in a little butter with the cheese at the end, feel free!
Serve with some shaved parmigiano reggiano on top.
It would also be lovely to top with some traditional aceto balsamico.
http://divinacucina.com/2015/12/easy-non-stir-risotto-with-pumpkin/
This is great for parties, you can precook the risotto and finish it off when you are ready to serve. When I worked in a restaurant in Fiesole, they BAKED the risotto, then finished it off in a pan to order. At that point, if you made a plain white risotto, with an onion as the base, you can add mushrooms, tomato, cheeses or anything else when getting ready to serve.
I love tricks from the professionals.
Let me know if you try the recipe and are successful. Making risotto always impresses guests.
It can be a meal if topped with some grilled prawns or a side of meat.