Everyday I am constantly reminded of how lucky I am. Tuscany is really at its best in fall. Not only is the scenery fabulous, incredible light, but the food and wine is really my favorite in fall.
Panzano in Chianti half-way between Florence and Siena on the 222
This past week on our Chianti Experience tour, we started the week with the porcini mushroom and steak dinner which is a fundraiser for the swim team. Then the Greve Wine Festival on Sunday. We had Sunday lunch at Dario's and returned to do the MacDario experience on Friday and caught the Panzano wine festival. The weekend sagre, food festivals, abound now. Most start in the afternoon so don't go early. Weekly markets often open around 8am but close by 2pm. Timing is everything.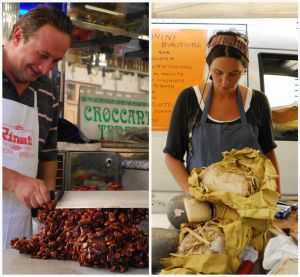 Cooking classes starting by shopping at the market, inspired by what is in season, it so easy to create great meals! Simple tricks to create food like Mamma makes. In Italy,when you go out to eat, you expect it to be as good as your mom cooks, not an easy thing unless you know how to shop.
We were just hit with a horrible flash flood, which isn't good for the grape harvest, but can be good for the olives and for porcini mushrooms, which grow under chestnut and oak trees on a hot day after it rains if it hasn't been windy; or so I have been told.
Fall is porcini mushrooms, white truffles, the grape harvest followed by the olive harvest. The fields are busy and hunting season has also opened. Shotguns are often our morning wake-up calls in the morning now. Usually I get some wild boar from friends or pheasant which I will use to make a ragu.
One of the favorite dishes in class was my Gnocchi Divini- light, eggless, potato gnocchi served in a parmesan cheese fonduta sauce, recreating what we had the first night out- but without the truffles.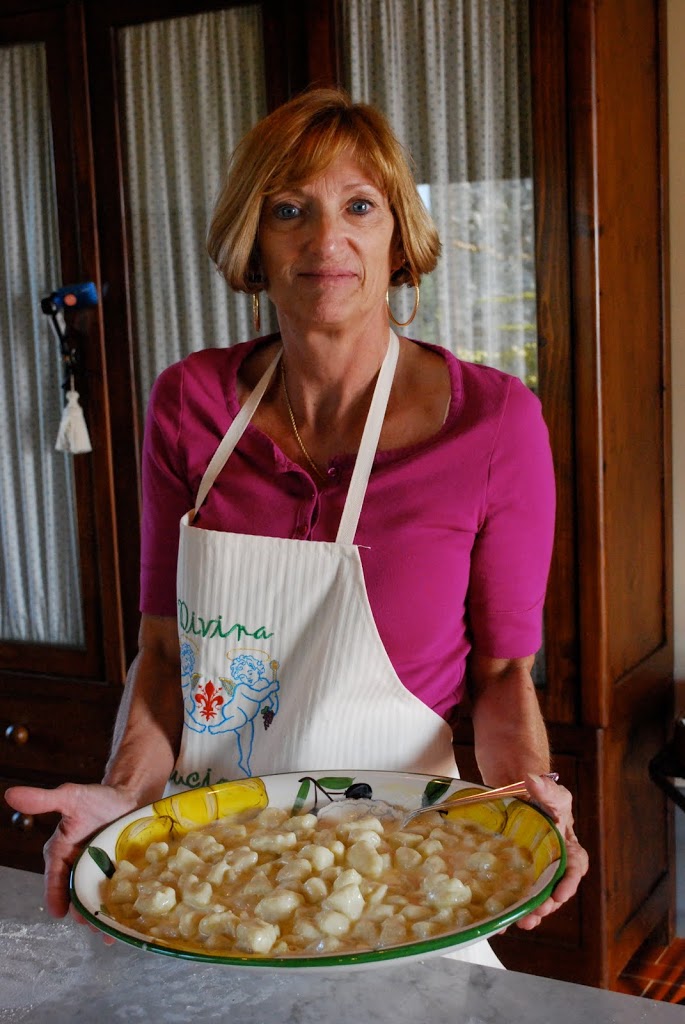 our potato gnocchi in parmesan fonduta
Parmesan Fonduta
Heat 1 cup of heavy cream. Do not let boil.
Add 1/2 cup grated parmesan cheese to the hot cream and whisk.
Add salt to taste.
Off the heat, whisk in 2 egg yolks, one at a time.
Return to heat and whisk until the sauce thickens.
Serve with bread to clean platter! You will love it.
This is also great served on vegetables and flans as a sauce.
Let your shopping be guided by what is in season- support your local farmers and food artisans.I so love sharing my market with people on my tours- here is a small taste of the tour I did for the BBC with Gary Rhodes.
Mille Grazie!