Join me in Italy for the trip of your lifetime!  A full immersion into the local life through food and wine. I have spent the past 30 years eating and drinking my way through Italy and have created a series of events  from market tours to all inclusive weeklong programs.
( Scroll down to see calendar for 2018).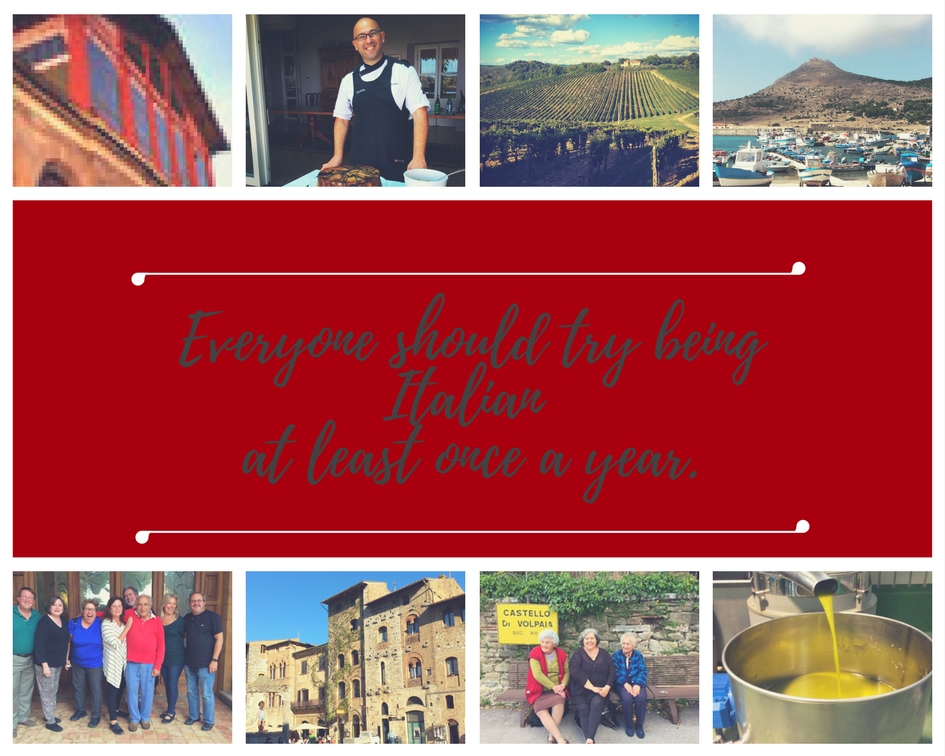 If you are coming into Florence for a short visit,a market tour with lunch is perfect.
If  you want a full immersion into food and wine, join one of my weeklong programs.
Morning market tours in Florence
Kitchens of Chianti (weeklong program)
Secrets of My Sicilian Kitchen (weeklong program)
Divine Days – Custom programs ( one day to one week)
2018
February
23-25- New York City for IACP convention
March
18-24 Secrets of My Sicilian Kitchen- San Giuseppe tour 
April
22-28  Booked
28-May 5 Booked
May
April 28-May 5- booked
20-26 Booked
June
10-16 Kitchen in Chianti week OPEN
July
August
September
8-15 Kitchen in Chianti OPEN( Chianti Wine Festival)
24-October2- BOOKED-SlowFood KansasCity
October
8-13 Emilia Romagna – Booked
14- 20 Kitchen in Chianti- Booked
21-17  Kitchen in Chianti- Booked
November
1-10 Sicilian Kitchen tour- Booked
11-17 Sicilian Kitchen tour- Open
December
I work a lot with people that form their own groups, so those weeks are already blocked off.
I will put up a  couple of Tuscan weeks and Sicily weeks for those that would like to join others, but I am available all year long to arrange tours for groups of two or more, preferably small groups of a maximum of 6-8 people anywhere and any time.
If you have a group of friends- 2-6? or more– and would like a private week, I do a lot of those tours all over Italy, not just Tuscany and Sicily. I will be offering my Florence based weeklong program for clients as well. In the past, I have organized tours in Puglia, Naples and the Amalfi Coast, Emilia Romagna,: home to Parmigiano Reggiano, Prosciutto di Parma, Aceto Balsamico and Ferrari's.
The private week programs can be based in a villa or in a hotel, with free time or totally planned.
I have chosen three of my favorite places to share with you to start. Chianti, Sicily and Florence. I like to combine hands-on cooking classes with great meals, day trips and shopping. We will have a private guide to help us with the city tours and explore on our own for the rest of the time.
My programs are small, 6-8 people unless you form your own group of friends and family! I like to keep the trips special and not to travel like tourists, but to experience like locals. Each trip is a little different as I like to create special programs celebrating the seasons. I do have favorite places to go and things to do, but like to leave things open to make the trip special each time, letting me customize the week for the guests.
If a week is too long, I also offer private custom day trips and market tours.