When you ask a Florentine where to go to eat great food, usually like with chef, they say their mom's. If you aren't lucky enough to have a mamma in Florence, don't worry, there are still some places you can eat just like at a Florentines mom's kitchen, with mom's rules.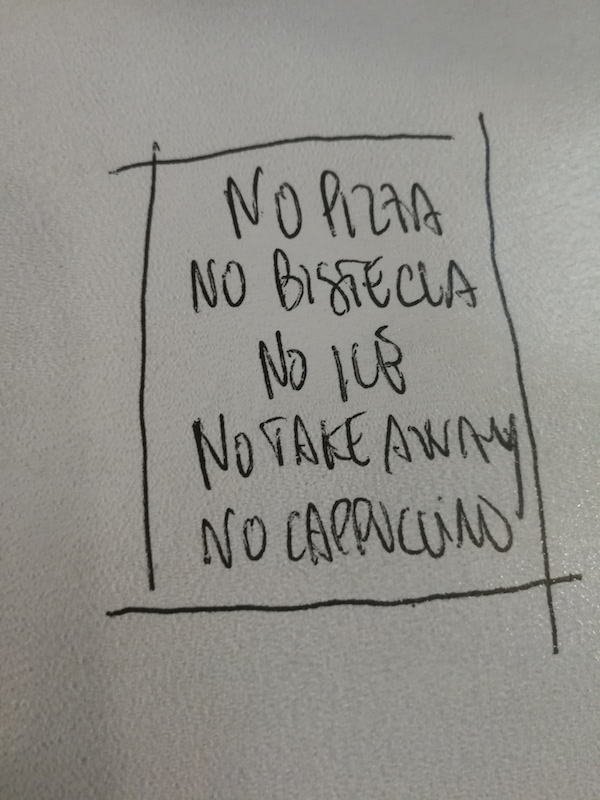 My husband Andrea, was born and raised in San Frediano area of town, the Oltr'Arno. For special occasions they would go and dine at Angelino's. It was also the first place we went out to dinner together as a couple. Classic Florentine food. Angelino's is still there, but with new owners. But we have followed the owners to their new places.
Mario, the son of Angelino, had Acquacotta restaurant not too far from where we lived downtown. Not too long ago, he left Acquacotta and with his family opened Osteria Vini e Vecchi Sapori near Piazza Signoria.
We were so happy!
Mario's wife Rosanna is still in the kitchen, so there is your mamma! Their son Tomasso runs the tiny dining room. You MUST make reservations to go here.
Here is what we recently had for a long lunch.
They started us with a simple slice of perfect Soprasetta, then we ordered chicken liver crostini, fresh pasta with artichokes for Andrea, Pappardelle with Anatra ( their duck sauce is incredible) and also a risotto with pigeon sauce.
Then the BEST rolled stuffed rabbit that was served with twice cooked fennel  and I split the Carciofi Ritti, stuffed artichokes with my friend.
I ALWAYS leave room for dessert here. They do a backwards Profiterole, normally they are small cream puffs filled with pastry cream and then topped with a chocolate sauce, instead they fill with chocolate pastry cream and then roll in normal pastry cream as a topping.
My own personal favorite which is hard to find is the Meringata. This is two layers of Meringue, filled with whipped cream and chunks of chocolate, frozen. They bring it to the table when it has thawed a little. Totally worth the wait.
What makes a perfect meal?
Osteria Vini e Vecchi Sapori
Via dei Magazzino, 3/r
055/293045
Closed Sunday