October is my anniversary of arriving in Florence, in 1984. If you have ever been here in Fall, you will know how easy it is to fall in love with Tuscany with the Fall light. The countryside is turning gold, the vineyards and hills covered with chestnut and oak trees are vibrant. Weekends are filled with food festivals, called sagre. I remember heading to my first "sagra" and  it was the Sagra di Cinghiale ( wild boar) in Greve in Chianti. My Italian was lacking, but I was determined to try. I ordered a Sagra di cinghiale, believing it to be the specialty being celebrated. OOPS! NOT! Live and learn. Do stop for a sagra! Normally on the weekends and often in the late afternoon  not the morning. There will be menus on the stands for the specialties there are serving.
The days become short and temperatures drop, allowing our menus to change for the season. Slow cooked meals fill the house with their profume as well as heating up the kitchen.
The roads are busy with trucks taking the olives to the olive oil mills and the first new oil is out. We have been making all kinds of Fettunta ( called Bruschetta in other parts of Italy). While waiting for their olives to be pressed, most mills have a fireplace to toast bread for the first testing. Traditionally, you simply rub a slice of toasted bread with garlic and then top with generous slathering of new oil and a sprinkle of salt ( Tuscan bread is unsalted).  Another specialty would be with stewed kale or even beans and their broth.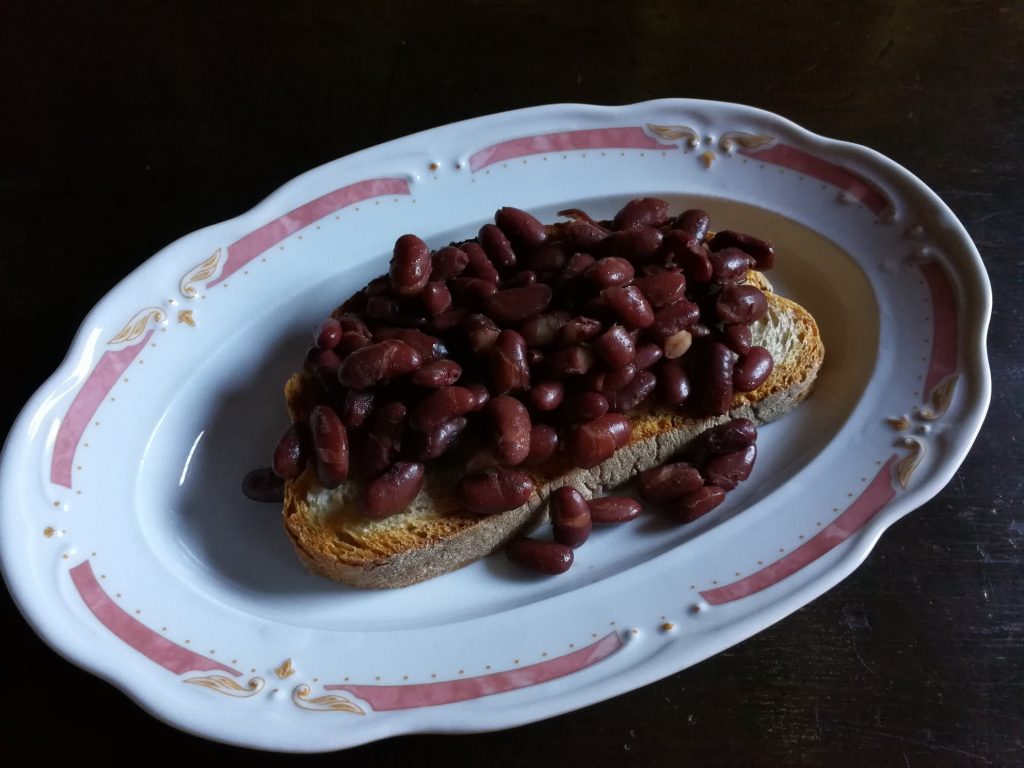 Dreaming of slow cooked meals, I bought some polenta to make some cornbread, thinking about making stuffing for Thanksgiving. With polenta in the pantry I wanted to make one of my favorite dishes my mother-in-law, Tina, made in winter, polenta gnocchi with ragu. I really didn't feel like stirring polenta for 45 minutes as is the tradition, that takes real dedication. I remembered years ago attending an IACP conference presentation with Betty Fussell on corn and she shared her non-stir polenta trick, simply putting the polenta in a bowl over hot water, and adding the hot water, covering and let cook, steaming over the pot, covered. I decided to use my oven instead and googled it to see if someone had already done it. I found lots of recipes, including one from Paula Wolfert.
I got out my clay pot from Puglia and put the polenta in the pot and added salted water. Stirred and left in the oven for 30 minutes. When  I checked the polenta, it had absorbed all the water and the top of the polenta was "cracked". I stirred in another cup of water and let it cook another 10 minutes.
PERFETTO!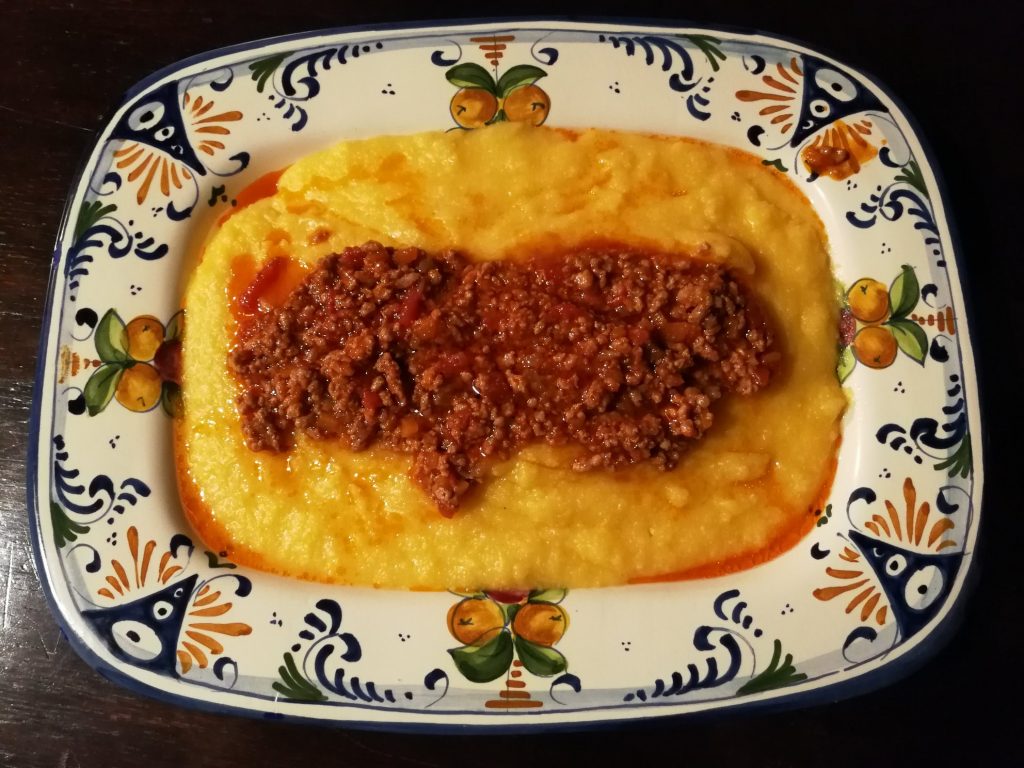 I turned off the stove, covered the pot and waited for my husband to come down to dinner. Another stir and then we served the polenta on a serving platter with ragu I had just made on top!
I saved half the polenta in a glass dish and let cool. It will set and tomorrow I can slice it and dry it for a fun snack. The amount of water you put in, gives you a really firm polenta, if you want to slice and fry up the next day, or use more water and have an even creamier polenta. It will thicken as it cools. We have one polenta that uses a minestrone as a base instead of water, it is called Farinata. We went to a restaurant in the hills above Florence in the area called Mugello to eat potato tortelli and the farinata. We had to order the farinata when we made our reservations for lunch.  To make the farinata, you slowly add the polenta to a simple Tuscan Minestrone.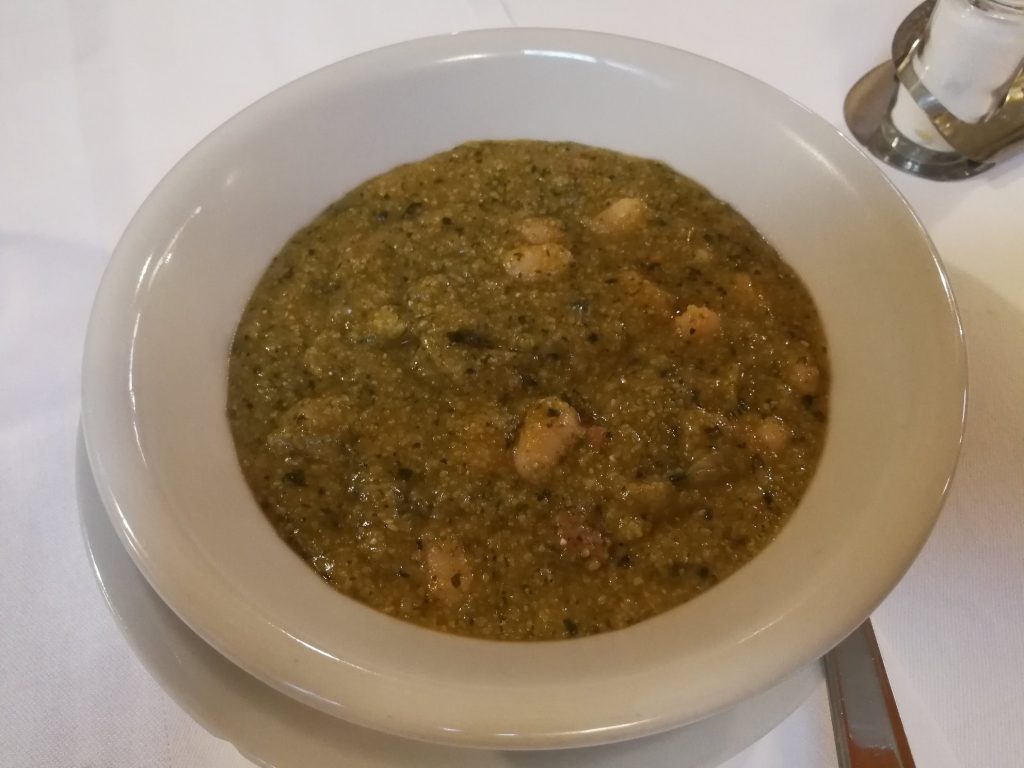 Enjoy this simple trick for polenta made in the oven.
Ingredients
Instructions
Place 1 cup of polenta in a large ovenproof pot.
Add 3 cups hot water, salted to taste.
Whisk to blend.
Bake at 350 degrees for 30 minutes.
Add another cup of water and whisk again.
Cook for 10 more minutes.
Turn off oven and cover with foil.
Let sit until ready to serve.
http://divinacucina.com/2017/11/celebrating-fall-non-stir-polenta/
I