This summer we are having a drought and record breaking heat wave. The hills around my house we have a lot of hay for the animals, which turns the them golden. A touch of green from the woods, chestnut and oak trees and then grape vines and olive trees. This year the grapes and olives are suffering. Only time will tell. We are lucky that water where we are was not rationed.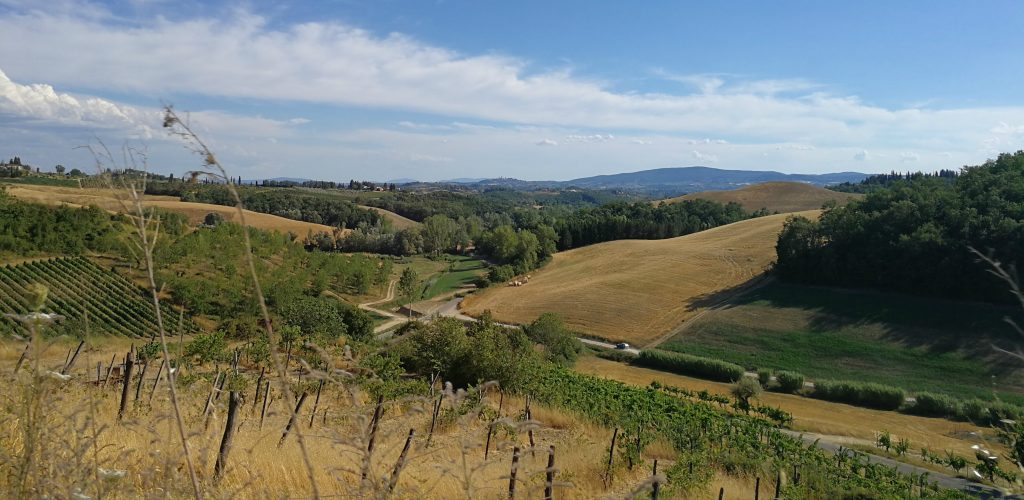 It is hard enough to get up the energy to shop, don't mention cooking. I do love cooking, when it is cooler, and then eating the food room temperature.
But as my mother-in-law Tina, told me,
 "Spend more time shopping and less time cooking".
Summer is the perfect example. My husband Andrea's birthday is in August and cooking for 10 or more people for a party is mostly about shopping.
This year, we are having a Summer of Love party. Our own Woodstock. The main course with be a Porchetta we buy at a local artisan butcher. You can easily find a porchetta stand at a weekly market, not all butchers sell it already cooked.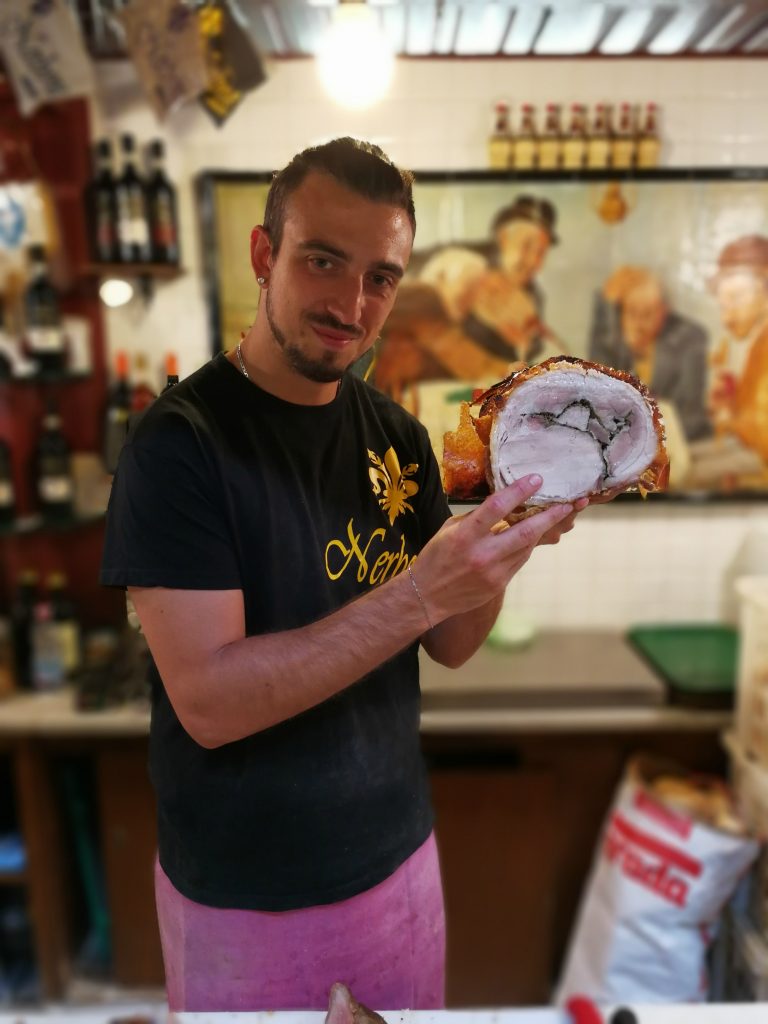 You can buy it sliced to have for panini or thicker slices and then serve in small cubes as an appetizer.
Salads of course are so fabulous with farm fresh products, good extra virgin olive oil and sea salt.
When you are shopping and see these tomatoes, they are not bad, they are for salads. Just with a little bit of green, they have a nice fresh tang. We rarely use the ripe red tomatoes in a salad, mostly those are used for sauces. But you will find nice vine riped round red tomatoes as well. My husband does like those with mozzarella. In the foto below are also our local onion, Cipolla di Certaldo, one of the sweet summer onions. They are great raw in salads, like our Panzanella. Tomatoes, red onions, cucumber and stale bread, seasoned with olive oil and red wine vinegar.If you don't have Tuscan bread, which does go stale, the salad is refreshing just as the vegetables.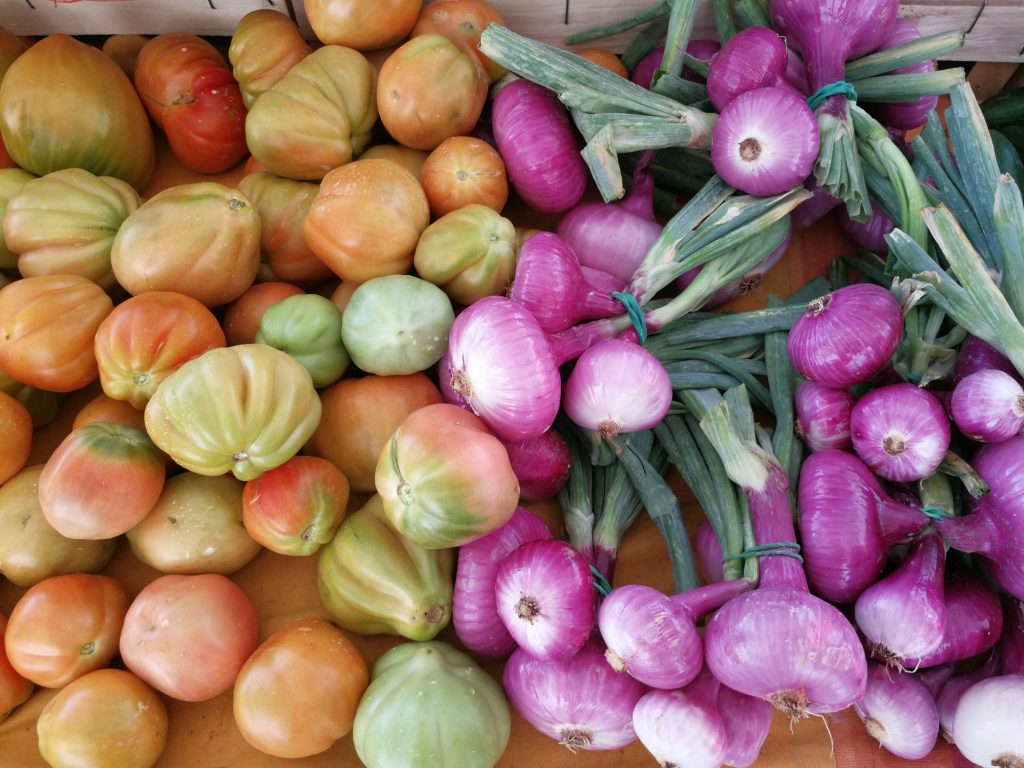 A simple classic salad which is a must on your table is the Caprese, we simply dress with olive oil and salt. No balsamic vinegar. I do see restaurants now adapting to the "international" presentation, serving with a balsamic glaze. Italy is rather old fashioned and we tend to cook regionally. Balsamic vinegar is from Emilia Romagna and Mozzarella is from Campagna, the region around Naples. When you taste a Mozzarella which has been freshly made and a tomato which has never been in the refrigerator, you will understand. Chilling food also removes flavor.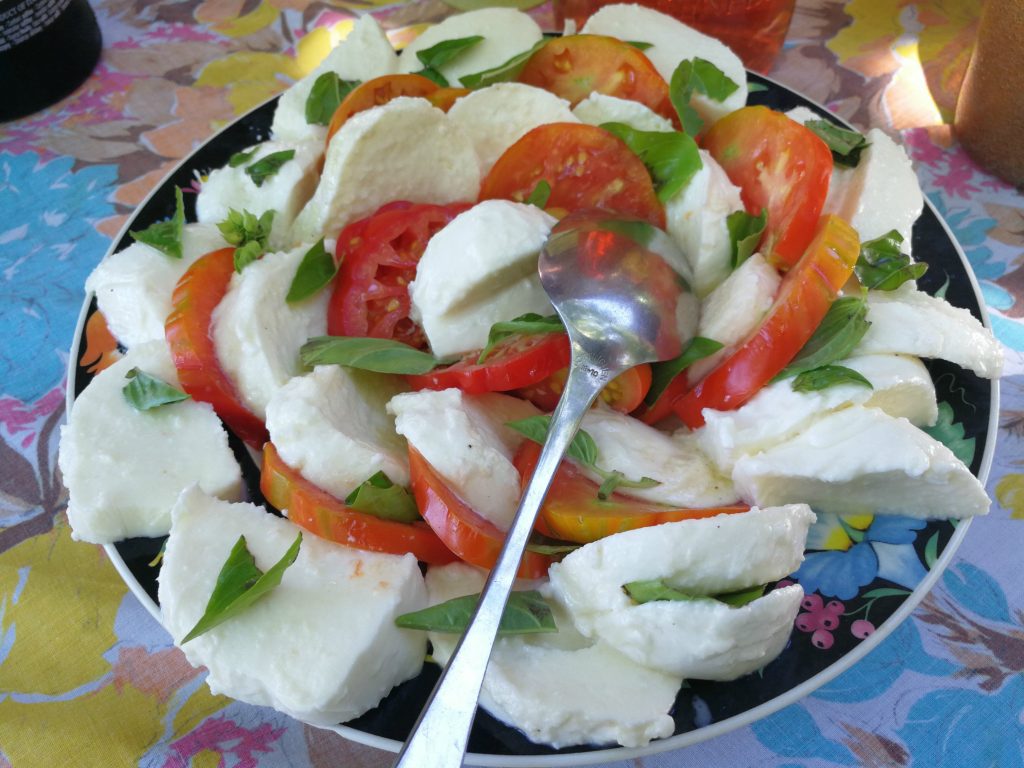 Another simple classic recipe which you can do by opening cans, is Tonno e Fagioli. White Cannellini beans and oil packed Tuna. Extra virgin olive oil and raw onions are the classic recipe. Garnish with chopped parsley. I switched it up by using my Mexican style pickled onions. You can make it fancier by adding some cooked shrimp instead of tuna.Cooking your own beans really makes this special, here is the recipe and some other ideas for beans. When I cook beans, long and slow, I always make more than what I need and am sure to not overcook them. Then I thaw and use for my recipes.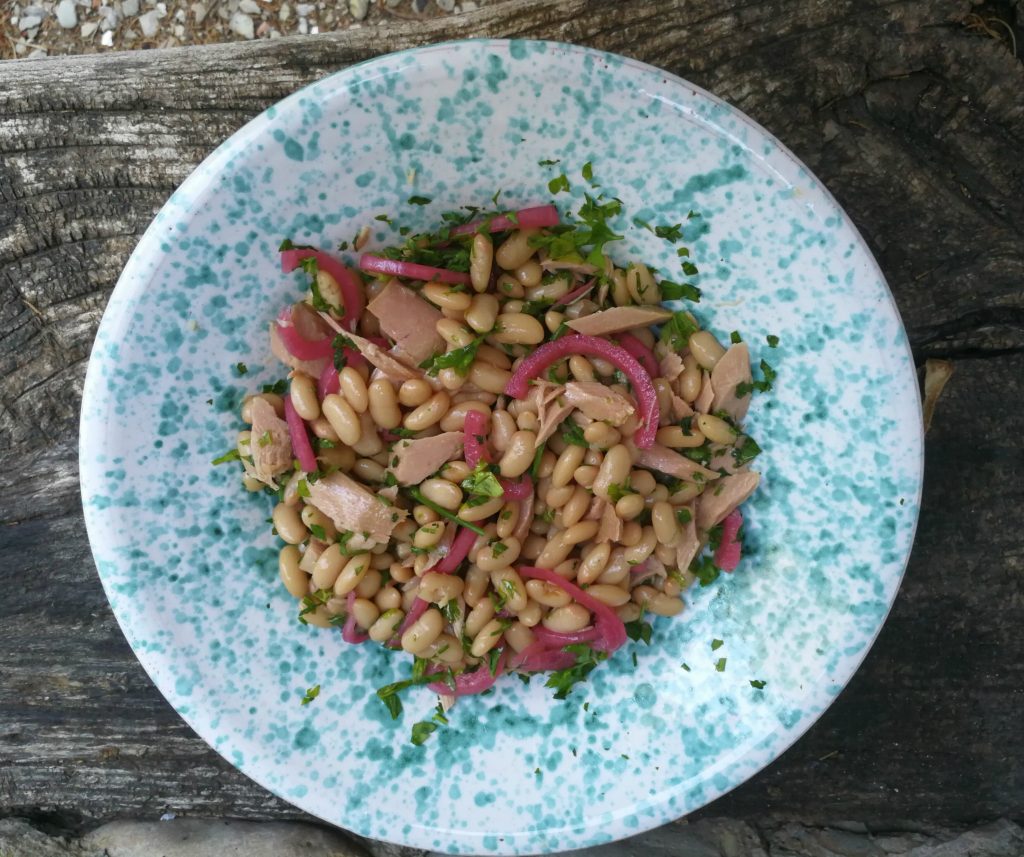 The colors of summer in the market are so incredible. You don't need to do anything to ripe seasonal fruits.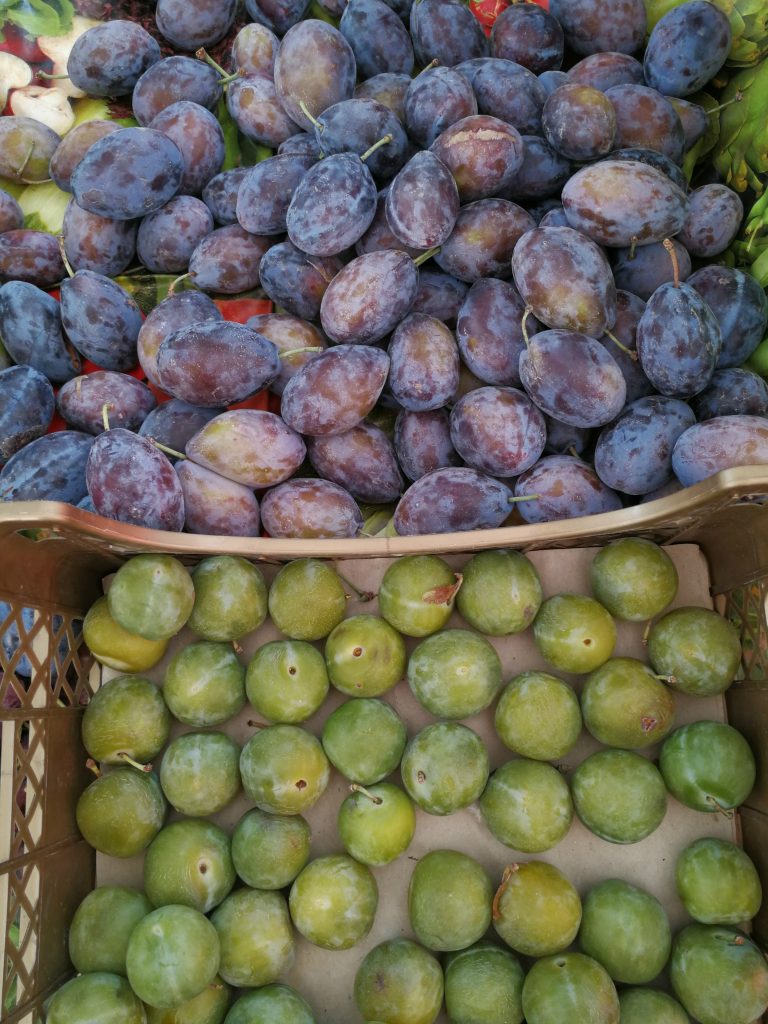 When it cools down some I will make small batch jams and chutneys for later in the year.
Another simple recipe, using my oven, was to recreate a recipe my husband Andrea made for me, baked peaches, Persian style.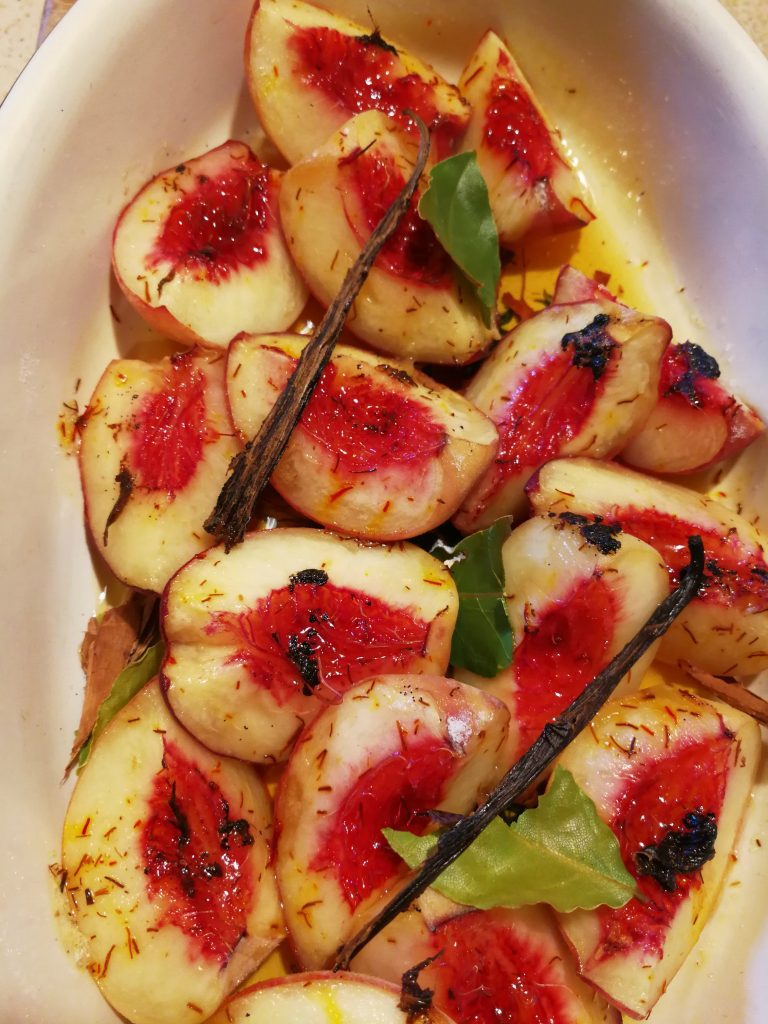 Not far from Florence is a small town called Rosano, they are famous for their peaches, so every year we drive out to visit friends in summer that live in the mountains above. Andrea's recipe was simple, whole peaches, drizzled with honey and lemon juice, baked and basted. I found another recipes which was a little fancier. I added saffron crushed with sugar, a vanilla bean and a bay leaf. The cooked down beautifully and we ate them cold topped with a nice dollop of Greek yogurt.
I am putting together a small PDF of some of my favorite recipes to make with seasonal vegetables and fruits to can and put in your Dispensa (pantry) for later in the year.