My cooking in Tuscany is seasonal. Dishes that bring me great joy when they come back into season. The anticipation of a fresh peach or tomato. Often, it is also repetitive cooking regionally. Not being Italian, I don't feel the obligation to always cook Tuscan, nor Italian. Summer is when I really like to travel in my kitchen with recipes.  My culinary inspirations come from past trips and I am always learning. I just made a Thai pasta salad and today  baba ganoush with tzatziki and pita bread.
This year I finally attended my first Oxford Symposium on Food and Cookery and it was incredible. Living in the countryside of Tuscany is lovely but quite isolated. I do get recipes and ideas while shopping at the local markets and mostly am looking to preserve the classic old recipes before they disappear, so am always talking to the butcher, baker and cheese maker at every market. I do need more. Oxford was a lovely break.
I attend a conference for culinary professionals in USA yearly,which keeps me in contact with my peers. Cooking school teachers, food writers and many other aspects of the culinary industry. A few years back I attended my first MAD conference and it was also very stimulating. A much more international view on food and similarly Oxford covered some really great topics and lovely food. One of our lovely dinners at Oxford was a Turkish/Armenian dinner and at the end of the evening was a screening of a documentary of women crossing the boarders to cook together. I vote for that for all our peace treaties! In the kitchen!
Just last week, I attended a performance of an Italian DJ who is also food obsessed. He actually is a professor and taught for 8 years in France. I adore his documentaries on recipes in Italy. Check them out on youtube, Don Pasta is his stage name. I saw him once in Florence where he was "spinning" records and rolling out pasta while also reciting his theatrical piece. The recent show was in an tiny village piazza, with live guitar music accompanying the show.
One of the themes of the show was about his Grandmother's Eggplant Parmigiana. He is from Puglia and the recipe is the heaviest version and served August 15th one of the hottest days of the year. "FRIGGETTE" is the battle cry of Don Pasta, FRY. We tend to always try to lighten up dishes from the old traditional ways, and recipe by recipe we are getting farther and farther away from the flavor. The original recipe flours and egg batters the eggplant before frying, then layers with sauce, hard boiled eggs and sliced mortadella! I have had a similar version from a friend who's family lived outside of Naples and she also remembered her mom making it to take to the beach in summer.
here is a TASTE of DON PASTA
I am working on a companion book to my Chianti App: Taste Chianti, with stories, recipes and photographs of the people that have inspired me.   I am searching out more producers and artisans, bakers, butchers, cheesemakers as well as organic farms. It isn't hard.
Summer is a time for planning, my weeklong programs for groups coming from USA take a year to plan, I often return to the same places, with different groups, but sometimes it is return groups and we explore different areas of Italy. I enjoy the planning.  Next year besides my Kitchen in Chianti Weeks and Sicily I have a private Puglia week already booked for September. That means I need to return down there to confirm where I want to go and to me, that is the stimulating part of the job. Meeting new Chefs, Artisans and Artists.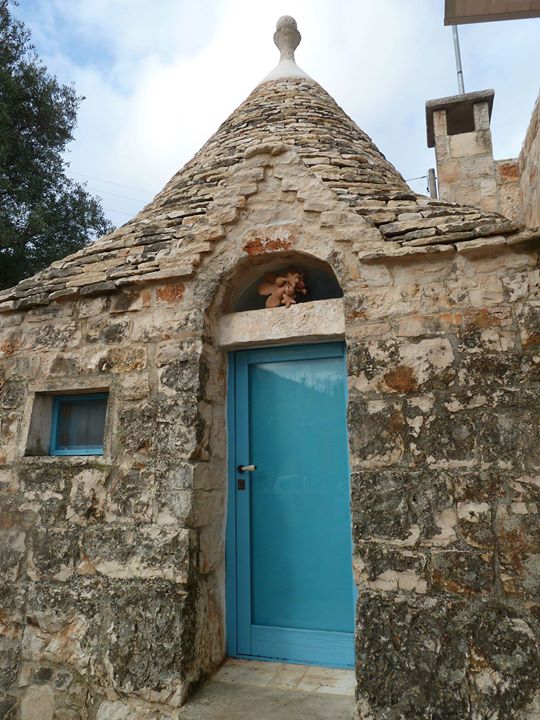 Puglia is magical to me, from these homes built from stone with cone-shaped roofs, being at the sea and incredible food. Puglia is known as the bread basket of Italy, producing so much of the wheat for flour and fruits, vegetables and olive oil.
Italy is simply a treasure waiting to be discovered in all it's corners. Of course, Florence, Venice and Rome are packed with tourists. They are incredible. But it does get overwhelming being a tourist. One of the nice things about a tour with a local, be it for one day or a week, you get a different insight. Someone is taking care of you and sharing their home town. Nothing is better.
When planning your trips, try to see something with a local or visit a town not on the normal tourist trail. Even in Florence and Venice you can simply slip off the main streets and find peace and quiet of the smaller residential areas.
Tips:
Drink lots of water. Summer here is HOT, stay hydrated.
Stay alert. Tons of tourists mean you are tired, hot and overwhelmed in strange towns that speak a foreign language. It is easy to be distracted and become a target for pick-pockets.
Take fotos. document your important papers, your passport, airplane ticket, hotel business card and even your whole itinerary. Even something silly like where you park your car.
Take breaks. Stop and sit and people watch, enjoy some downtime and stop running everywhere. IT does cost more to sit down and be served, but often you can get something small, relax for a minute, use the restroom, have something with ice!
Order your gelato by price. Personally I always order a 2,50 euro cup or cone. It is enough. Gelato melts faster than ice cream. I would rather stop more often and try more gelato than go for that HUGE cone that has about a gallon of gelato for 15 euro! it will melt before you can finish it.
Summer is filled with live music in the piazzas  and sagre, food festivals in the countryside. Most happen at night when it cools down. August still sees a few places close down for vacation. Especially small family run businesses, but things are changing here too.
I can't wait for September, the temperatures start to drop,the wine harvest starts and there are festivals every weekend in Chainti.
Summer also means making tomato sauce, Pomorola. I am missing the San Marzano Day this year, we can't go. But families all over Italy wait until the tomatoes are fully ripe in August and start making SAUCE. It can be as simple as boiling the tomatoes and pureeing them with a basil leaf.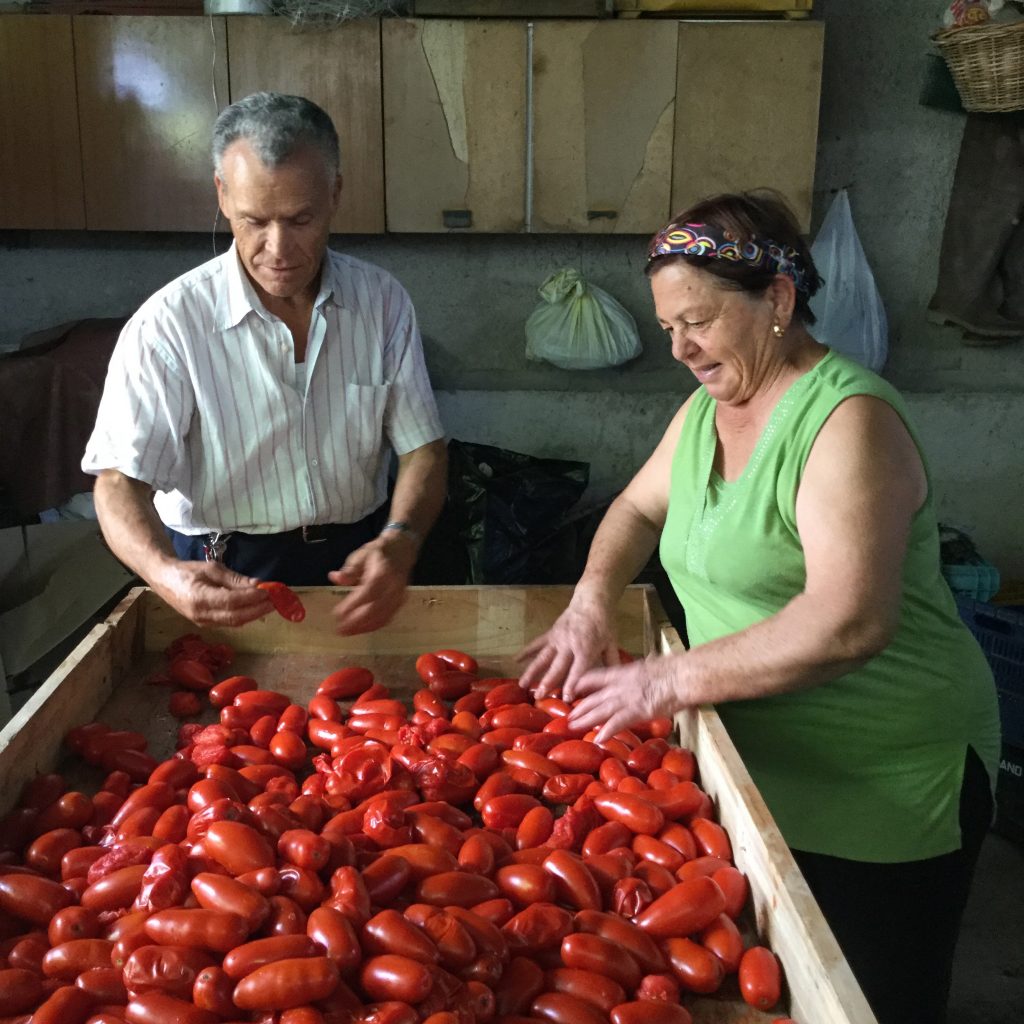 Enjoy your summer- we love summer dining, it is more like foraging in the fridge and creating picnics if you shop like an Italian. Simple plates of Prosciutto and Melon, Mozzarella and Tomatoes, Pears and Pecorino cheese and Salami and Figs.
Add some mixed olives, marinated artichoke hearts, sun-dried tomatoes. Fresh fruit, maybe some nice fresh salad greens simple dressed with extra virgin olive oil, salt and lemon instead of vinegar. Foccacia, baguettes and crackers.
My favorite seasonal recipes are:
Buglione– a vegetable stew we eat cold
Fagioli Mangiatutto– also best the next day
Insalata Ignorate- The makings of a panzanella bread salad without the bread-tomatoes, cucumbers, red onions and basil dressed with olive oil and salt. We serve it on a bed of arugula.
Macedonia – Italian fruit salad– with wine!
I get inspiration at the market but getting out of my tiny corner of Tuscany was good for me and I am energized again to create and dream. I hope you all get inspired on your vacations too and bring a little of the Italian way of life into your life.
One of my dreams, will happen soon. I always joke about being an Italian life coach, but in actuality have mentored a lot of people and now will be offering a service to bring a little more of the Italian life style into your kitchen but also if you are coming here to live, what to expect. More and more of my clients are coming for longer and longer trips. I can help.
I will be spending the rest of the summer dreaming and planning and researching for new programs for 2018 as well.
I will do some more FB live cooking demos but it is so hot. 
What I would like to know, is which videos have you made?
What other dishes would you like to learn?
My youtube channel has so much on it now, but not a lot of views, I think most people saw the vidoes live and then they forget about them. 
So please, stop by the channel and give the videos you like a thumbs-up and that will let me know people are watching them. You can also subscribe to the channel and know when I post something new.
Enjoy your summer, get out and get inspired too. Recharge your batteries. Take naps.