Certain recipes bring me back in time, to cooking in Andrea's mom's kitchen. Tina was great. She was a simple but fabulous cook and I learned a lot from her and her sister Vivetta who owned a restaurant at the sea. I do several of her recipes often and the Tuscan fried baby artichokes are a seasonal favorite which we can not ever get enough of. Tuscany, like California, grows artichokes so it is easy for me to get lots of them when they are in season.
I wanted to do the recipe for a FBlive cooking demo so decided to also post the recipe for the artichokes here on the blog and you can see the video on my Youtube channel.
When the first artichokes of the season come out, we eat them raw, in pinzimonio, which is served with a dipping cup with extra virgin olive oil and some salt and or a splash of vinegar. Normally you would have a selection of seasonal vegetables prepared for your guests, celery, carrots, raw fennel as well as the artichokes. Another way to eat raw artichokes is to serve them as carpaccio.
I wait for the smaller artichokes  to fry them or also to preserve in oil for appetizers.
My magic moment is when they are sold in bulk in large baskets at the weekly farmer's market. I almost missed it this year, but found the  guy with a farm down the road from me, Mattia, that was at a Saturday Market in Montespertoli.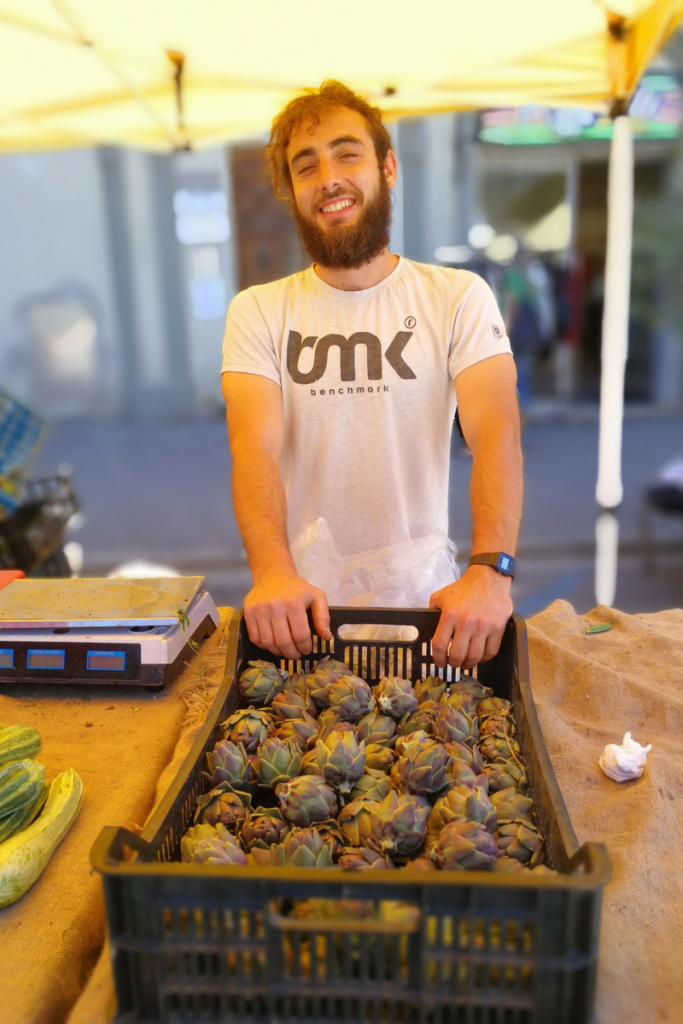 There is something zen about repetitious acts like cleaning and artichoke. These are the smaller size with some sharp spikes on the end, but once you get your rhythm going, you get into the groove. There is also a sound clue, to when you have pulled away enough of the tough leaves,they no longer snap.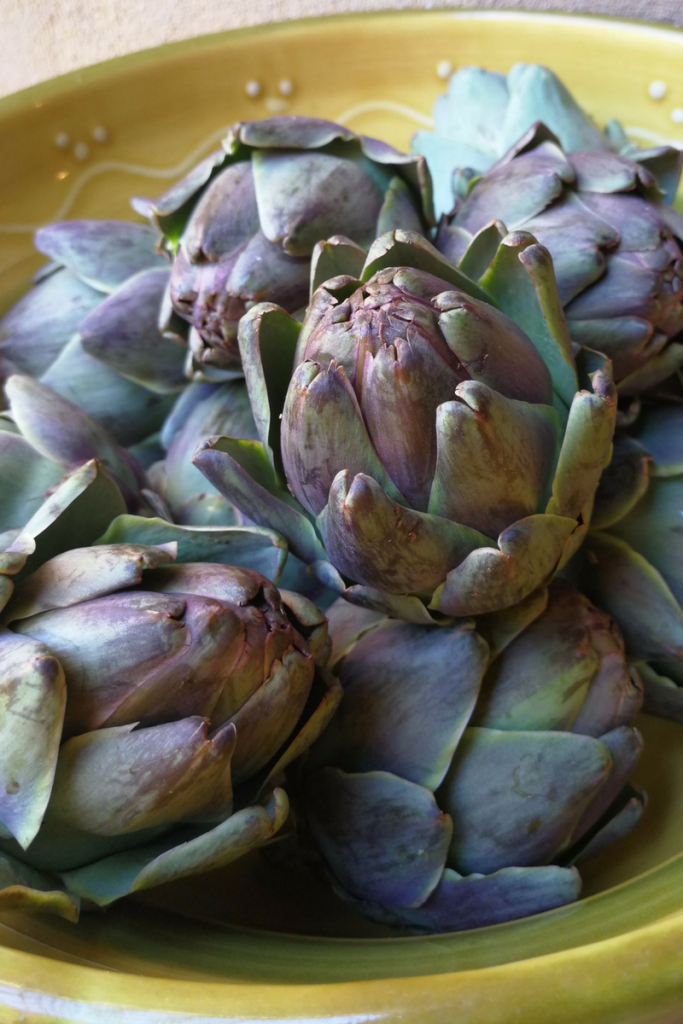 When you pull off the tough leaves, then trim the bottom, removing any stem, which is edible, but usually on the baby chokes is too small and tough. Then put in a bowl of water with lemon juice of vinegar to prevent browning. Cut into halves or quarters if they are large.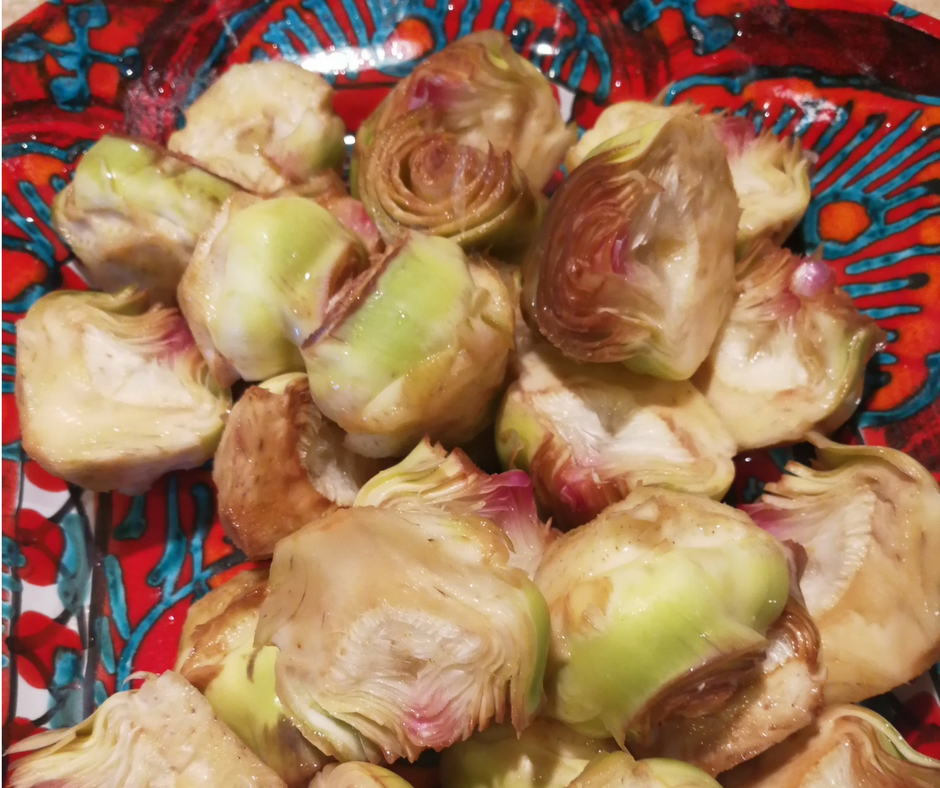 Tina's trick which I adore, is that you put the cleaned artichokes in a bowl,you break an egg in the bowl, add a pinch of salt, and mix with the artichokes. THEN you sprinkle with flour and mix again, creating a messy paste, which looks wrong, but is so right.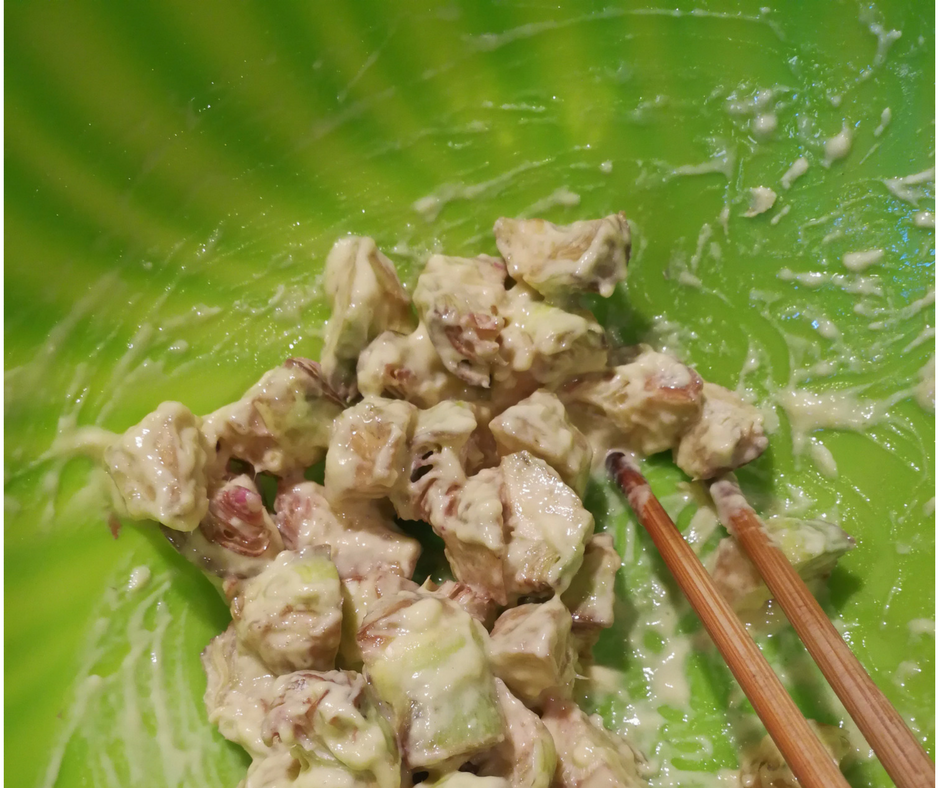 This doesn't look like enough "batter" but trust me. Place the artichokes one at a time in a skillet with hot oil, I use extra virgin olive oil which i buy locally. Use whatever oil you like to fry in. Don't fry in olive oil you don't know where it came from, it can be mixed and chemically treated and will "break" when frying. Mine doesn't.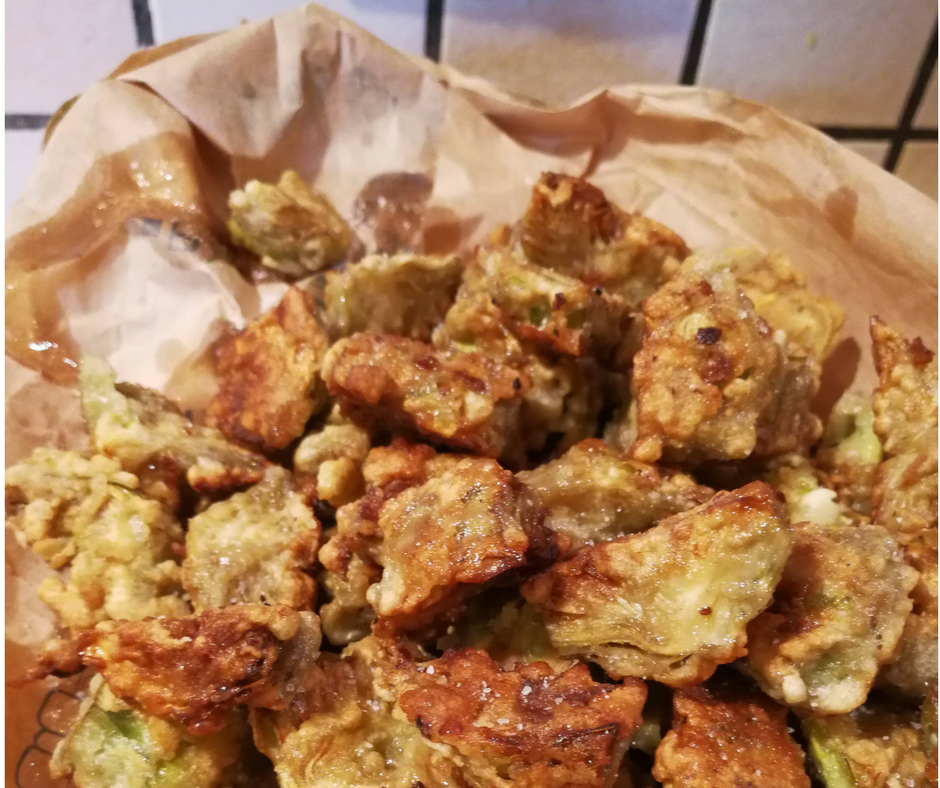 Fry until golden brown, turning a few times. Drain on paper towel and salt while hot!
Warning: These are addicting.
Please stop by the youtube channel and leave comments!
Tuscan Fried Baby Artichokes | Carciofi Fritti
Ingredients
small baby artichokes, peeled and trimmed as in video
1 extra large egg
1/4-1/2 cup flour
salt
oil for frying
Instructions
Prepare the artichokes as seen in the video, tearing off the tough outer leaves.
Cut off the tough top of the leaves.
Trim off the bottom stem and the bottom of the heart.
Place in water with lemon juice or white wine vinegar.
Drain the artichokes and cut into smaller pieces, 1/2's or 1/4's if they are larger.
Place in a bowl.
Add one whole egg, and mix to blend well with the artichokes and a pinch of salt.
Add enough flour to create a rough "Batter" which will stick on the artichokes.
There should be no extra liquid.
Fry in hot oil, not touching each other, until golden.
Salt when done.
http://divinacucina.com/2017/06/tuscan-fried-artichokes/
If you want to catch up on my video lessons, they are on my Youtube page, click on this link to sign up.
There is already a lot on the page. Right now I am doing the video's casually from my tiny Tuscan kitchen, I also have created a FB page where we can talk about the videos or you can ask me questions. All you have to do is ask to join. Click here- Dining with the Diva and join in.
Enjoy the videos and the recipes. Would love it if you would leave comments on the videos on the youtube site and participate in our FB page.