Panna Cotta or as I refer to it, Jello for grownups, is one of my favorite desserts. Since I was a pastry chef, that is saying a lot. When I go to a old school trattoria , if Latte alla Portughese or Creme Caramel is on the menu, I will order it. These are both egg based desserts, which are baked and are slowly disappearing from menus.
Panna Cotta on the other hand is EVERYWHERE and usually covered in some thick bottled sauce and I won't order it and neither will you when you find out how easy it is to make and how much better it is at home. I like to make my Panna Cotta with a caramel in the bottom of the mold first, creating the effect of a Creme Caramel. It is one simple step more for an impressive result.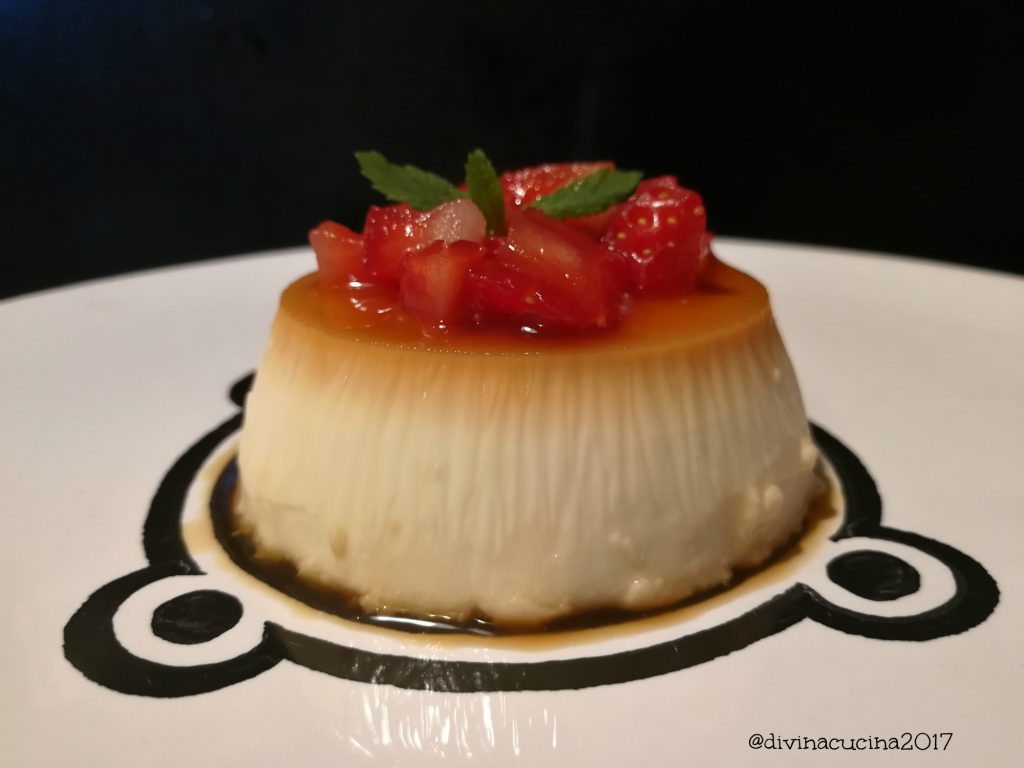 You must promise to keep this a secret, it is the simplest recipe I know, but everyone is always so impressed. Make it seem harder!
As with simple recipes, the secret is in the quality of the ingredients. Panna Cotta has only three ingredients, the cream itself, sugar and gelatin.
Cream:Panna Fresca,un-whipped whipping cream is full fat, 36% fat! Fat gives flavor. So when using a lower fat cream, to get the same results people often add vanilla. I don't think the Italian cream needs it, it is so flavorful on it's own. In American, I have friends that use buttermilk to create a really lovely light version with a tang.
Sugar: We have beet sugar here in Italy, but you can sweeten with anything you like, to your taste.
Gelatin:I use the gelatin sheets, called Colla di Pesce, made from fish bones, it is a delicate gelatin. Sold in packages of 5 sheets to solidify 1 liter of liquid. In the USA, Knox gelatin in powder is made from beef by products and one package is for 2 cups of liquid.
The variations of denseness in the panna cotta, like jello, comes from how cold your fridge is and how long you keep it there.
I suggest making it the day before and perhaps adding just a little LESS gelatin for a softer texture, I like it to be delicate
.
Panna Cotta – My Favorite Dessert
Ingredients
2 cups unwhipped whipping cream, 36% fat
2 tbs sugar ( sweeten to taste)
2 sheets of gelatin ( colla di pesce)
Instructions
Soak the gelatin sheets in cold water.
Heat the cream with the sugar until it "breaks a steam". Do not let it boil.
Remove the gelatin sheets from the water when they feel like saran wrap, they won't melt in the cold water.
Add to the hot, sweetened cream and stir to melt.
Pour into serving container(s).
I like to use the small, metal containers which are easy to unmold. This recipe makes 6 portions.
If you want to create the caramel, melt 4 tbs of sugar in a pot, do not stir, but rather move the pot back and forth until the sugar caramelizes. Pour into the molds and let chill before adding the hot cream.
Let cool before placing in the fridge.
Let sit overnight.
To unmold, run a knife around the outside edge of the panna cotta and flip onto serving dish.
It should come right out. If not, tap the bottom, but the caramel overnight turns back to liquid making it easy to get out from the mold.
Be careful as the caramel will pour out around the panna cotta.
I like to serve with berries, strawberries, raspberries, blueberries are all nice.
http://divinacucina.com/2017/05/panna-cotta-favorite-dessert/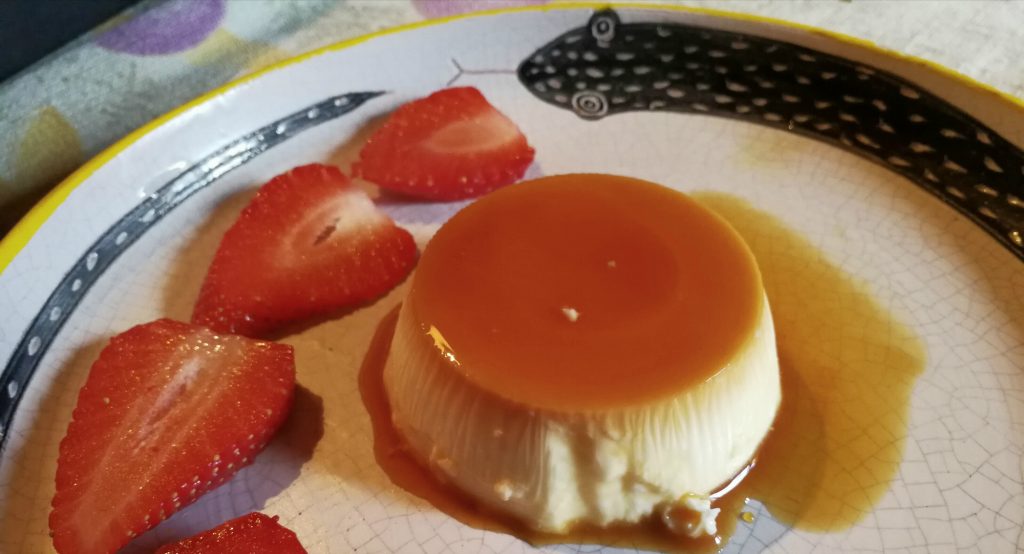 To make other flavors of Panna Cotta, simply infuse the cream with your flavors. I like making saffron pannacotta and garnish with pistachio and candied rose petals. Cappuccino? Add some espresso. Once you master working with gelatin sheets, you won't stop!
Think if making your own "shots" I always dream of an edible Irish Coffee, topped with whipped cream.
Let me know if this also now becomes your favorite dessert— and if you want to see me make it, I am now doing FB live cooking demos and saving the videos on My Youtube channel, stop by, subscribe and leave comments!
I also have started a private FB page for my videos, join the tribe of Dining with the Diva, it's almost as good as being in Italy with me.