Happy New Year?
I think we all love to celebrate and as an expat, I discovered new holidays to celebrate in Italy. We all have December31/January 1st as New Year's Eve and New Year's Day. My mom was raised in Shanghai, we although we are not Chinese, Chinese New Year's was always big in our house, red envelopes and all. Moving to Florence, I added on the Florentine New Year, March 25th,which is also the Annunciation.Then my own personal New Year, my birthday in April. Followed by September, which for me, was always a new beginning, when school started the new year as well. I often traveled in September/October. A year of celebrating. Today celebrated my birthday by going to eat Tortelli di Patate in Mugello.
This year, for my birthday, instead of presents, I prefer having experiences. Field trips with a great meal. Eating in Italy is often like a treasure hunt, exploring new areas and finding small out of the way trattorias is one of my greatest joys.
Most of my husband's close friends from Florence have moved up into the hills above town in an area called Mugello. It is famous for its pastures and the local milk company Mukki Latte, is based up in Mugello as is the Formula One racetrack as well as the woods. In Summer, Mugello comes to life, filled with locals and tourists alike looking for respite from Florence's sticky humidity. The Medici family had several castles and villas in Mugello.
One of the culinary specialties of the area are their Tortelli di Patate, potato ravioli. Potatoes were brought to Italy by the Spanish after the discovery of the New World along with chili peppers, chocolate, turkey, corn and tomatoes. The area of Mugello has a different potato than what I can buy in Florence. Mostly we get the Yukon Gold potatoes, which are buttery and creamy. I am not sure what the potato from Mugello is, but it is a drier potato and better for gnocchi and fillings.
The classic way to order the Tortello di Patate is with sugo, Tuscan ragu. You can also order a half portion. The men sitting next to us simply ordered three of the pasta specialties and  split them!
I ordered the Tortelli  in a lighter butter and sage sauce, but really, the ragu was the perfect pairing. When ordering, they tell you the kind of sauces they have and then the types of pasta.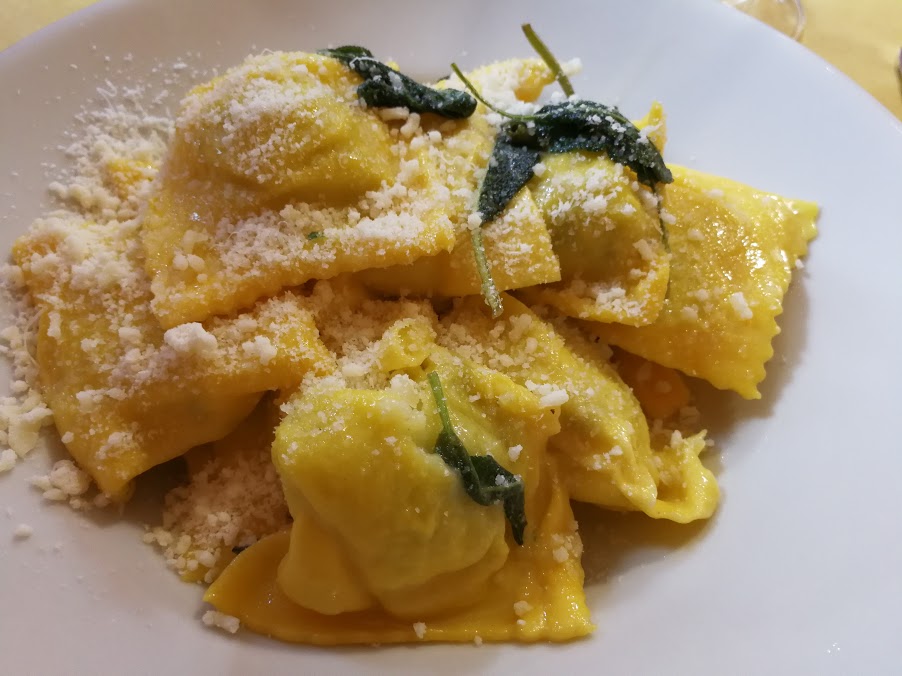 Here I cut open a tortello so you can see the filling.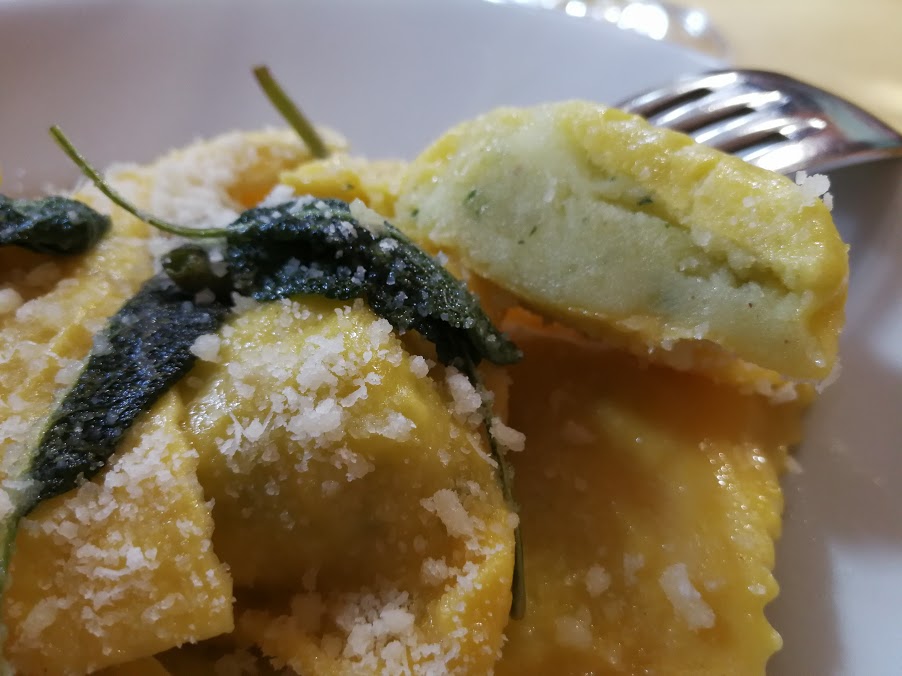 The recipe varies every 5 kilometers or so. We were in Vicchio on a little lake at a small hotel. In Scarperia, they flavor the filling with a little of the meat ragu. My own recipe which is in my book, has a little cooked pancetta mixed in with the potato and some Parmigiano Reggiano cheese.
Another reason we drive almost 2 hours is for their boneless rolled rabbit. This is a dish which used to be something mamma or the nonna would make for Sunday lunch, these days hard to find. Rabbits were raised alone with chickens at all farmhouses and provided meat which was non eaten daily in Italy. Meat was often saved for special occasions.
Having been  a pastry chef, for me a good restaurant has to be good to the last bite! I ALWAYS save room for dessert. They make a lovely Latte alla Portoghese here, which is a flan, higher in the milk ratio than the normal  Creme Caramel. Being in the area where milk is produced, this is a good thing!
This is one of the places we go and plan to really EAT! In the past, restaurants often had signs saying " We only serve full meals". This was to avoid tourists coming in for just a salad.
Italians, if they are not really hungry, simply go to a "bar" and order a little something sweet or savory to hold them over. Bars now also have "piatti unici", single dish meals, such as a rich salad with mozzarella and tuna or tomato and mozzarella salads. But, times are changing and now restaurants are more lenient, plus they have also learned that most tourists come in early then leave, so they can still have their tables open for the Italian dinner time around 8:30 or 9pm.
These food orgies of the full-on Italian meals is usually a Sunday lunch. Finding a place in the middle of nowhere is one of the favorite past times of Italians, the harder it is to get to, the more interesting it is!
After gorging on a wonderful meal, it is also essential to then take a walk with your friends before getting into the car. This trattoria is located at a lovely lake, which is perfect.
Tips from my Husband. Try to go out to eat during the week instead of on the weekends when  it is crazy, unless you have a lot of time. Most Italians go out and plan on spending 3 hours at the table and don't want to rush. For tourists, this long time between courses and the waiting can be stressful! Be prepared.
Just outside of Vicchio on the Lago di Vicchio
You get there by entering the main piazza of Vicchio
and going around the piazza until you see the sign for Montelleri
Closed Monday
open for lunch and dinner.