As I was baking these  Zaletti cookies from Venice last night for a friend of mine Monica from  Cook in Venice,  for an interview she did with me, I realized that baking is really one of the best therapies which brings me joy.
It has been a tough winter, my husband has some medical problems ( he is ok). I lost two dear friends, both too young to leave us and the elections have drained my soul.
Cookies have always been a comfort food, a simple light meal when you don't feel like eating.
In Italy a merenda, is a light snack between meals. I adore cookies for breakfast with my caffelatte or with large cups of aromatic tea in the afternoon. A few cookies are moment of peace and comfort.
When Monica asked me to send her a photograph of a Venetian dish I have made, my thoughts went immediately to my Aunt Ray. I am not sure if she was a real aunt, my mom's family is large, researching the family tree now that my mom died, I can't find Ray listed. Perhaps one of those acquired cousins by marriage.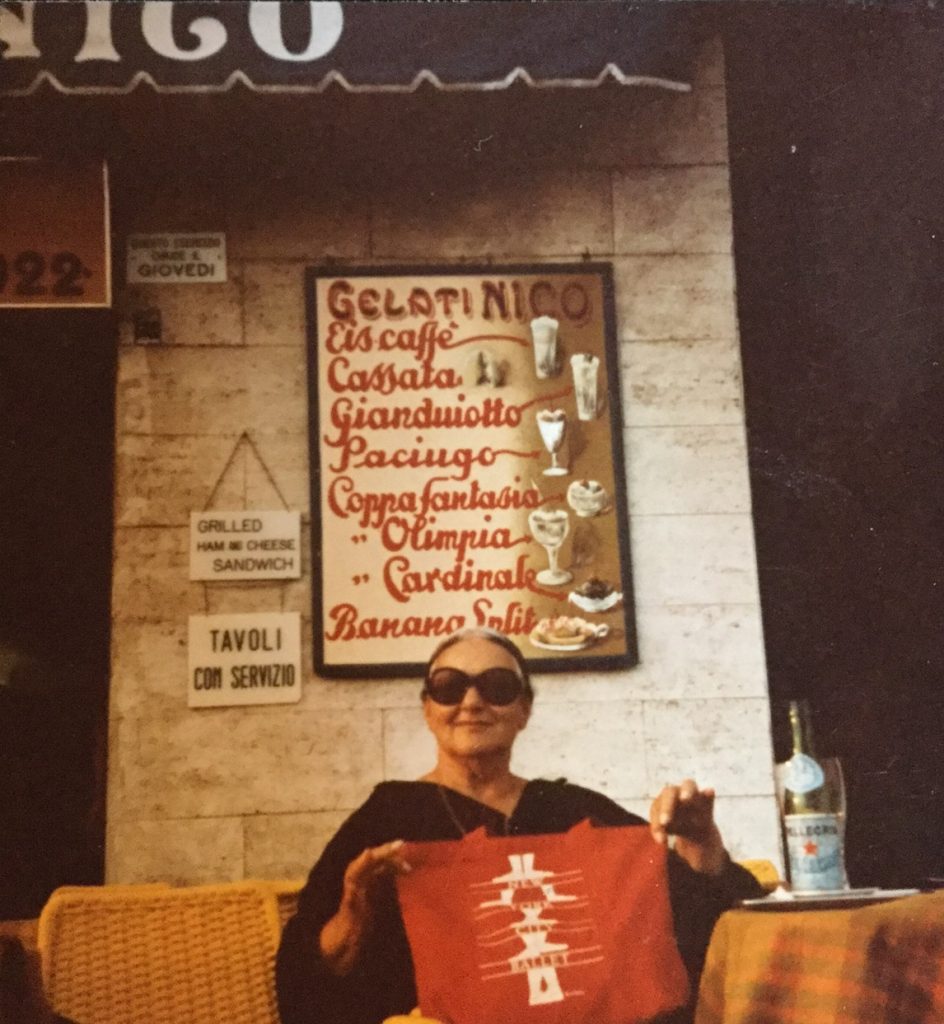 Ray had great stories, she hung out in Venice with Peggy Guggenheim, had painted an affresco in Mexico for a Countess who turned her villa into a hotel and was with Roddy McDowall, not sure if Roddy was painting with her?  Tales of parties in Cuba and vacations on Fire Island. What a life. When her husband died, she took her savings and moved to Venice to follow her dream life of being an artist. Apparently her husband had not approved. This is the only piece I have of hers, was so funny schlepping it to the station on the vaporetto and then on the train back to Florence.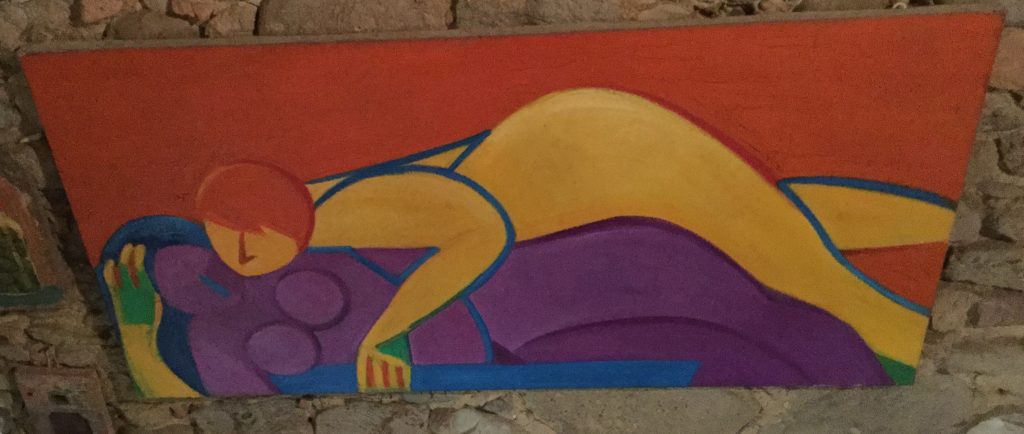 The photograph above was taken at the Gelateria Nico, a favorite place in her neighborhood to sit and people watch. She showed me her favorite spots, and I fondly remember one of the bacari, the name for Venetian wine bars, being dark and rather empty one rainy day and with our class of red wine, we were offered these yellow cookies from an old glass apothecary jar.
Zaeletti or Zaeti for the Venetion word for giallo. They can be found in the Veneto region, not just Venice. They get their color from egg yolks and the cornmeal used in making them. A melt in your mouth butter cookie which will become one of your favorites to make and keep for snacks too! Great with tea as well as red wine! In Tuscany, we have our Biscotti di Prato which we serve with Vin Santo the local sweet dessert wine. But often cookies would simply be dipped in the wine you were drinking with dinner.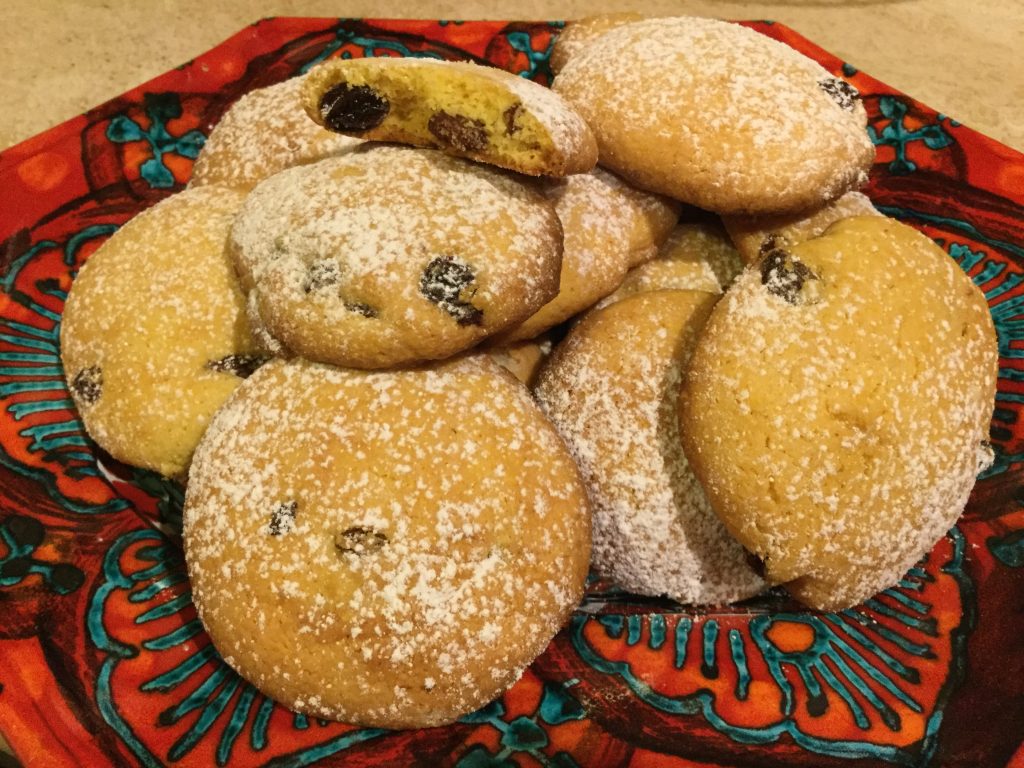 Ingredients
125 grams/ 1 cup 00 Flour
125 grams/ 1 cup corn flour ( Polenta)
100 grams/ 1 cup powdered sugar
100 grams/ 3 oz soft butter
3 egg yolks
1/2 tsp baking powder
pinch of salt
50 grams/ 4 oz of raisins, soaked
Instructions
Presoak the raisins in warm water or grappa.
Mix together the flours with the baking powder and salt.
Cream the butter and powdered sugar together.
Add the flour mixture.
Mix untl it is all incorporated and creates a nice ball.
Refrigerate for 30 minutes, it is a soft dough.
Add the raisins and knead until incorporated evenly into the dough.
Remove from the refrigerator and cut into 4 pieces.
Roll each piece into a rope and cut each rope into 5 pieces, like you would for making gnocchi.
Place the pieces on baking paper on a cookie sheet and lightly press down. They should not be perfect.
Dust with powdered sugar before serving.
Bake at 350 until lightly golden.
http://divinacucina.com/2017/02/joy-cookies-zaletti/
If you are around Italy now, the time from the Epiphany to Easter, we have so many regional sweets for Carnival. Each area has their own sometimes similar recipes, but the names change.
I have many on my site, Rice Fritters, Cenci or even stuffed Cenci,
In Sicily, we made a potato based fried doughnut, called Sfince for another festival, but it is perfect for now too.
Another sweet I like for the holidays is a Castagnola, "chestnut" shaped fried dough. Seeing a trend? These are more cake-like and here in Florence are finished off with a red liquor which is very aromatic, Alkermes. You can buy it at the fabulous Santa Maria Novella Pharmacy.
Love to hear from you if you bake this cookie and let me know how it turns out in your kitchen. You know that flours vary all over the world, as do egg sizes? I always give the example of baking chocolate chip recipes as how we all can follow the same recipe, but get a different cookie. There is a lot of science in baking and being accurate, which is why life gets much easier if you get a scale.
Recently I myself got one of these tiny flat digital scales and I adore using it. I use a plastic bowl, add ingredients, then hit the button to zero out the weight and add the next ingredient. It's a no brainer.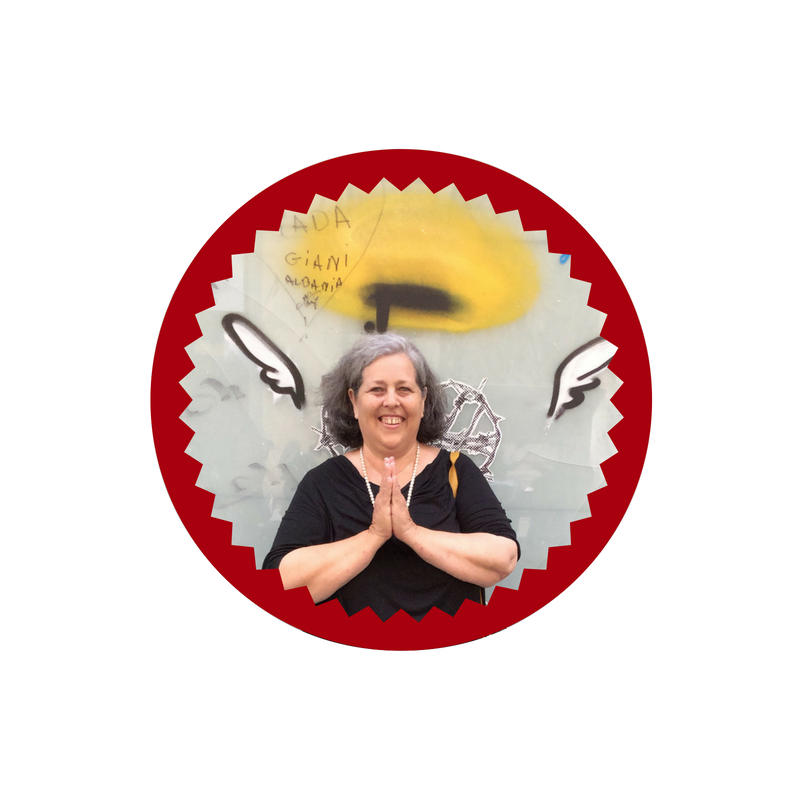 If you want to receive my blog updates as email, to not miss new recipes, just put your email address in the sidebar on the home page and also receive a special newsletter I send out with some recipes and information for my fans that are an extra little gift!
My TASTE CHIANTI app is also getting a new look and update, so download that for free too and it will send you the updates automatically.
Peace. Love and Cookies!
Leave a note if you try the cookies, love to know how they turned out in your kitchen!