Each trip to Sicily makes my head spin.
It was impossible to decide what to write about for a blog post, so I just let it sink in for awhile. At home, I am cooking octopus, but you probably don't care about that, but my husband loves it so much he keeps asking for more. I have a recipe which the octopus is not boiled, but cooks in it's own juices and comes out so tender.
Keeping it simple to the inspiration from the island, we had several really great salads which can be meals, they are so filled with goodness.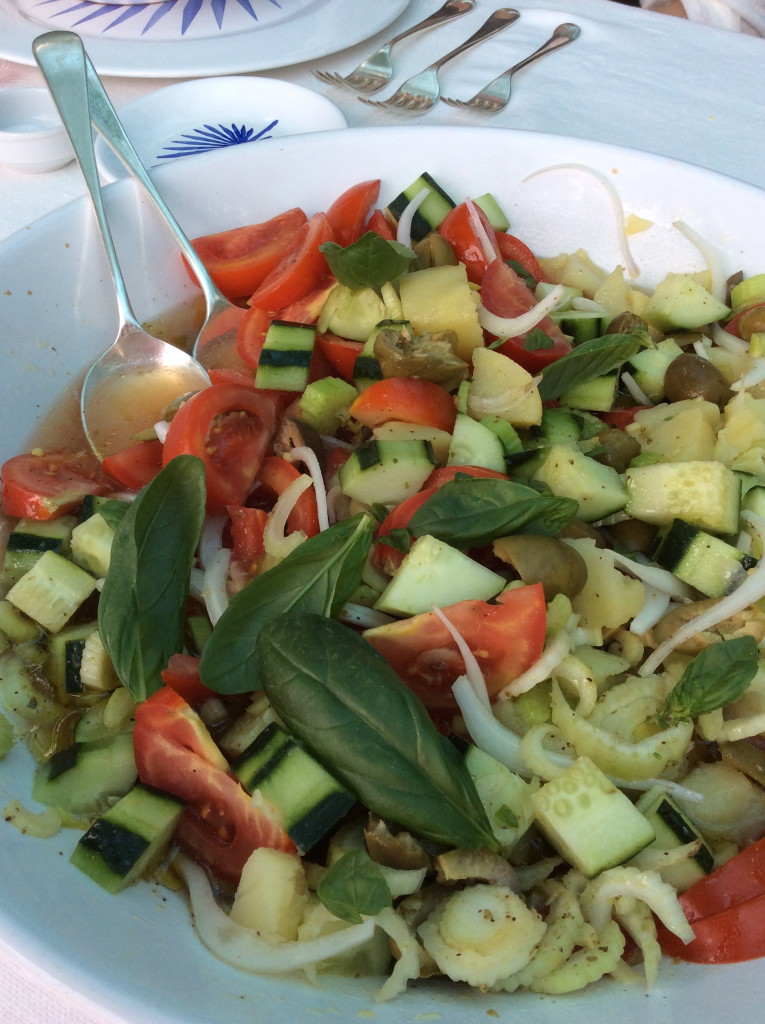 This salad is perfect, as it is rich in vegetables and has a surprise. It is called Insalata di Acqua, Water Salad. Besides the oil and vinegar, ice water is added and creates a sort of gazpacho.
One of the classic Sicilian salads I adore is made with fennel and oranges. Unfortunately, in summer, there are no blood oranges, but they use the navel oranges which have a longer season. If oranges are not available try substituting cantaloupe, it is a wonderful surprise. Below is a photo of the salad in progress, we then added pitted crushed olives and some anchovies. Savory and sweet work together, like the prosciutto and melon. Being at the sea, for Sicilians, the anchovy is their "prosciutto".
Insalata di Acqua
ripe tomatoes
cucumbers
red onions
boiled potatoes, peeled
celery
green castelvetrano olives
capers
salt
extra virgin olive oil
red wine vinegar
origano
ice water
To cook like and Italian, the phrase Q.B. is often used in cooking.
Recipes are passed down from generation to generation, often changing each cook has their own version.
Summer salads are often just sliced tomatoes with cucumbers and sweet red onions.
Q.B. is "quanto basta" how much you need. You rarely need to tell an Italian quantities, except for sweets. They just know.
To plan for quantity, think about how much you would eat.
a tomato a person? 1/2 a potato?
It doesn't really matter, relax and enjoy.
Chop tomatoes, potatoes,cucumbers, capers and celery. Place in the salad bowl.
Sprinkle with oregano and drizzle generously with extra virgin olive oil.
Act like you are a sicilian and be generous.
Splash with red wine vinegar. In Italy it is really tart and sharp, making this a refreshing salad. I think in USA, I would prefer to use apple cider vinegar which has a nice tang.
Salt to taste, of course we use the fine Sicilian sea salt, which is lower in sodium and higher in magnesium which accents the flavors so well.
Then after you are happy with the flavors, add ice water to create a savory broth around the salad.
Serve the salad in a bowl and break your bread into the bowl to soak up the briny juices.
In Puglia, they have something similar, called Acqua-sal, the tomatoes, cucumbers, red onions are all chopped into tiny cubes with extra virgin olive oil, oregano,salt and red wine vinegar and thenplaced in a large bowl of ice water. LOTS of water.. like a soup. Fried croutons are then added to the bowl.
Either version is a nice surprise for your summer table.
If you like reading my recipes, please sign up on the side to receive as emails. I will also use that list for sending out some extra recipes soon! Sharing some secrets from my kitchen and tips for visiting Italy!
I am also on FB and instagram if you like to see images of Italy.
Mille Grazie! let me know if you try the recipes- love feedback! Share with us.