I was never a fan of octopus. My mom never prepared it and whenever I did try it, I found it like eating rubber bands, too tough and chewy.
When I was in Greece, probably 35 years ago, I had a revelation. Sitting at the port on the island of Paros, I was served a fabulous grilled octopus with glass of Ouzo. Maybe it was the sun or the Ouzo, but it was amazing.
In Italy, I have had the same incredible  experiences several times. Boiled, grilled, in salads and in sauce, always tender morsels. What is the magic? How do they do it?
After years of trying all the tricks, I have perfected my own simple recipe and it does not include boiling with a cork.
I want so share a series of "old school Italian" recipes and techniques.
Here is how to cook octopus.
Most old kitchens have a mishmash of aluminum pots and pans.
By putting the brown paper bag between the pot and the lid, it creates a seal and also helps absorb some of the steam.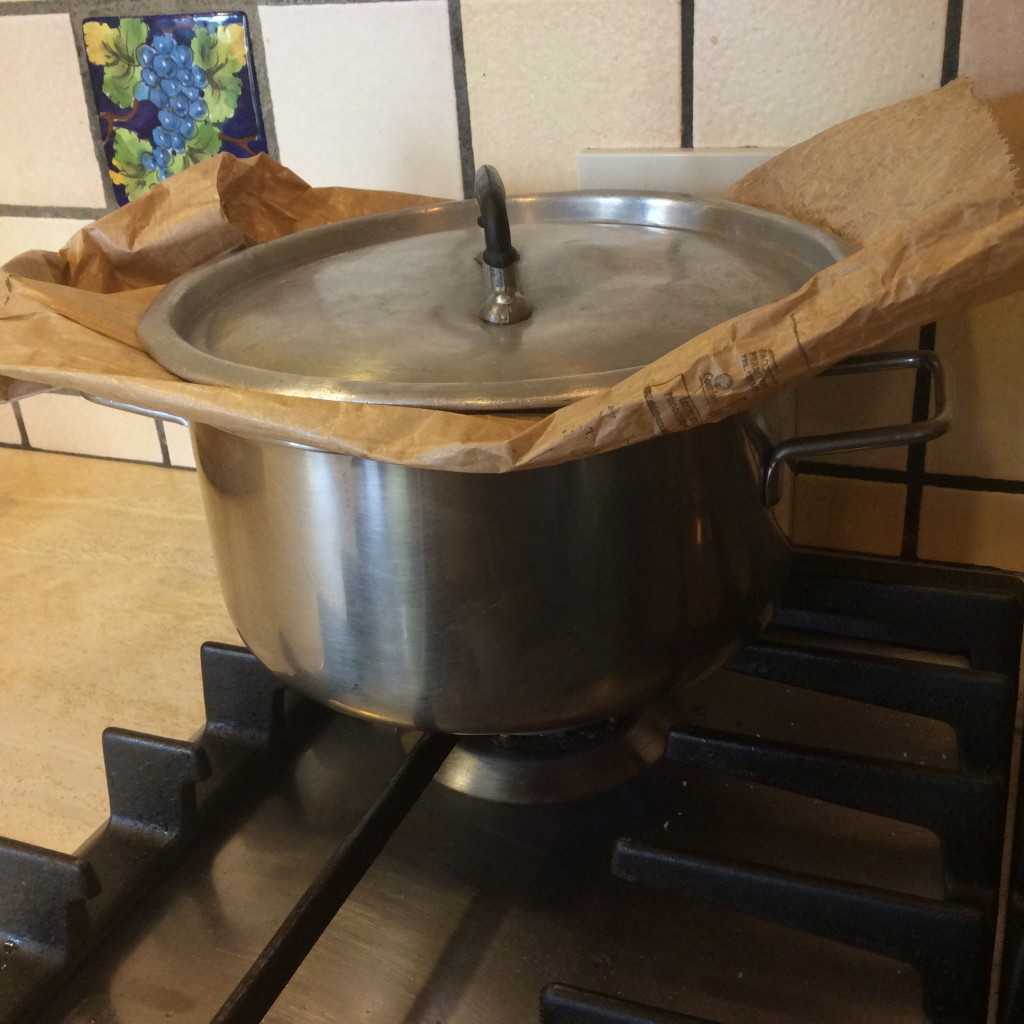 Recipe: Polpo in Galera
Heat a sliced clove of garlic and some chopped dried chili pepper in extra virgin olive oil.
Add the octopus, legs down, picking up and putting back down until the legs curl and it fits into the pan.
Using the old-school technique, place a brown paper bag on top of the pan and top with the lid.
If you are also using a lid without a plastic handle on top, here is another "O-S" trick.
Place wine corks under the handle creating a place to put your fingers to pick up the lid without getting burned.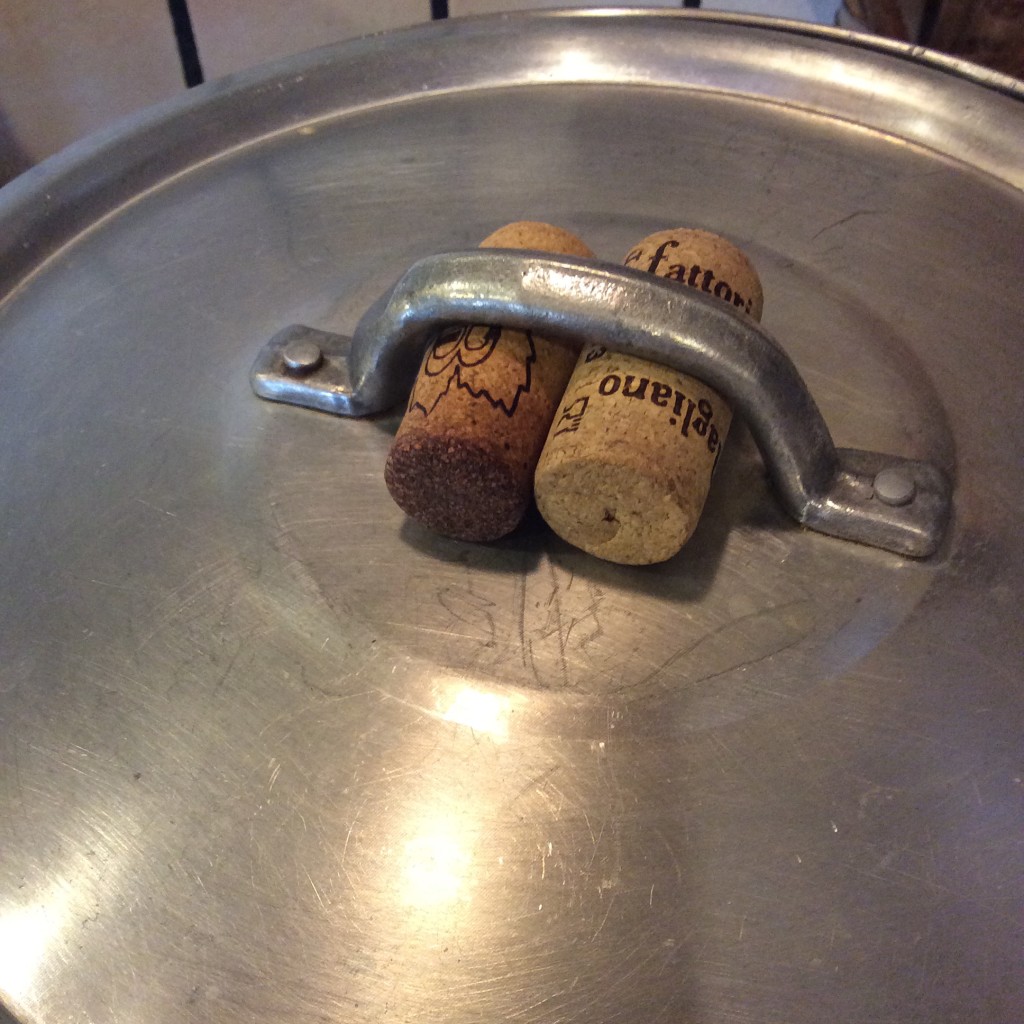 The octopus steams and gives off its own liquid,creating a flavorful broth.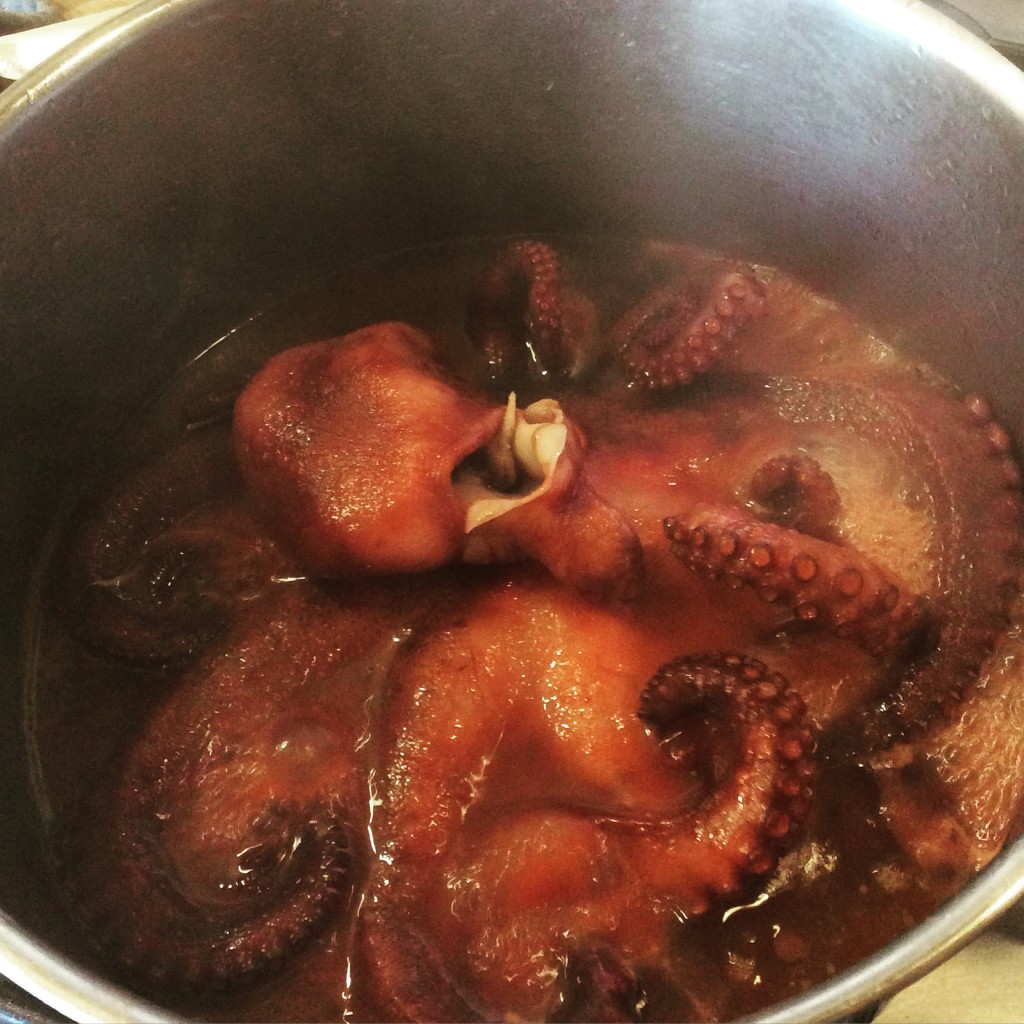 Depending on the size, it should be tender in 45 minutes to an hour.
Test by sticking a knife tip into the leg near the head, I usually try to slice a piece it should slice like butter.
The cooked octopus can be served as it is, sliced and dressed with some lemon and olive oil or sliced and served with boiled potatoes.
You can also grill the cooked octopus to give it some extra flavor.
I have served with warm tuscan beans or on a bed of mashed potatoes with salsa verde mixed it.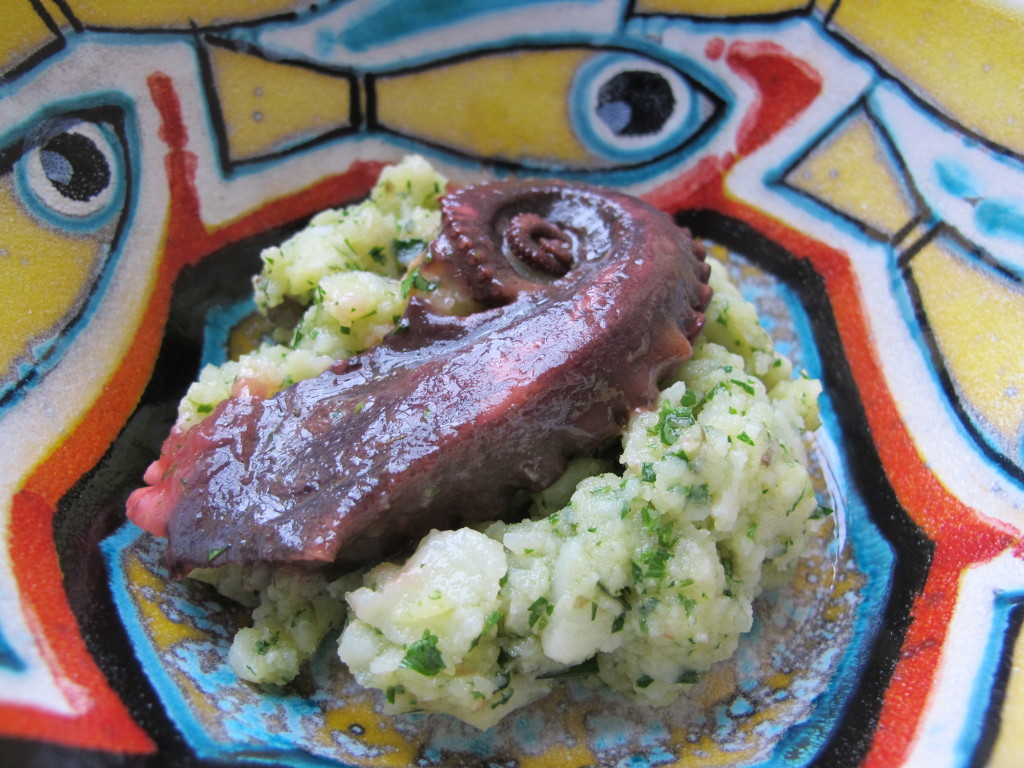 Another simple recipe from Naples, is to add a small can of tomato sauce to the octopus while cooking and then add black olives at the end of the cooking time. This is called Polpo alla Luciana.
In Italy, at local shops, it is possible to buy what they call Octopus Carpaccio.
It is beautiful.
To make your own,when the octopus is fully cooked, it is cut into pieces and then wrapped in saran wrap and pushed into a PVC tube to create a salami shape.When the octopus chills, its natural juices form a sort of glue and they stick together. You can then slice thinly and serve as a nice first course.