When the skies are grey in winter we wait until the temperatures drop and the blood oranges come into season to bring sunshine to the table.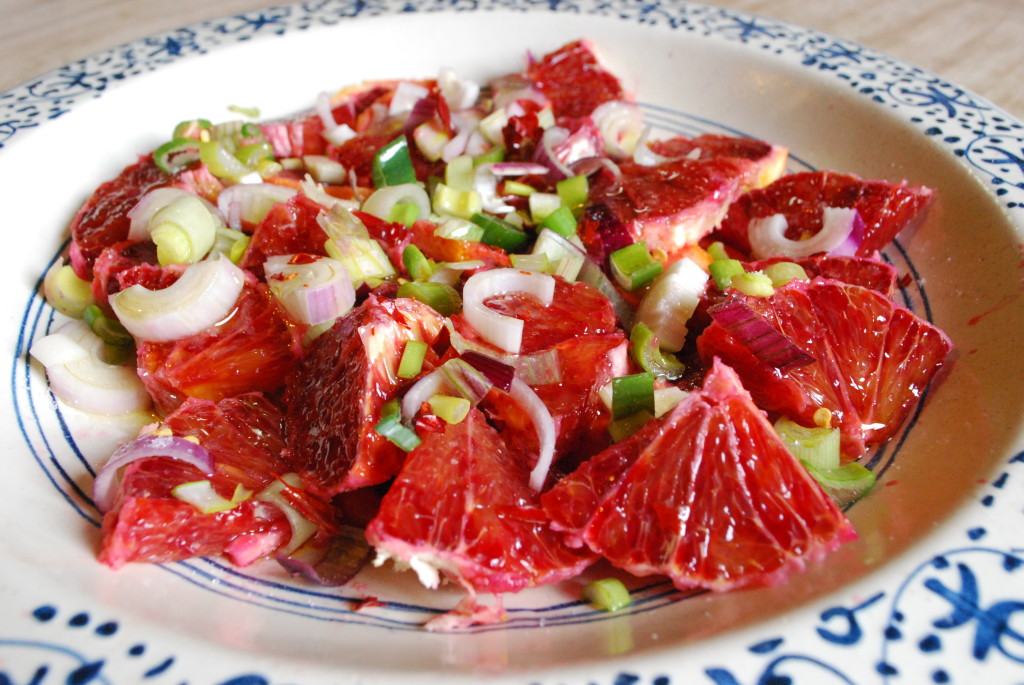 Sicilians know how to celebrate the orange. This salad is one of my favorites and especially when made with blood oranges. There are as many versions of this recipe as there are chefs.
My version is from my friend Mariano in Ortygia.
Most people peel their oranges "vivo" which means using a serrated knife and cutting all the peel and pith from the oranges. As this is a savory salad and I adore bitter, I follow Mariano's tips and simply use a potato peeler to remove the zest, which then also gives you zest to candy!
Ingredients
4 small blood oranges, peeled with potato peeler to remove the zest
2 small spring onions ( scallions)
1 or 2 small chili peppers ( to taste)
salt
extra virgin olive oil
Instructions
Remove the zest from the oranges, I save these and make candied zest. A little of the white pith on the orange gives a tiny bitter bite to the oranges, if you don't like this, just peel the orange.
Slice with a serated knife.
Place on serving dish.
Lightly salt.
Sprinkle with sliced green onions and some chili.
Drizzle generously with extra virgin olive oil.
Mix before serving.
http://divinacucina.com/2015/02/winter-recipes-sicilian-orange-salad/

extra virgin olive oil.
Mix before serving.
This is usually what I have the huge beautiful red prawns from Mazara served with, they simply grill the prawns.