I love road trips.
My first trips to Europe all included France. My Grandfather was born in Soisson, south of Paris. I studied French for 14 years and was a French Pastry chef.
But somehow, France was never really warm and fuzzy to me. Italy on the other hand was one big bear hug right away. While traveling in Italy, I have found small corners which feel a little French and am always happy with the blend.
Chiaveri is one of the towns on the Italian riviera which has a French feel with the painted buildings.
Here I discovered Luchin with one of my Florentine friends that was living here.
The young chef was happy to share one of their great recipes with me, cooked in their wood-burning oven.
Most people go for the Farinata, which is also found in France, as Socca and here in Tuscany as Cecina.
It is a rich chickpea flour "crepe" egg-less and gluten-free.
But they have so many great things, I love to go with friends and fill our table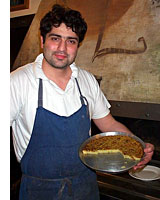 Polpettone di Patate
(Osteria Luchin's "Potato Meatloaf")
6 ounces string beans, boiled in salt water until over-cooked!
4 potatoes (about 2 pounds), boiled unpeeled in salt water
3 eggs
1 small yellow onion, minced and sauteed
1 garlic clove, minced
1 tablespoon fresh marjoram, minced, or 1 teaspoon dry
1/2 cup grated Parmesan cheese
Milk
Olive oil
Mince the string beans and place them in a large bowl. Peel the potatoes and put them through a potato ricer or food mill. Add to the bowl with the string beans. Add the eggs, marjoram, minced onions, garlic, and Parmesan cheese. Thin with a little milk and season with salt.
Grease a round baking pan and dust with bread crumbs. Press potato mixture into pan, and using a fork, create diagonal lines. Drizzle with olive oil and bake at 350 degrees for 20 minutes.
At Luchin, they use the left-over string beans they have boiled and dressed with pesto. They put them through a meat grinder with the potatoes.
Stop by if you are in the area– you will thank me!
Go hungry and try everything!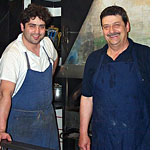 Luchin
Via Bighetti, 53 –
Chiavari