Sometimes the classic recipes are the best. On my old website I had a list of recipes from some of my favorite chefs and restaurant owners. I had gathered them before the era of blogging. With the redo of the site as also a new platform for recipes, travel tips and restaurant suggestions, I will be reincorporating the old info slowly, one recipe at a time. This recipe for Tuscan Apple Cake, was given to me by a dear friend Giovanni Cappelli, the owner of the Montagliari Winery and trattoria. He is no longer with us, but the recipes live on. I considered him to be the Tuscan James Beard. I adored eating out in the garden overlooking Mona Lisa's Villa on the hills. In winter, the dining room was heated by a small fireplace, with iron racks to hold the wine flasks to take the chill off the wine.
Giovanni also began making traditional balsamic vineger back in the late 60's, but since he was not in Modena, it was called Salsa di Mosto. On my weeklong programs in Chianti, we can still enjoy the family recipes by taking a cooking class at the family villa.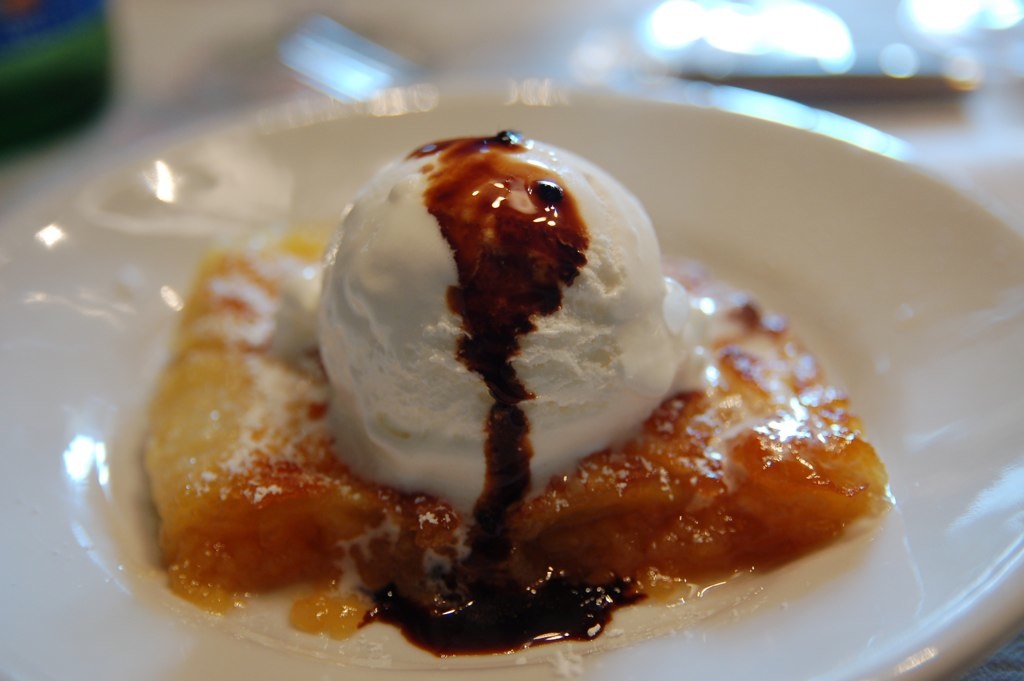 Torta di Mele Montagliari
Each area in Italy has some sort of apple cake, but this one is my favorite. Golden Delicious apples, sliced paper thin, baked in almost a crepe batter until caramelized! It's heaven with a scoop of vanilla ice cream on top and some of Giovanni Cappelli's Salsa di Mosto. (The traditional balsamic vinegar from Modena is a rich, sweet concentrate made with out vinegar, as is Cappelli's Salsa di Mosto. Don't use the inexpensive grocery store versions which are okay for a salad, but not ice cream!)
Tuscan Apple Cake- Giovanni Cappelli
Ingredients
5 Golden Delicious apples, peeled and sliced paper thin
2 eggs, extra large
1 1/2 cups sugar
1/2 cup flour
1/2 cup milk
7 tablespoons butter, melted
1 teaspoon vanilla
2 teaspoons baking powder
Powdered sugar for decoration
Instructions
Preheat oven to 375 degrees. Butter and lightly flour two round pizza pans or a 9x13 lasagne pan.
Beat the eggs and sugar together and add the flour, baking powder, milk, butter and vanilla.
Mix well.
Add the apple slices and pour into the prepared pan.
Place the pan on the bottom of the oven for 10 minutes, then place in the center of the oven to cook until golden, about 1 hour.
Torta di Mele is a very thin, rich cake that will bake down to about one-half inch. It will cut easier if you let it cool before serving.
But you can reheat it in the oven before serving.
http://divinacucina.com/2014/12/new-year-old-recipe/
Before he died, Giovanni sold the trattoria, villa winery etc and moved to another estate in Chianti.