I adore this time of year, work slows down to nothing and I have time to cook for pleasure. In Italy, the holiday season really starts on December 8th when the trees and creche scenes are set up and everyone gets in the mood!
The chilly weather is also an incentive to spend time in the kitchen, revisiting recipes I adore. I think that the cipolline in agro dolce are a favorite of everyone that has tried them in my classes and at my table. They are pretty to look at and only get better if you cook them ahead of time. These are great as appetizers or as a side dish. I love to serve them with chicken breasts cooked with fried sage leaves or a simple Tuscan roast pork with herbs.  Cipolline in Agro Dolce are a classic recipe that you mostly see at home in Tuscany and are harder to find at a restaurant.
The combination of sugar and vinegar is a old recipe to help preserve food. I find versions all over Italy often paired with fish. In Sicily, they tend to use sliced onions and serve on fried fish, a sort of escabeche, perhaps from the Spanish sailors. You find versions in many of the ports in Italy.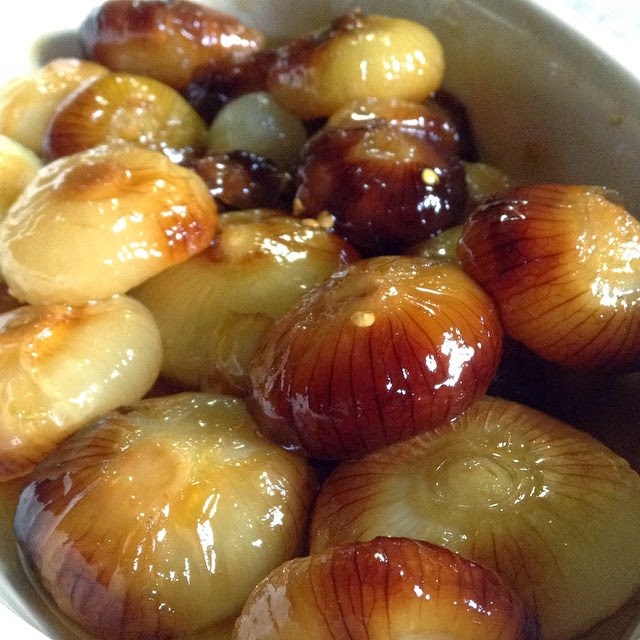 I made the recipe, pictured above, with already cleaned cipolline onions I bought at the local COOP grocery store. I adore when my life is simplified.
It is the same concept of making an onion jam, but they are cooked in water with the sugar and vinegar. When the water evaporates, the sugar caramelizes and gives the lovely glaze. I add dried chili peppers to give some heat as well.
Cipolline Agro Dolce
Sweet and Sour Onions
1 1/2 lbs peeled boiling onions (cipolline)
2 Tbs sugar
2 Tbs white wine vinegar or in USA apple cider vinegar.
1 Tbs olive oil
water
salt
1 dry red chili pepper (optional)
Place onions in a single layer in a large flat saute' pan, in one layer of possible.
They should be covered with water.
Add olive oil, salt, sugar, dry red chili pepper, vinegar
Stir to mix.
Cover and boil for 10 minutes stirring occasionally.
Boil until the water is gone and the onions begin to glaze. Check the onions if they are cooked all the way through, if not, add more water and continue cooking until done.
Stir to prevent burning or sticking.
Remove red chili before serving.
Taste to balance the sweet and sour flavors.You may need to add more sugar or more vinegar.
These are best the next day.
Variations:
Try balsamic vinegar and honey for a really special version.
For simple onions, just cook in white wine, olive oil, salt and a bay leaf.
Can't find cipolline, use frozen boiling onion. Do not defrost and don't use water.
Try sliced onions, this would be like an onion jam and is wonderful served with cheese.
I have used shallots, peeled and cut in half, they work well too.
Get wild and add things like cranberries and serve with toasted pinenuts, added before serving.
A great recipe for holiday meals.
From my book- Secrets from My Tuscan Kitchen- which you can order online from HERE.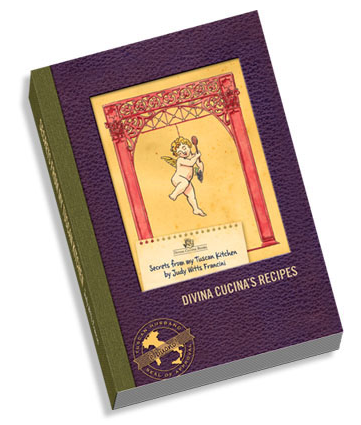 The books are in USA and can be shipped right away in time for the holidays!!!