I cannot tell you how excited I am at the market in Spring in Italy. We have so many incredible seasonal treats which are all at their peak. Often people are surprised at the flavors of the food in Italy. I think in the USA often our food is grown in greenhouses and sent miles and miles across country and refrigerated before it gets to the local grocery store. I am sure most people cannot tell you when something is even in season, as so many things are available all year long.
I advise to buy local and buy seasonal. Support your local farmer's market and your palate will be rewarded.
I am originally from California so grew up having artichokes, but usually there was one size, large and it was boiled and served in our house with mayonaise to dip the leaves in. We probably ate more mayonaise than artichoke.
I do remember driving through Berkeley in the 70's and there as a cute little place serving fried artichokes, but do not remember ever stopping to try them.
In Italy you find artichokes sold with the stems still attached, sometimes long stems. The reason is that the inside of the stem is an extension of the heart of the artichoke, which is the real meat of the blossom.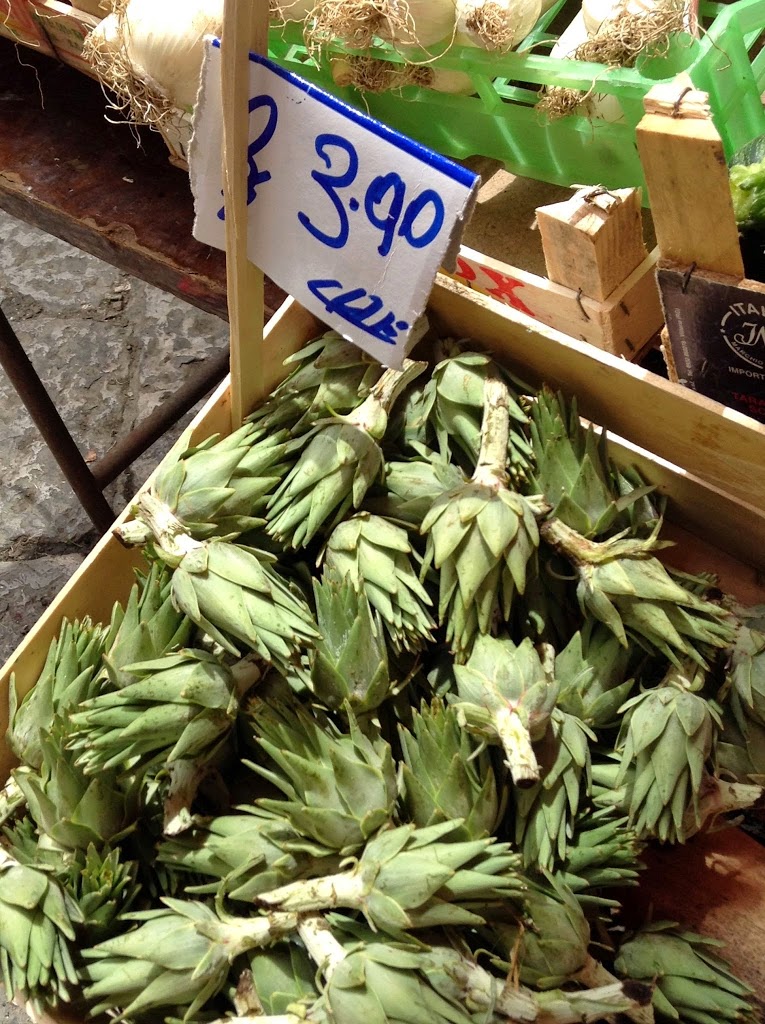 These spiny artichokes were in the market in Palermo. Where we stay in Menfi, at the south end of the island an hour from Palermo, the farms are filled with fields of these artichokes.
We had them the traditional way, baked in the coals. The outside leaves protect the tender inside and you pull off the burnt leaves to enjoy the heart.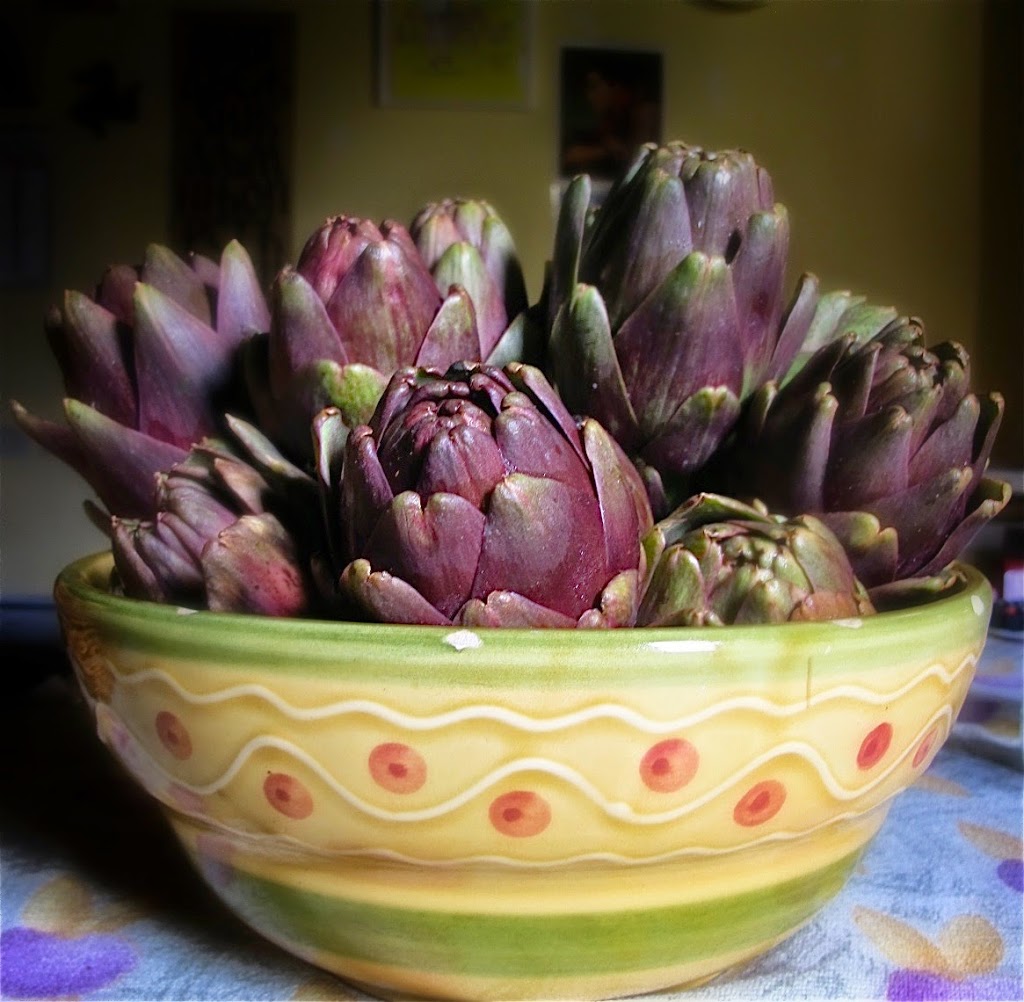 These are Tuscan artichokes, medium sized. The tough outer leaves are pulled off and the pointy tips cut off. Then  you can eat raw, sliced thinly as a carpaccio with lemon juice, extra virgin olive oil, shaved parmigiano cheese and a pinch of salt.
We also eat them raw cut into 1/4's and then dipped into extra virgin olive oil and salt.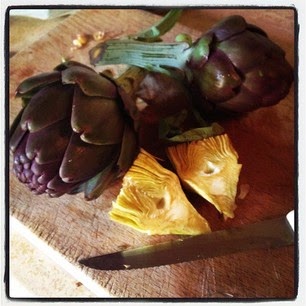 My mother-in-law's recipe for fried artichokes is still a favorite.
For Leo's Artichokes,  I use the smaller artichokes, you can see by the photos on the page, how to cut and clean them. My husband adores these crispy hearts, and I make about 300 a year.
Leo's Artichokes/ Carciofi Sott'olio
Clean the tiny artichokes by removing the thick harder leaves until you arrive at the delicate, light green centre.
Slice off the pointy top.
Now you have an artichoke heart!
Trim away any tough stem on the bottom and around the bottom of the heart.
Mix 2 tbs of fine sea salt in 1 litre of red wine vinegar.
Add the cleaned artichokes to the vinegar and let sit for one or two days until pickled.
Drain the artichokes and turn cut side down ( don't do this on a marble table as vinegar will ruin the marble).
Let sit for a day.
Place the artichokes into glass jars and cover with olive oil.
Push down to release any air bubbles and seal.
To be sure you won't kill anyone, you can sterilise the sealed jars in boiling water for 20 minutes.
Let sit 3 months before serving.
Grazie Leo!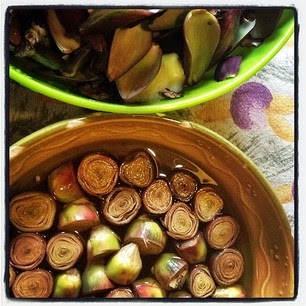 the trimmed artichokes and the bowl with the tough leaves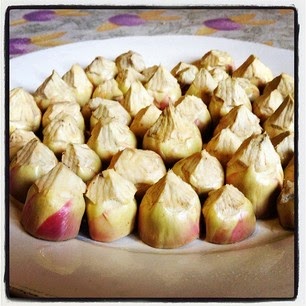 after resting for a night in vinegar and salt, ready to be packed in oil
This year I have gone crazy for stewing the artichokes in my new clay pots I got while down in Puglia, from the Samarelli family. I adore cooking in clay, but it is not necessary for this recipe.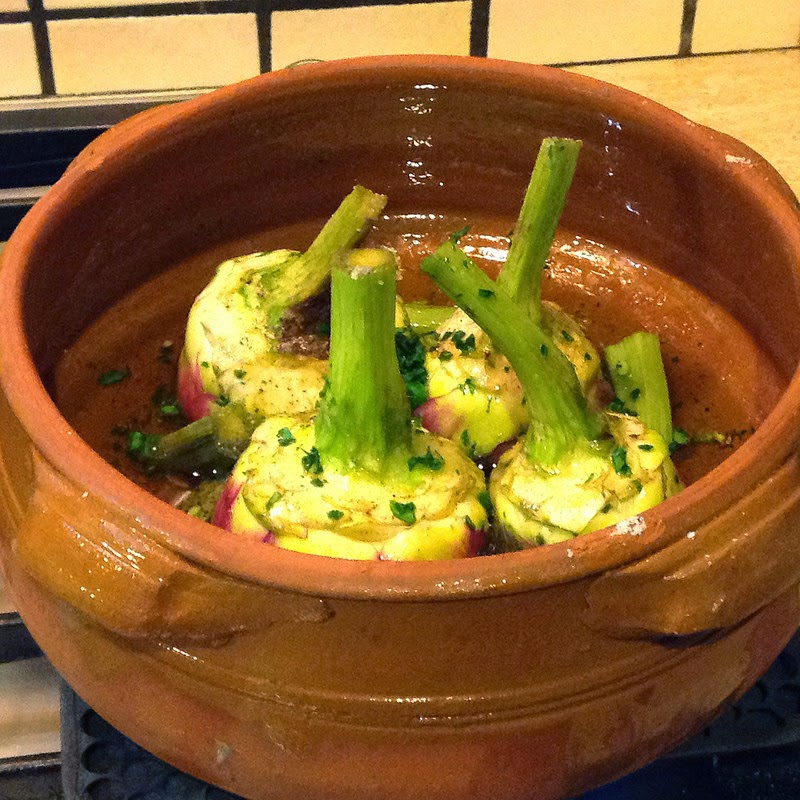 In Tuscany the recipe is called Carciofi Ritti.  Ritti means standing up.
Using the same technique to remove the tougher outer leaves on the artichoke as shown on my website link, do not cut the artichokes into pieces, but leave whole.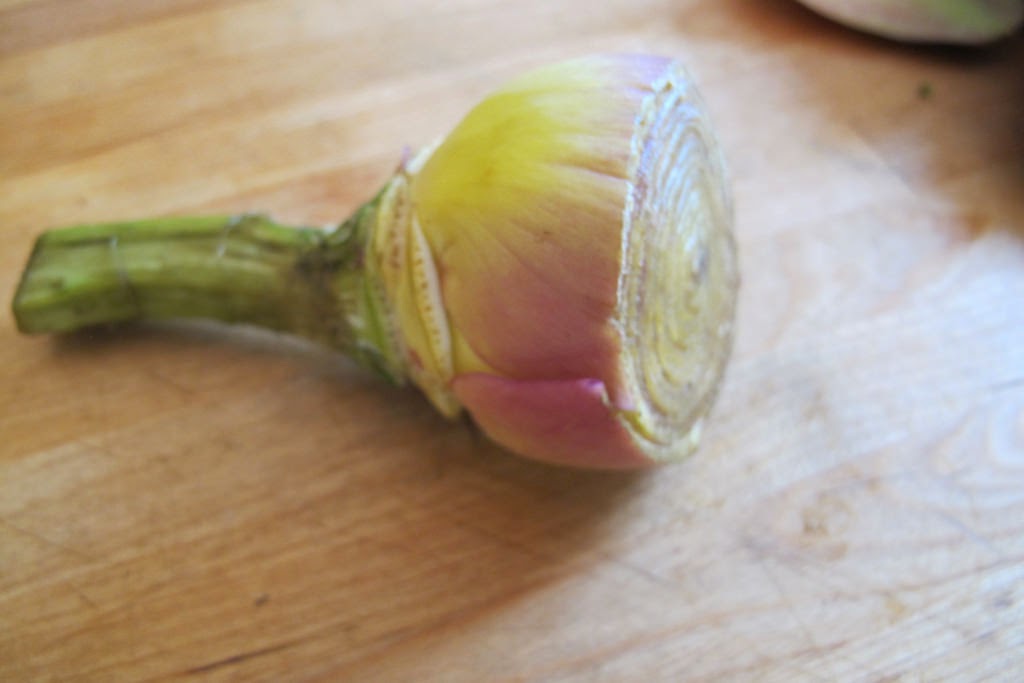 Press your finger down into the center, these smaller artichokes have no choke, if your's do, remove with a tiny spoon.
Then fill the artichoke with some chopped parsley and garlic and some salt. In Rome they add mint, which i think is a wonderful flavor with artichokes.
Place the artichokes flat side down into a pot and add about 1 inch of extra virgin olive oil and then one inch of water.
Sprinkle the artichokes with some salt and pepper and cover the pot and cook until you can pierce the artichoke with a knife.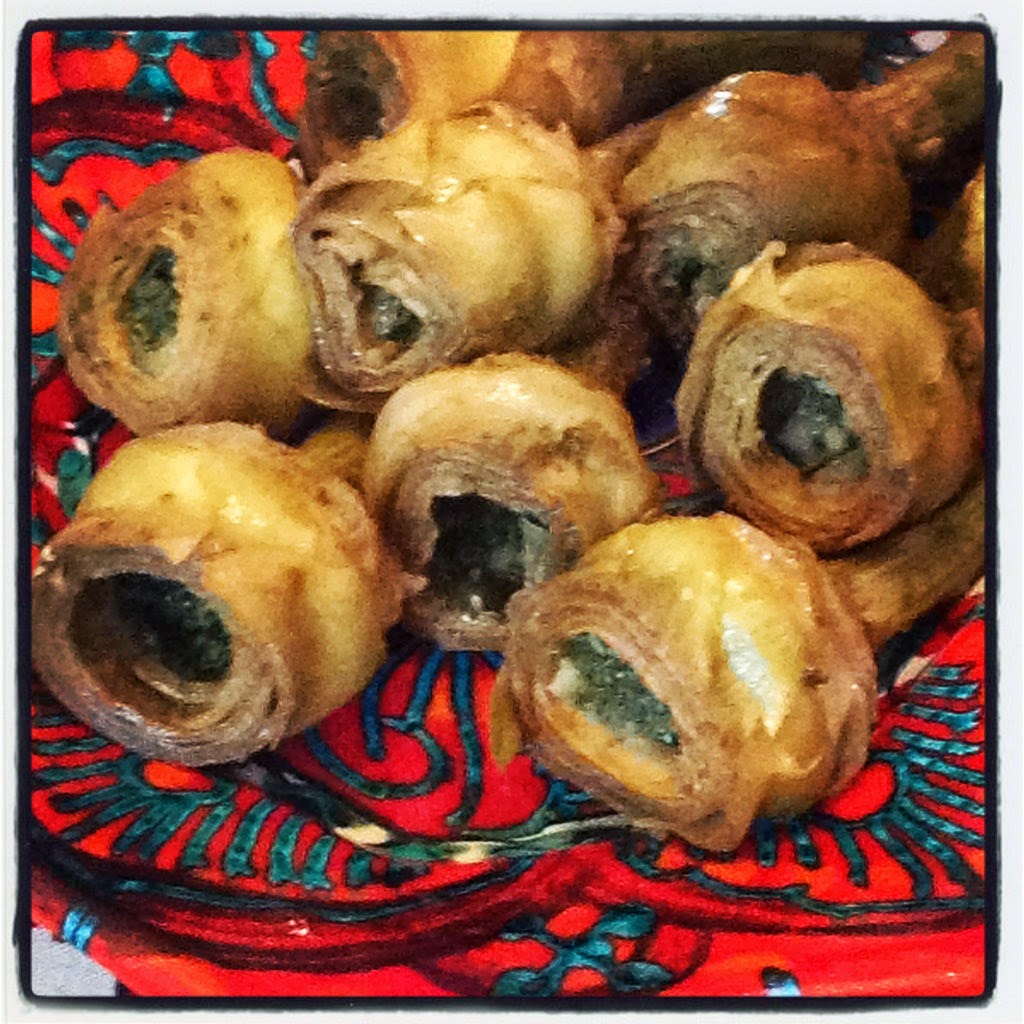 I could go on and on with artichoke recipes.
Another seasonal recipe I make often is a stew called Garmugia in Tuscany and Vignarola in Rome.
A true celebration of the season with fresh peas, asparagus, artichokes and fresh fava beans.
Come in Spring to visit next time and you know what to order.