Often after I return back home to Italy from a teaching tour, I crave some of the simple flavors which are part of the pantry here in Tuscany.
One of the sauces I adore is Salsa Verde. In Italy, it is a sauce served with boiled beef meals or on the lampredotto sandwiches served all over Florence from the street carts.
Today is a holiday, remembering the liberation of Italy during the second World War. My husband went down to Florence to participate in a march honoring the partisans that saved Florence. I stayed home to catch up on work.
All I needed was a simple lunch and since the fridge was empty, stores are closed today, I went into the garden and looked there first.
The main ingredient of Salsa Verde is Italian flat-leafed parsley.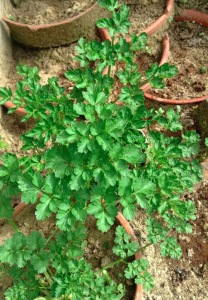 When I go to the weekly farmer's market, I am always offered free parsley and other staples for any recipe, like a carrot, celery stalk, rosemary and sage. I always turn it down, as I have herbs galore in the garden and finally planted my own parsley.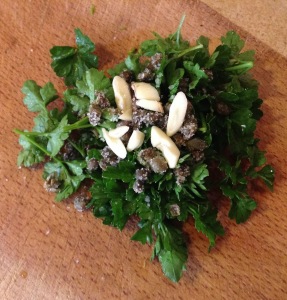 The parsley, capers, garlic are all chopped really fine. I use my mezza-luna knife.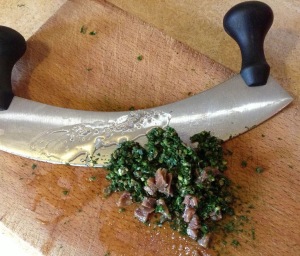 Then I added in the anchovies and minced those as well.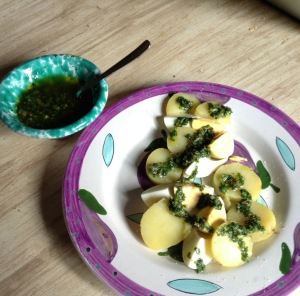 To create the sauce, add extra-virgin olive oil, a splash of red wine vinegar.
Classic recipes also can have pine nuts or a slice of country-style bread soaked in vinegar and crumbled into the sauce ( to look like chopped pine nuts).
Other friends add minced onions and or eggs into the sauce.
My friend Gianni at the Casa del Vino serves wedges of hard boiled eggs with salsa verde and balsamic vinegar for a snack at the wine bar.
Often I like to make a warm potato salad and dress with the salsa verde, much like they use pesto in liguria with a potato string bean salad.
Today I served the warm hard boiled eggs and hot potato slices drizzled with salsa verde.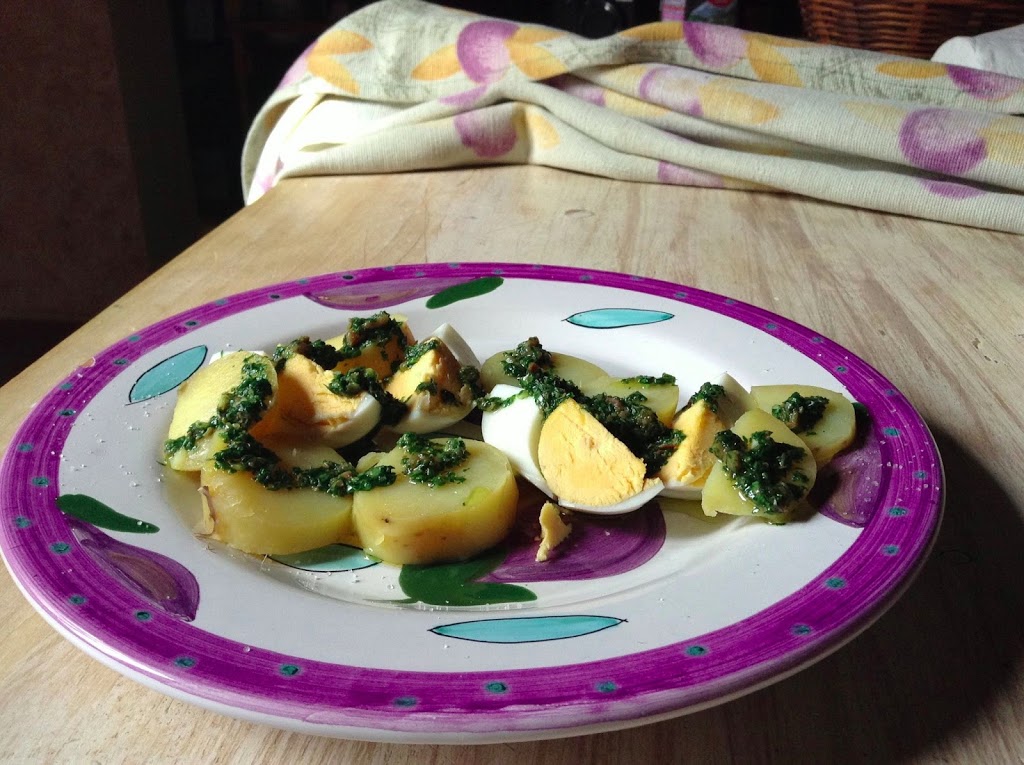 Simply Divina!!!
Try using the salsa verde on any vegetable, boiled meats or fish!
It will become a pantry staple in your house too.
One of my favorite ways to use the salsa verde, is to mix with the egg yolks for an Italian deviled egg. No mayo is needed.
Simply Divina- Salsa Verde
Ingredients
Salsa Verde
1 cup parsley leaves, no stems
2 tbs capers
2 garlic cloves
2 anchovies, packed in oil
extra virgin olive oil
bread soaked in red wine vinegar
optional: pinenuts or hard boiled eggs
Instructions
Chop the parsley, garlic, anchovies and capers together.
Soak bread in the red wine vinegar and crumble into a bowl.
Add the parsley mixture.
Add enough extra virgin olive oil to make a nice loose sauce.
You can add some toasted pinenuts or a chopped hard boiled egg into the sauce to make it richer.
http://divinacucina.com/2013/04/simply-divina-salsa-verde/