Tuscany has been dark and grey, wet and windy this past week. The hills are saturated with water, mudslides blocking the roads near where I live, rivers overflowing near Pisa.
We did receive a small window of sun and a reason to celebrate.
March 17th is St Patrick's day, but although it is said he was Italian, no one except American college kids celebrate it here. But, March 19th is St Joseph's day. THAT IS HUGE.
It is when Italians celebrate Father's day and each region has it's own sweet to celebrate. I think the most famous sweet are the Zeppole, both fried and baked that are made in Naples and filled with pastry cream or ricotta like for a cannolo.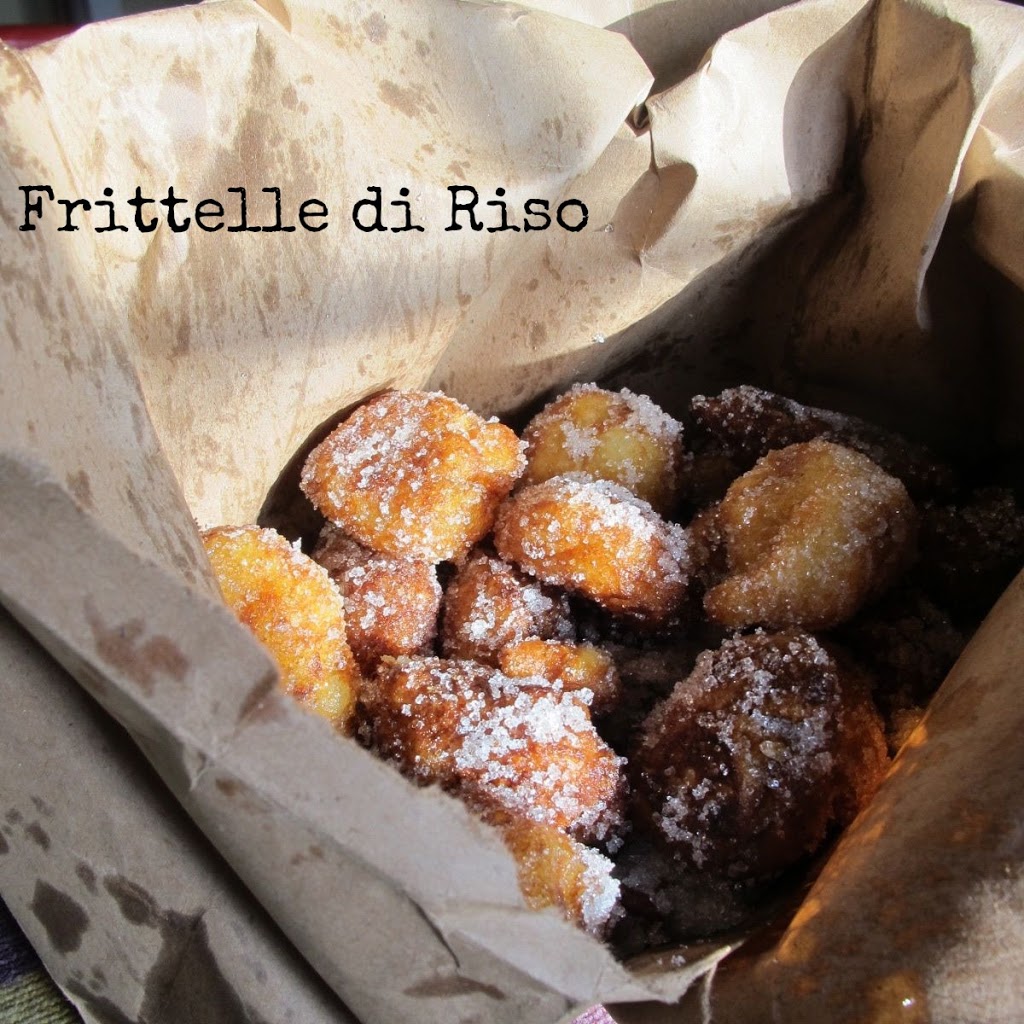 We make a special rice fritter called Frittelle di Riso. They are made starting for Carnevale and lasting through Father's day. When I was in Florence, there was a little fry shop around the corner from the Central Market, near where I lived. ( that is dangerous!).
They sold fried snacks; savory snacks were polenta and coccole, fried bread dough balls or the sweet snacks were the rice fritters or apple fritters, batter fried apple slices.
In Siena, they set up a small cabin and make the frittelle as a fundraising event. The tiny village of Montefioralle above Greve in Chianti also sets up a HUGE frypan and makes the frittelle in they tiny parking lot the weekend of Father's day.
But, if you are not here for Father's day, a daily rice sweet is called the Budino di Riso, little rice pudding. It is baked in a delicate pastry shell and is the same sweet rice cooked in citrus infused milk and lightly sweetened.
Since there are only two of us and we really don't need a million rice fritters, I used part of the batter yesterday to make some budini also.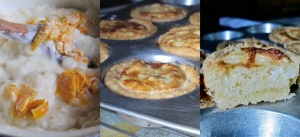 When I make the rice fritters, I usually make a huge batch as they are for a celebration, and I share. This time  I made half this recipe and used half for the budini and half for rice fritters.
Frittelle di Riso
2-1/2 cups short grain rice
6 cups milk
4 tablespoons sugar
Peel of one lemon (wide strips) ( i used orange zest today)
1 ounce liqueur (sherry, brandy, or amaretto)
1 cup flour
1 tablespoon baking powder
Pinch of salt
6 eggs, separated

Bring the rice to a slow boil in the milk with sugar and lemon peel. When the rice is cooked, it will have absorbed all the milk. 

Place the rice in large bowl, add the liqueur, egg yolks, flour, baking powder, and salt. 

Mix well and let cool. DO NOT REFRIGERATE. 

Whip the egg whites still stiff. 
Fold whites into the rice mixture. 

In a heavy pan, heat 3 inches of oil for frying. I prefer olive oil, but any light seed oil is fine. 
Drop the fritters by teaspoons into the hot oil. 
Fry quickly and remove when they are golden. 
Do not let get too brown.
 Drain on paper towels and serve sprinkled with granulated sugar. 

Or like we do in Tuscany, put granulated sugar in a paper bag, add the fritters, shake and serve.

Here is my Pasta Frolla recipe-
Pasta Frolla
3-2-1
I learned to make the pie crust with these percentages
300 grams of pastry flour/ 3 cups( white lily in America)
200 grams of sweet butter/ 6 ounces
100 grams sugar/ 1/2 cup
1 large whole egg and one yolk
I always think of this as making cookies sideways.
First you cut the butter and sugar into the flour.
I use my hands as I find it relaxing.
Once the dough looks like grated parmesan cheese or a fine crumble topping, add the whole egg and the yolk and squeeze the dough together quickly.
Let rest for 10 minutes and roll out.
It is a very soft and forgiving pie crust that is easy to use and incredible to eat!
Each Italian mamma here has her own version, with grated lemon zest, a 1/2 tsp baking powder, some milk. Each gives it a little twist!