Fagioli all'uccelletto are Tuscan comfort food for me. Since I got home from my teaching tour in the states, the weather has been windy, rainy and perfect for staying in the house and being sick!
I seemed to have picked up Bronchitis on the flight home and it knocked me out.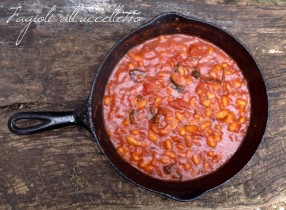 I am just getting back to normal now and taking it slowly.
The first foods I have wanted are all Tuscan comfort foods. I first made some boiled meats to have nice bowls of broth with tortellini.
Then a huge pot of minestrone.
Now that I am feeling better, I was ready for some more hearty food and I cooked up some Tuscan white beans, simply boiled with sage, garlic and olive oil, to add to my minestrone. Italians are famous for not just eating left-overs, but recreating new dishes.
I always make a huge pot, to save to make my favorite twice cooked beans called fagioli all'uccelleto, beans cooked bird-style.
The beans are already flavorful on their own, but a slow stewing in this sage and garlic infused tomato sauce just makes them even better. Traditionally, they are served with grilled sausage, but are fabulous on their own.
I suggest cooking them and then letting them sit so that the starch from the beans, thickens the tomato sauce.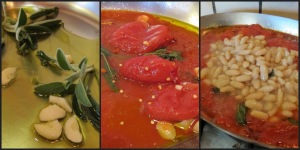 Ingredients
small sage branch
1-2 garlic cloves
chili pepper
salt
extra virgin olive oil
1 small can plum tomatoes ( i like to use the San Marzano DOP)they are picked ripe
Instructions
Cover the bottom of the pan with extra virgin olive oil.
Add the garlic in thick slices and the sage branch and turn on the heat.
Add the chili pepper ( flakes or break the small birds eye chilis)
When the garlic starts to get golden,add the tomato sauce. BE careful it will splatter.
I suggest taking the pan off the heat, let the oil cool a little, then add the tomatoes.
Break up the tomatoes with the back of a wooden spoon or a fork.
Salt to taste.
Cook for about 10 minutes.
Add the cooked, drained beans and let warm together.
The beans will make the sauce creamier and eventually denser.
Serve with whole grilled sausages which can be heated in the bean mixture as well or simply as a side dish.
At one of my favorite restaurants in Florence, Cibreo,Chef Fabio Picchi adds crumbled cooked sausage, to his bean, making it like a Tuscan Chili con Carne.
I would also love this recipe as a base for a Pasta e Fagioli, adding cooked pasta and creating a perfect protein of beans and pasta.
http://divinacucina.com/2013/03/simply-divina-fagioli-alluccelletto/