I don't think we really need a special day to give thanks.
It should be daily.
Perhaps a sort of Polly-anna way of thinking, but I have always tried to focus on the good things around me . If I dwelled on the daily difficulties and nightmares in life, I would be constantly depressed.
I am thankful for a lot.
Somedays it may just be to eat potatoes! I LOVE potatoes and they are a true comfort food for me.
In honor of fall and Thanksgiving I offer up my oven roasted vegetables, Tuscan-style.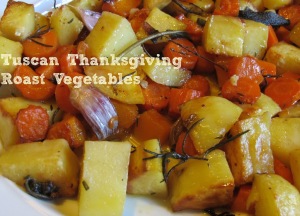 The Tuscans have a way to make vegetables your favorite part of the meal.
Tuscan Roast Vegetables
Potatoes, I prefer Yukon Golds, peeled and cubed
Carrots, peeled and sliced
Squash, Butternut or Kabosha, peeled and cubed
Garlic Cloves, I left in the skins, but actually better to peel first.
Salt
Olive oil
Rosemary
Sage
Sea Salt
Preheat the oven to 450 degrees.
Cut the vegetables and place on a roasting pan( it is important not to have high sides, so the excess liquid can evaporate.)
Toss with olive oil and rosemary and sage.
Sprinkle with salt. I use a coarse sea salt, called sale grosso in Italy. It is less salty. ( perhaps in USA use Kosher salt)
Using your hands, toss to mix everything up.
Roast for about 45 minutes.
The vegetables will give off a lot of water as steam, so be careful opening up the oven.
I stir about half way through the cooking time.
If you like, you can always make my Tuscan Herb mixture which is salt and herbs together and toss that on the potatoes.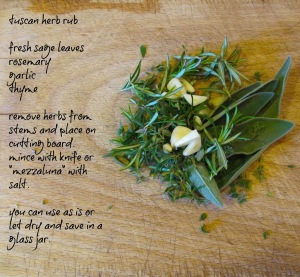 Everyone will be thankful you cooked!!!