Often it is hard to know when to change your wardrobe here in Italy. Spring has arrived and the days get longer, more sun and warmth. Next thing a storm blows in and temperatures drop and back to layering with sweaters to keep warm and soup and stews back on the stove.
Sometimes there are recipes that I love that I can adapt to the seasons like I do with how I dress.
Years ago I learned a fabulous Farro Salad when staying down in Umbria at a friends converted Castle B&B ( it has since changed owners). The incredible simple salad paired farro and chickpeas with warm tomatoes and sliced black truffles. Beans and rice are a perfect protein and so this is one of my go to dishes for parties as well as everyday simple meals. Obviously truffles are not for every day.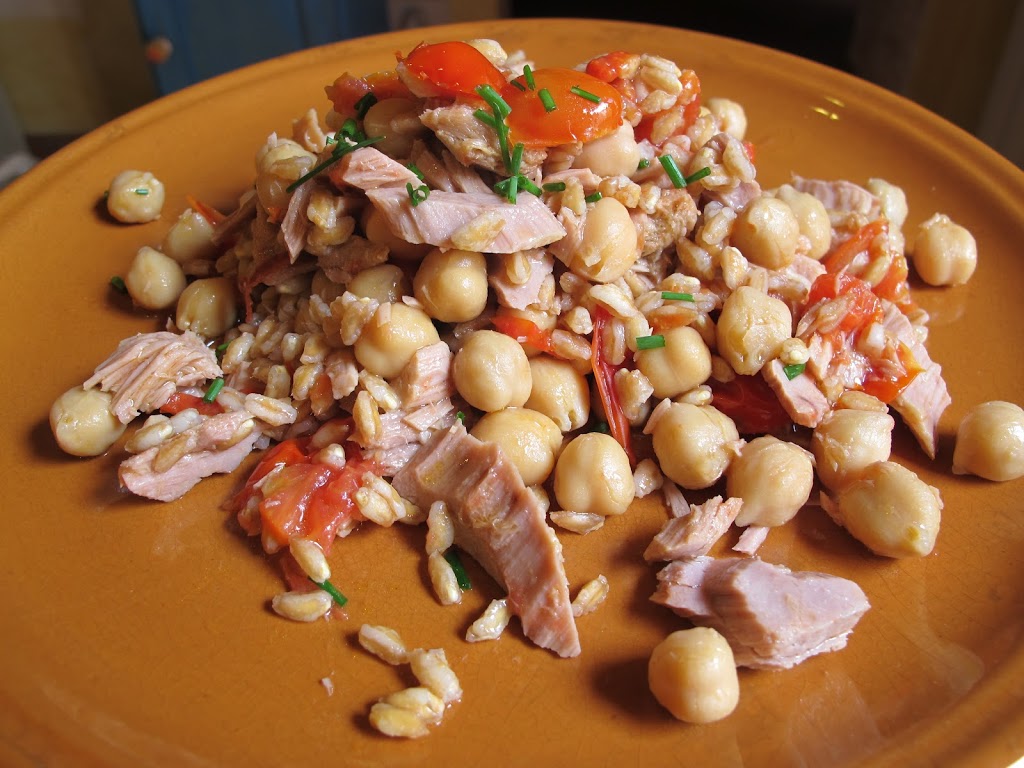 I have a thing for Italian canned tuna. It is my go-to sandwich when I am on the road at bars. Tuna and a tiny bit of mayonaise, perhaps some capers. It is ALWAYS good.
A Tuscan traditional recipe is Tonno e Fagioli, Tuna and Bean salad. Cannellini beans, slow cooked with sage and olive oil are served cold with tuna and thin slices of red onions.
Today I took the basic recipe I use to make CHICCHI, channeling my inner Nigella and just going to the pantry.


Summer Chickpea Salad
Pre-cooked chickpeas ( garbonzo beans) rinsed
1 cup parboiled farro (also called emmer or splet, boiled in salted water until it gets tender-20 minutes)
Mix with:
sauteed cherry tomatoes in olive oil with garlic and chili pepper to taste.
Let cool. 
Drain a can of tuna, packed in olive oil, and crumble into the salad.
Drizzle with extra virgin olive oil and top with fresh herbs, I had chives from my garden today.
Good food does not take a long time to make.  Empty the fridge and be inspired!!!