Christmas seems to being back memories of the never ending fruitcakes with green and red candied cherries with a candied pineapple ring on top?  In our house, my mom made English Plum pudding which was incredible, it probably had a whole bottle of whiskey poured into it as it aged in our garage. ( I assume that is why they last forever). The best part of the plum pudding was the hard sauce. Perhaps this year I will introduce my husband to hard sauce, but served on some other warm cake.
Not here in Tuscany.
Here in Tuscany we have Panforte and Panpepata the traditional dried fruit cakes from Siena. They are not like any fruitcake I had before. The panforte is made with lots of almonds and dried fruits like figs, apricots and candied orange rind, so not so much sugar. It uses honey and a spice mixture called droghe to flavor it which make is have a fabulous spiciness (drug stores in medieval times also sold spices). The mixture is something like a pumpkin pie spice blend, but not so heavy on the cinnamon. It is composed of ginger, allspice, coriander,nutmeg, cinnamon and other secret spices. Each "drugstore" has their own blend. I also add black pepper to mine, which makes it panpepato and you can also add cocoa powder to give it a dark rich color.

When you are in Siena, shop windows have thick panforte on display in both the dark and light varieties. There are also versions made with mostly orange rind, no chocolate and with a marzipan layer on top. One of my personal favorites which is easy to make, reminds me of the Lonza di Fichi from le Marche. A sort of fig salami.



It is made in the same way as the panforte, but I only use figs and walnuts. It is ready to eat as soon as it is cooled.

It is lovely after dinner with your espresso or served in thin slices with your cheese course.

Tuscan Panforte
Ingredients
1 pound unskinned mixed toasted nuts
(almonds, hazelnuts, and walnuts)
2 tablespoons Spezie- Pumpkin pie spice in America but- add more ginger and coriander powder
(the Sienese recipe for the spice mixture has a mixture of cinnamon, nutmeg, ginger, and coriander)
1 teaspoon finely ground pepper
1 tablespoon bittersweet cocoa powder
1 cup sugar
One-half cup honey
1 pound mixed dried fruits, figs, apricots, candied orange peel, or prunes (I've even found candied melon!)
1-1/2 cups flour
For the topping:
1/2 cup flour
2 tbs spezie
Instructions
Mix the fruit and nuts together and toss with the flour, spice mixture, and cocoa powder.
Heat the sugar and honey together until boiling.
Let boil for 1 minute.
Take off the heat and stir into the bowl with the dried fruit mixture.
You can start to mix with wooden spoon, but will then need to work with your hands and knead it some to mix well.
Often I put on table and really knead it. If it is a little dry, moisten your hands with some water.
You can make one larger Panforte.
Form a large circular patty or smaller logs and dust with the flour and spice mixture before baking.
You can also use a pan:
Prepare a 9-12 inch round baking pan. Line with parchment paper.
Press mixture into pan.
Bake for 15 minutes at 350 degrees.
Let cool.
Slice thinly to serve.
http://divinacucina.com/2010/12/panforte-for-xmas/




FIG AND WALNUT PANFORTE
For the above three panforte logs, I used 1/2 pound of white dried figs ( that is what I get here) and the same weight of walnuts. Take any stems off the figs and cut into small pieces. The walnuts are also chopped, but not too small, as I like the large pieces and they will be sliced thinly when you serve.

The walnuts end up looking like the fat in a salami!

Enjoy!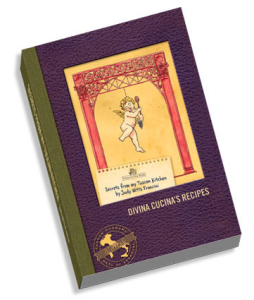 I recently sent boxes of my cookbook, Secrets of My Tuscan Kitchen to California to be shipped from there to guarantee faster arrival of the books and to keep the shipping prices down. If I mail one book from here it is 18 euro a book, by shipping boxes I can keep it the shipping to 10 euro.
To order- go to my site and you can use paypal to pay with credit card and the books will be shipped from California.Here is a link to some reviews of the book too.