To me, the first sign that summer has arrived is a craving for a big dish of Tuscan Panzanella.
A celebration of summer made with fresh sweet red onions, ripe tomatoes and cucumbers with crumbled bread and basil.
An edible Italian flag, red, white and green. It is seasoned with rich unfiltered Tuscan olive oil, tart wine vinegar and salt.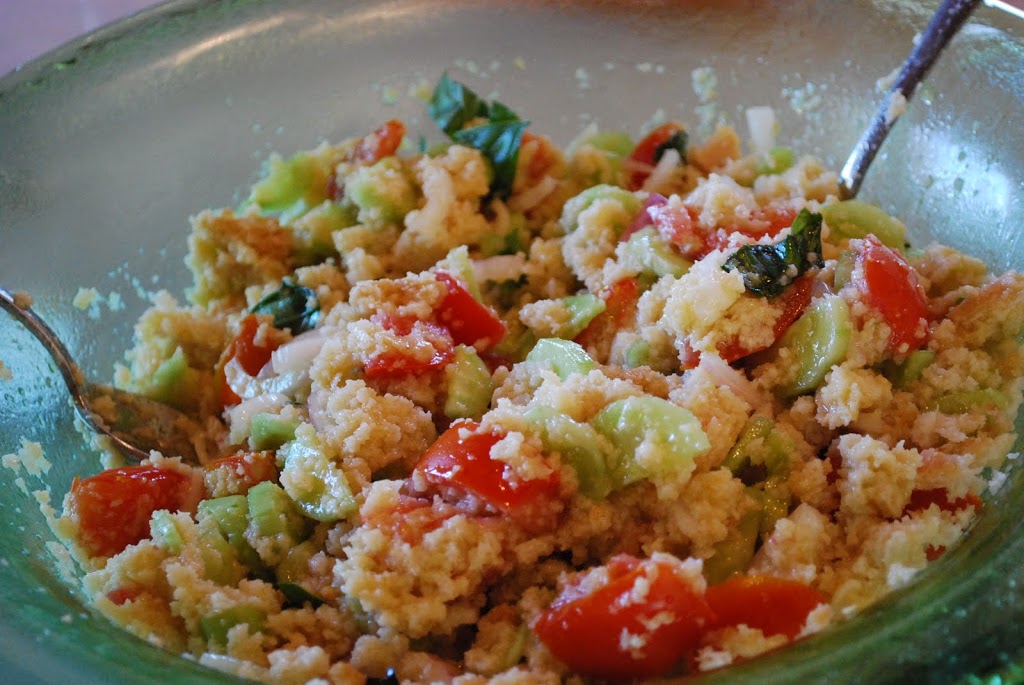 I have seen so many Americanized versions that I would just like to set the record straight.
It is a recipe using stale Tuscan bread, which everyone comments on when they taste it here in Tuscany. The bread is made without salt since there was a salt tax ages ago and tradition still holds true. Due to the lack of salt, the bread goes stale faster and we have quite a few fabulous recipes for stale bread. One of the qualities of the stale bread, is that when it is soaked to rehydrate, it crumbles like cous cous and is a light fabulous base for salad and soup.
When American bread is soaked it does not have the same properties, which is why people tend to use toasted bread or croutons to make it.
I just hate when people give a name to something and then make it totally differently. I have the same problem here in Italy if I order a Cesare Salad ( no, it is not Italian, was actually invented in Tijuana by two Italians,the Cardini brothers.) But is no more "Italian" that Fettucine Alfredo is,it was by and is only served at Alfredo's in Rome).
When I first wanted to make this in America before moving here, the recipe included making your bread first to let it go stale. I find that a good rustic loaf of whole wheat bread crumbles nicely or use couscous.
Ingredients
1 pound stale bread
3 tomatoes, cut into 8ths
2 red onions, thinly sliced
1 pound stale bread
3 tomatoes, cut into 8ths
2 red onions, thinly slices
1 cucumber, peeled and sliced
Basil
Olive oil
red wine vinegar
Salt
Instructions
Soak the sliced stale bread in cold water for 10 minutes,or until soft.
Squeeze out the water and crumble the bread into a serving bowl.
Add tomatoes, cucumber, onions and basil.
Season will olive oil and salt.
Mix well and let sit.
Before serving, add vinegar and mix again.
Serve with olive oil, vinegar, and salt on the side.
http://divinacucina.com/2010/06/summer-is-here-2-panzanella/
Here is a the new FB live recipe for Panzanella