How do I love thee? Let me count the ways….. I cook for you!!!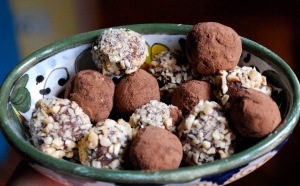 Hot Italian Kisses: chocolate hazelnut truffles with a kick for Valentine's Day
Today is really special as there are two holidays in one-Valentine's Day and Chinese Lunar New Year's
So I decided to celebrate both. Yesterday I made the chocolate truffles with chili and today we are traveling!
For me, time spent in the kitchen, besides being my job, is my passion. In Italy, cooking is really a sign of love. Preparing long slow cooked ragu for Sunday's pasta or creating dishes that the primary ingredient, so easy to find somewhere else, doesn't exist so you make your own are proof on the table that someone cares.
This weekend I felt the urge to recreate some "foreign food". First, some Chinese pot-stickers for New Year's celebration and tortilla's to share Mexico with my husband who didn't make the trip with me this year
In gathering the recipes I found it quite interesting that both recipes use a hot water and flour dough, which is also used for Italian pici, the hand-rolled spaghetti-like pasta near Siena.
Living in Italy, it is not always easy to find all the ingredients, but after years of playing around I have come up with my own basic recipes- to create my versions here that are close enough to keep me happy!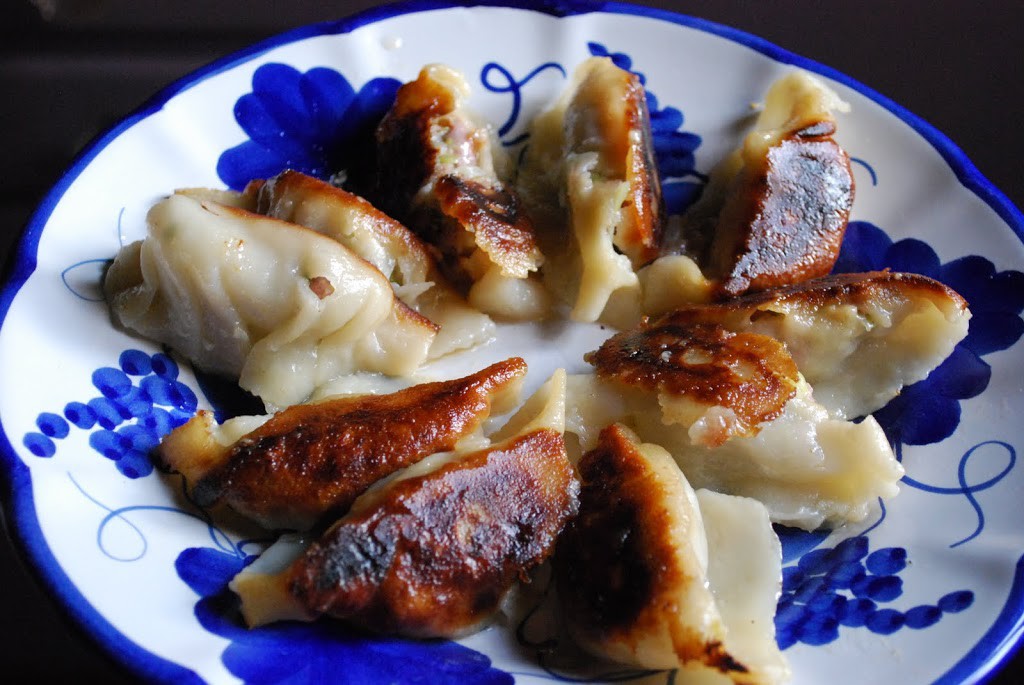 Simple Potsticker's for Expats

Dough:
1 cup of 00 Flour
1/2 cup boiling water
Filling:
2 sausages, skins removed
200 grams cabbage, shredded
2 tsp salt
2 green onions
1 tbs Vin Santo
1 tbs EVO
2 tbs flour or cornstarch "maizena"
Dipping Sauce:
1/4 cup Saba
2 tbs chili paste
1/4 cup white wine vinegar
Make the dough:
Mix the flour and boiling water in a boil. Mix together until it forms a ball.
Knead for 5 minutes until smooth.
Roll into log and let sit.
Make filling:
Slice the cabbage into fine strips, add salt and rub together.
Let sit for 5 minutes, the salt will draw the liquid out of the cabbage, squeeze cabbage to remove all water.
Place in bowl and add the remaining ingredients.
Mix well.
To make potstickers:
Cut the log into 1/2 disks.
Roll out each dish to about 3 inches.
Place a tsp of filling in each disk.
Fold the ravioli in half and pinch to seal in the middle.
The typical "pleat" for potstickers is to make three small folds on each side.
Pull dough up, pleat and pinch to seal. I start on the right side, repeat on left.


When the potstickers are ready, heat 1 tbs of oil in pan.
Place potstickers in pan, forming a circle.
Let brown on bottoms.
Have a lid ready in your hand- add one cup of water to hot oil in pan. COVER!
Let cook for 5 minutes, this steams the potstickers and cooks the filling.
Enjoy! Gung hay fat choi!
While I was waiting for to make the potstickers I made up a batch of dough for tortillas.
Similar to the dough for the potstickers, using hot water with flour makes the dough more elastic and easy to roll.
Flour Tortillas
500 grams 00 flour
1 cup hot water
1tsp salt 
2 tbs EVO ( traditionally lard is used called strutto in italy)

Dissolve the salt in the hot water.
Place the flour in a bowl and add the hot water and EVO.
Mix together in bowl and when it is forming a ball, you can take it out and begin to knead the dough. ( if the dough is dry, add more hot water. Flours differ greatly in Italy and absorb different amounts of liquid)
Cover the dough and let rest for 30 minutes.
Form small balls, I make about 24 from this batch. I prefer smaller tortilla's.
Heat a large flat skillet. I have a iron crepe pan which I use, acts like the Mexican comal.
Any thick skillet will work.
Roll out each tortilla as thin as possible.
Cook on skillet, shaking off excess flour first or the flour will burn.
Flip the tortilla when it starts to get speckled.
When you flip the tortilla it will begin to puff.
Remove and place in a plastic bag after cooking, the steam will keep cooking the tortilla's and keep them pliable.
Buon Provecho!!!