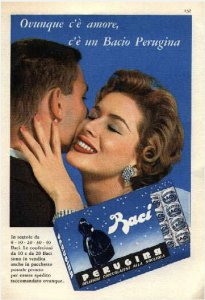 Probably one of Italy's most famous chocolate candies is called Baci, meaning kisses.
When I toured the Perugina factory in Perugia, they said that the original name was actually going to be cazzotti- meaning little fists or punches. Baci is a much nicer name for something so sweet.
Italy has a history of adding hazelnuts to their chocolates in pieces and in paste form. Probably one of the most famous is creating a spread called Nutella, which is a hazelnut chocolate spread, loved by Italian kids both big . It is best on a slice of yeasty country-style bread.
Gianduia is milk chocolate with a hazelnut paste.  There is a chocolate candy called Giandiotti, which shaped into small pyramids, so very soft, they easily melt in your mouth. They are a specialty in Torino made with the hazelnuts from Le Langhe and are one of my favorites.
The Baci are made of a milk chocolate ganache with the hazelnut paste and added chopped hazelnuts. They formed into a round truffle and topped with a whole toasted hazelnut then dipped in chocolate, it is then wrapped in it's signature silver foil with a love poem on the inside.
But I like my chocolate bittersweet and with more of an adult sort of kick to it.
For Valentine's Day this year I have created homemade Baci- but heated it up with some chili powder!
Enjoy my Hot Italian Kisses.

Chocolate Truffles
Hot Italian Kisses | Truffles
Ingredients
1/2 cup heavy cream
8 oz bittersweet chocolate
1 tbs butter, softened
1/2 tsp powdered chili, I used chili from Calabria, but the French Esplette is nice too
1/4 cup chopped hazelnuts
Cocoa powder or chopped hazelnuts
Instructions
Heat the heavy cream without letting it come to a boil.
Turn off the heat under the pan.
Add the softened butter.
Add the chopped bittersweet chocolate.
Let sit until it melts and stir to be sure it is all melted and incorporated.
Stir in chili powder and the chopped hazelnuts.
Place in a bowl and let cool.
Cover with saran wrap and let sit if the refrigerator over night to firm up.
Make tiny balls and roll in either chopped hazelnuts or cocoa powder.
You can keep them in the refrigerator and remove about 10 minutes before serving.
http://divinacucina.com/2010/02/hot-italian-kisses/
Try to eat only one!!!
Buon San Valentino!
Be more Italian- celebrate your loved one everyday!