I am thrilled to be getting back into the Kitchen!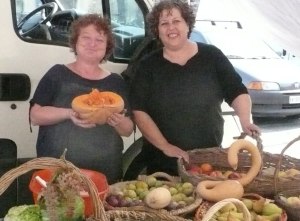 Francesca and I at her stand at the market
I start my collaboration with Villa Poggiolaia this week with a custom cooking class for a group, and then a full week Chianti experience for two sisters!
Saturday is the smaller market in the downtown piazza, so when I shop on Wednesdays at the larger, wilder market, I know I can still get more fresh products Saturday from Francesca.
But Wednesday is the most fun, the weekly markets are really you get to know a village. The stands move from one town to another.
Wednesday is also the Siena Market day around the Fortezza.
Thursday in Poggibonsi
Friday in Colle Val D'Elsa
Saturday smaller in the main Piazza in Certaldo- one fish stand and two fresh fruit and vegetables.
So when you come to a village I hope you can attend a market day- for me it is where I can pick up fun kitchen items are great prices. I have seen ceramics made for America at half the price.
Bring an empty suitcase to stock up!