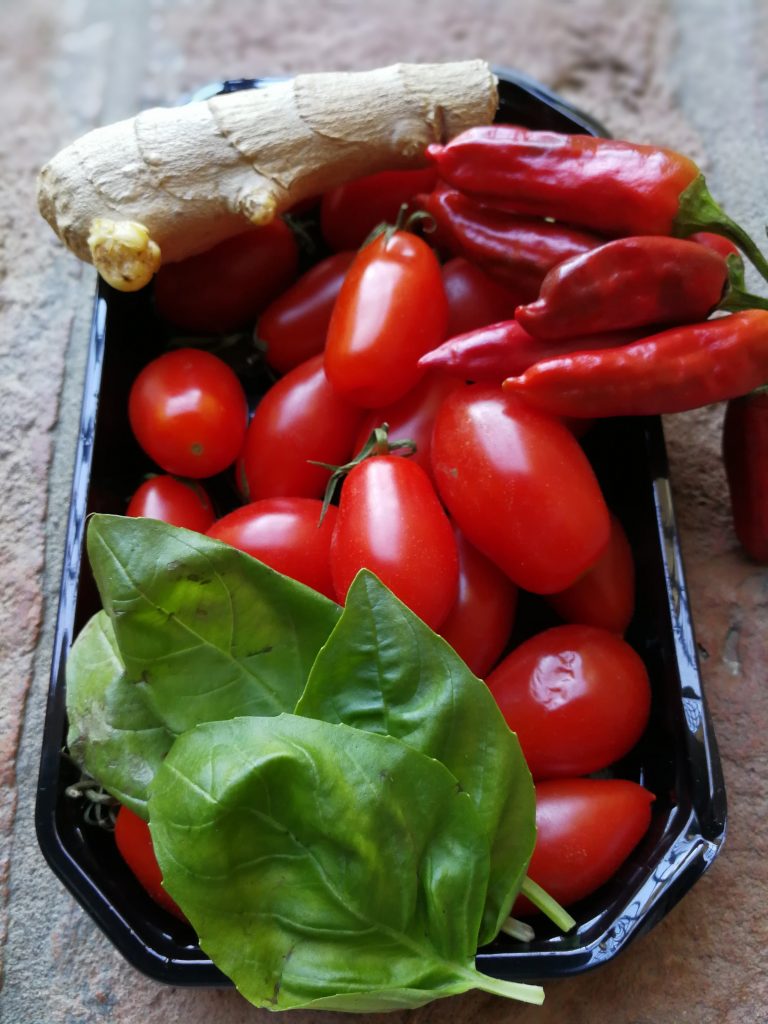 Last week I made some cantaloupe jam based on a recipe I tasted in Sicily, outside Trapani. I went wild for the flavor. It was sweet, clean, fresh and complementary to freshly made ricotta. Imagine my surprise when my friend from the other side of the island ( near Catania) Milena send me a brochure with new recipes to try and there was Tomato Jam served on ricotta.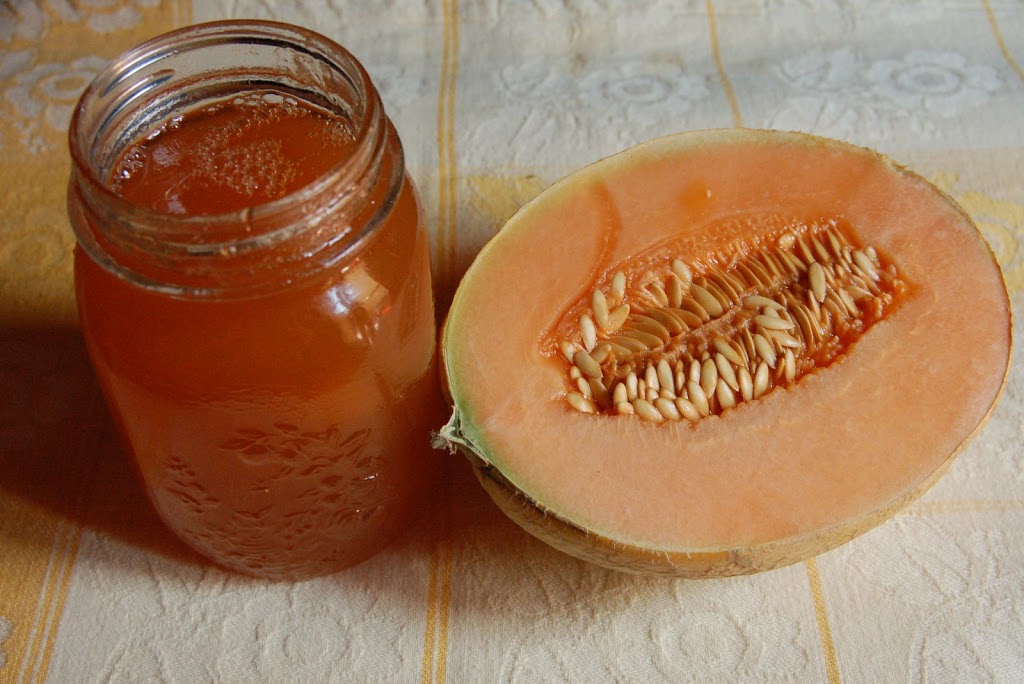 This should be of no surprise to Americans with our Jalapeno Jelly- yet it continues to surprise people. Last year Mark Bittman wrote about a Spanish inspired version with ginger and chili pepper, which he suggests served with tuna.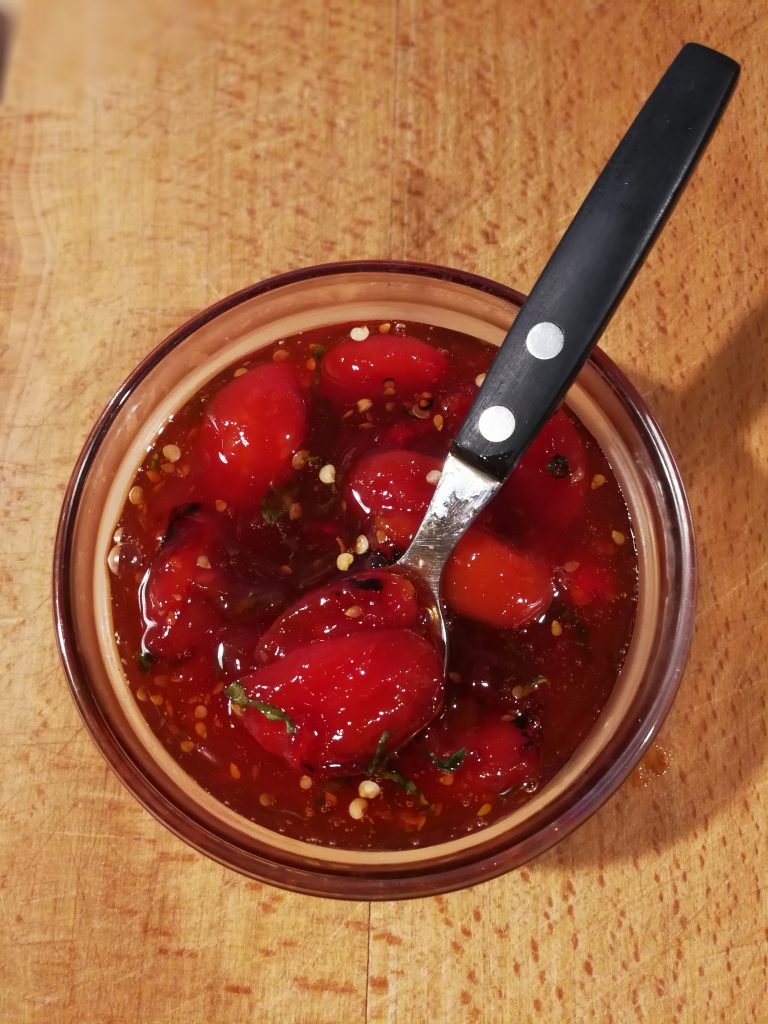 It is all about preserving foods and usually sugar, vinegar and spices are all involved.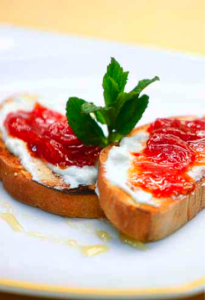 This version is left as  a sweet version, very similar to a strawberry jam, highlighted with lemon juice. I didn't have any basil today which the recipe calls for, but will add some tomorrow when the shops reopen.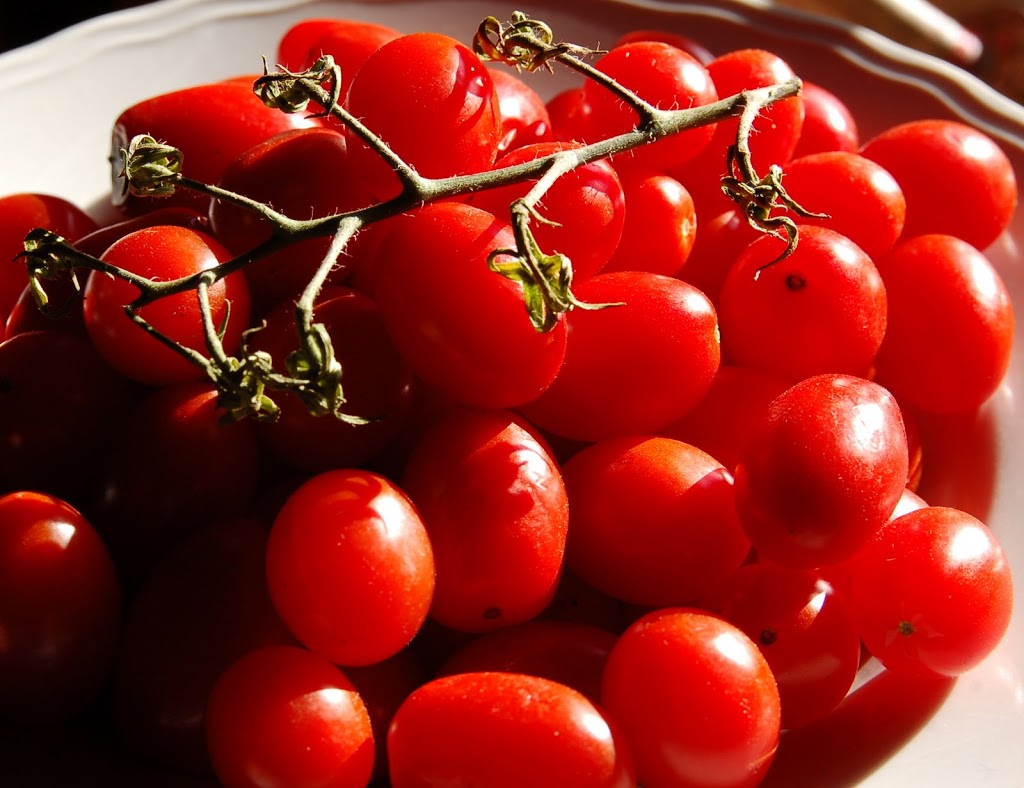 At this weeks Saturday market I found these tiny tomatoes which looked more like juicy grapes and decided they were the perfect size for what looked like small jewels when served. The recipe calls for the Pachino tomatoes, which are "IGP" ( the geographical area of production of these tomatoes is protected). So much of the food in Italy is intense in flavor. Terroir is so important. The soil and climate provide a precious gift. Respecting tradition is priceless when it comes to food.
Here is the recipe from the brochure:
Pacchino IGP Cherry Tomato Preserve
2 pounds peeled Pachino tomatoes,(smaller than San Marzano and sweeter)
1 pound granulated sugar
1/2 cup lemon juice
1/4 cup fresh basil
Optional: chili pepper and ginger
Peel the tomatoes first  by cutting an x in the bottom and dropping for a minute in boiling water. Then put in a bowl of cold water. Remove the skins.
Place in a pot with the sugar and cook until it reaches 106C or 222 F.
Add the lemon juice and the basil.
Put in clean jam jars.
Serve with cheese. ( or on gelato)