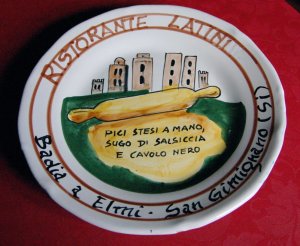 I Latini's new Piatto di Buon Ricordo ( note: no longer available)
I have been a fan and collector of the Piatti di Buon Ricordo since I moved here in 1984.
To me, it is the way to visit Italy. Like a secret society, knocking on a door and saying " Buon Ricordo", the restaurant owners know you know! Buon Ricordo, means good memories and in Italy, time spent at the table in company of friends is what creates these great memories. Click on the link, for some reason the .com site is not in English!!!
Today I was thrilled that my friend Chiara Latini, of the famous restaurant family from Florence, told me that they were having the presentation of their piatto di buon ricordo with the collectors club this weekend! Well, I am not a member of the club, but have about 50 plates myself! The Hotel and Restaurant I Latini has been open since 1999 and one of Tuscany's best kept secrets. Driving past on the back road, one would not think that a fabulous restaurant would be hidden under a modern hotel. We know better!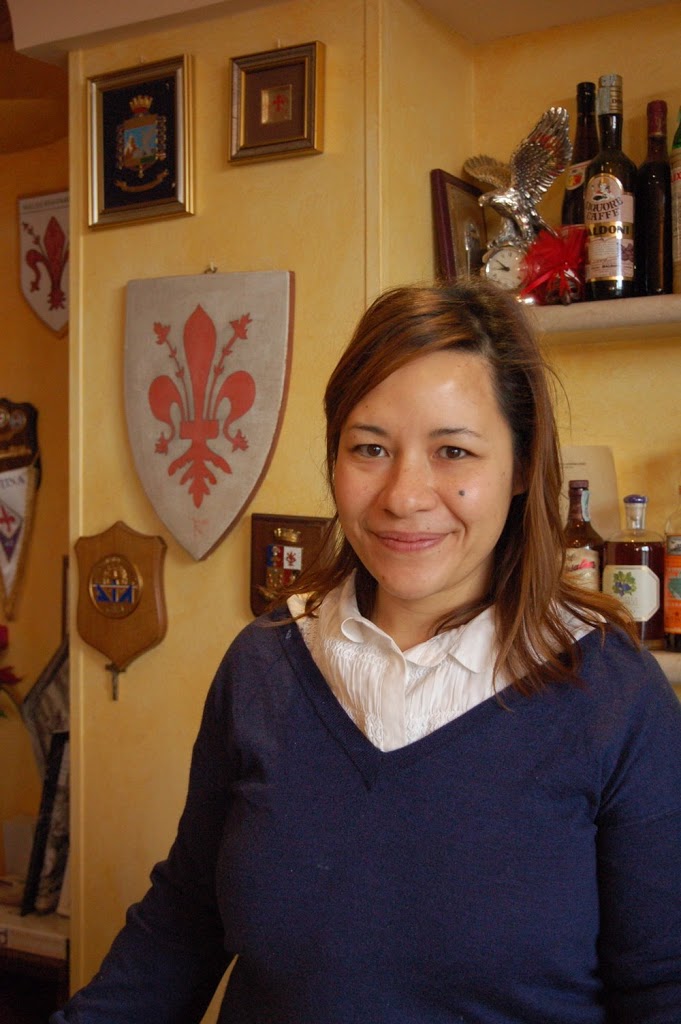 Chiara, is also a sommellier and the wine list is to die for!
Osteria di Giovanni, her mom and dad's place in Florence  has a Buon Ricordo plate.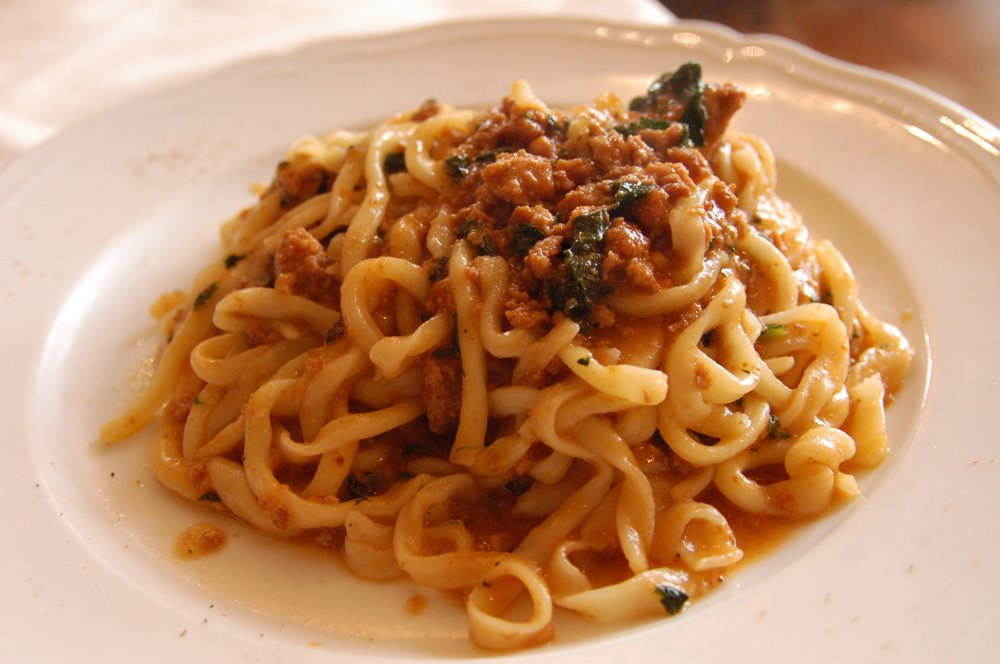 these hand-made pici were feather light!
To get the plate, you must eat the signature dish the restaurant has chosen, here it is hand-rolled Pici, a eggless pasta, with a slow cooked kale and sausage sauce. Buonissimo!
You can try to make your own Pici if you like- I often teach it in class as it is fabulous.
Pici- Tuscan hand-rolled spaghetti 
500 grams flour
1 cup hot water 
1 tsp salt 
Make fountain with the flour and salt on the table (or in a bowl). 
Add the hot water  to the center and mix together. 
Knead for 10 minutes. 
Now the fun starts! 
Roll out flat and cut 1/4- 1/2 inch strips. 
Roll the strips out to long worm like spaghetti. 
Boil in salted water, they just need a few minutes and serve with a meat ragu or with a spicy tomato sauce with lots of garlic- called Aglione sauce in southern Tuscany.
The food is always served on a normal plate and when you leave, you are given the Buon Ricordo plate in a box. Be sure to ask for the book with all the other restaurants listed.
The Buon Ricordo Association have a website which has all the information. If you love the idea as much as I do, become a member, it is free and showing your card upon arrival, often there are discounts or free gifts as a prefered member.
The group that was celebrating with us today, was actually the Collectors Association.
There were over 120 total that came for a three day weekend ( can you say three plates?)
These are serious eaters as well as collectors. They have their own site too, you pay to join, but then also receive a custom members plate and newsletters with special events.
This fabulous idea has spread and there are Buon Ricordo restaurants in Japan and in other parts of Europe as well. There is even a cruise ship with a plate!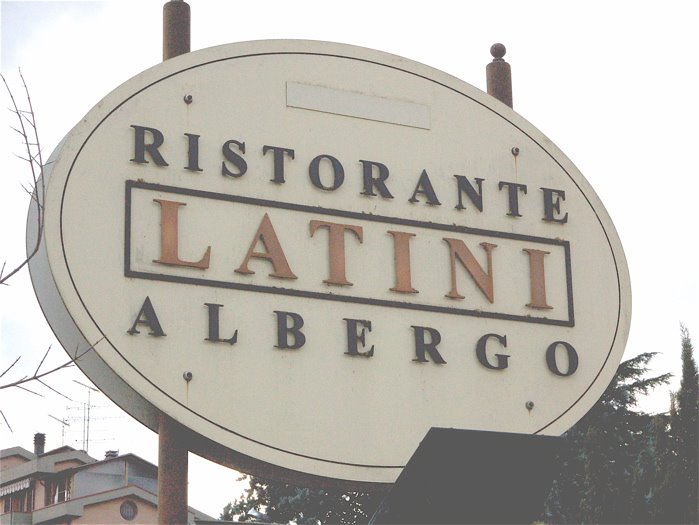 Ristorante Albergo Latini
Loc. Badia a Elmi
Viale dei Platani,1
0577/945-019
latini@dada.it
Hotel has WIFI!
I will be offering a Buon Ricordo week in Tuscany in the fall! 5 days – 5 plates!
Come hungry!