Sometimes eating fabulous meals can take 10 minutes and give immense pleasure.
I made a Tuscan Ragu, which we call sugo, the other night. I let it pippare, slowly simmer, while I watched TV, worked on the computer and talked with my hubby. One should always have ragu in the freezer for quick meals or snacks! I keep mine in ziplock bags in portions for two.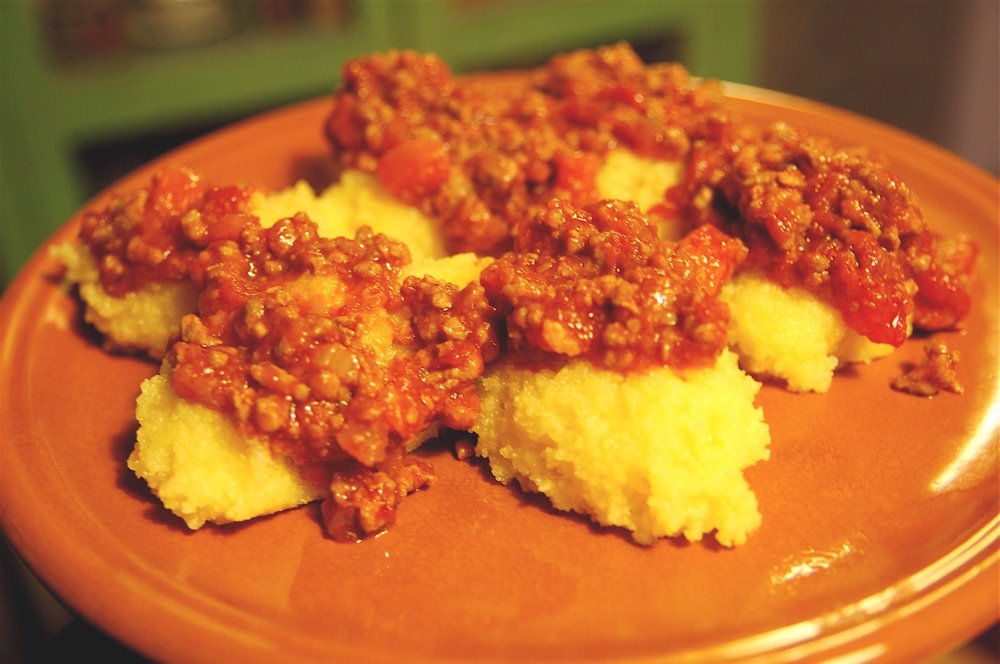 Last night when we got home from a long day in Florence, I put a pot of water on to boil and took the ragu out of the fridge.
When the water boiled I slowly let a box of "instant" polenta rain into the water, whisking the entire time. Then I lowered the flame and stirred with a wooden spoon for 5 minutes.
Covering the pot, to let it finish cooking on it's own, I reheated some ragu.
UPDATE: my new non-stir polenta made in the oven.
This is one of my husbands favorite meals his mom used to make.
To make "gnocchi" di polenta:
Place soup-spoon quenelles of polenta on a heated dinner plate. ( for the quenelles using two soup-spoons) Take a full spoon of polenta from the pan, and scrape it off with the other spoon, sliding the entire spoon, into the other spoon, under the polent. Normally you do it twice, and that gives it a nice shape. Or you can just plop spoonfuls onto the plate.
Place a spoon of ragu on top of the polenta.
Serve with grated parmesan cheese on top.
This would also be wonderful with a mushroom sauce or mushrooms in the ragu.
True Tuscan comfort food and Divina!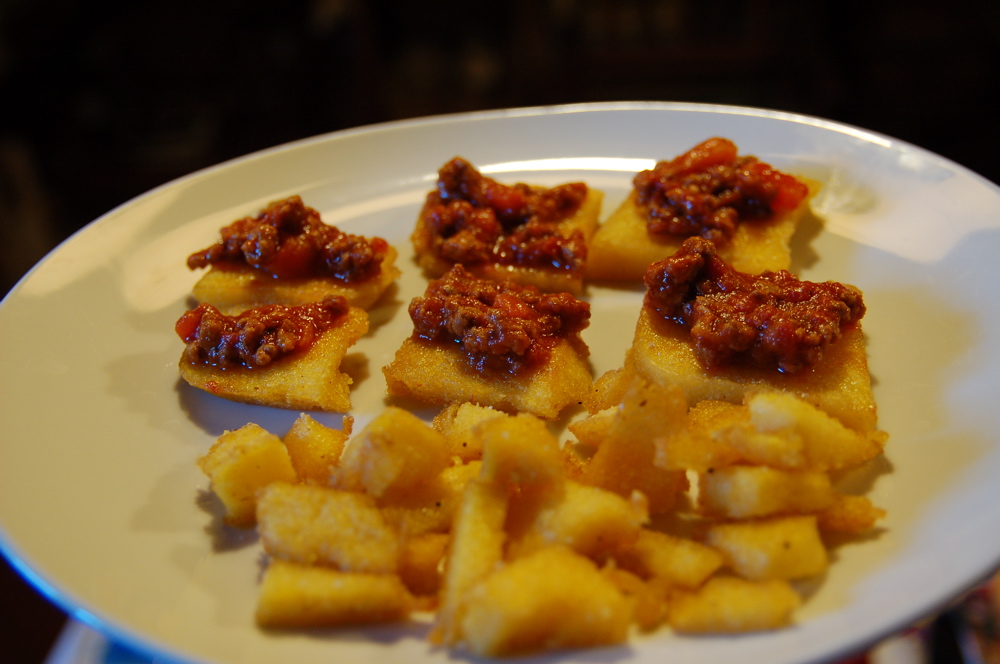 PS- left-overs today for snack
Left-over polenta solidifies into solid block, easy to slice.I only had a small amount, enough to make some crostini, small toasts.
I pan-fried them in extra virgin olive oil and topped with ragu. I cut what was left over into smaller pieces and made polenta fries.
One of the restaurants I go to makes longer "french fries" from polenta in the same way.