Pumpkins are so fall!
Not only do you have left-overs from halloween,but the hills are also covered in various shades of gold, rust and green which are all pumpkin inspired.
I adore pumpkin in soup, risotto and gnocchi.Here is Mario Batali's pumpkin gnocchi. I like to roast the pumpkin for gnocchi, they absorb less water and need less flour!
Try pumpkin gnocchi served with traditional balsamic vinegar and shaved parmesan cheese!The lovely elixir like qualities of traditional balsamic are a great contrast to the grilled pumpkin slices too. Thanks Andrea, for reminding me!
Here is my soup, based on Fabio Picchi's yellow bell pepper soup, using pumpkin instead of the peppers. I follow Fabio's lead in garnishing with parmesan cheese, crushed amaretto cookiesand a lovely drizzle of traditional balsamic vinegar, which is worth every penny.
Using the best ingredients is the most wonderful gift to yourself and in a cost per serving is nothing!!!
TREAT YOURSELF TO THE BEST, YOU DESERVE IT!
But the recipe that is the most requested inthis house is: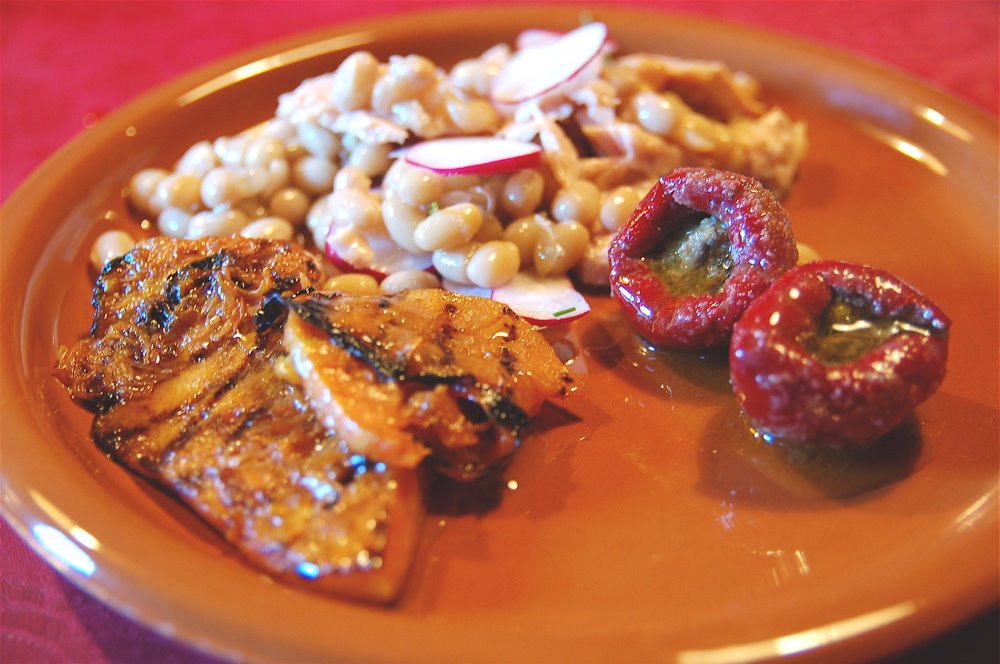 Todays lunch was the grilled pumpkin-Tuna and zolfini bean salad with radishes and chives-and stuffed cherry peppers in oil with capers and anchovy.
My friends in Palermo have started to put traditional recipes on their blog and have included the pumpkin recipe too. Stop by!